Samsung Galaxy Ace ( GT-S5830 ) is another Android smartphone made by Samsung that not just gives you look & feel of iPhone but the value for money as well. This is the only phone under 15k that gives Big screen size, good touchscreen quality & above average performance.
Recently I had hands on this phone for long time, which was well enough to compare it with my recently used Androids like Galaxy Pop (Low Budget) , HTC Wildfire S, Galaxy S-LCD (High End) & HTC Desire (Ultra High end)
So here is a Hands on Review of Samsung Galaxy Ace GT-S5830 Vs HTC Wildfire S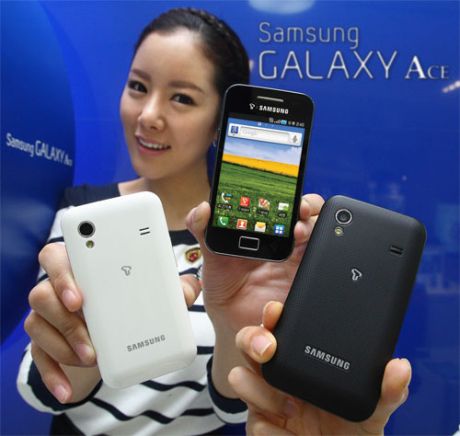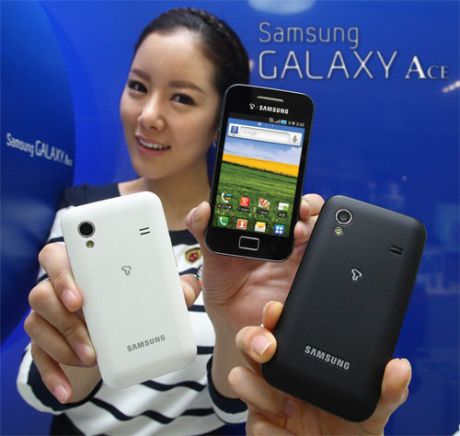 Display
Galaxy Ace comes with a large 3.5 inches TFT HVGA LCD touchscreen that only this phone gives you in mid range budget. Even its true contender HTC Wildfire & Wildfire S are having touchscreen 2.8 inch which gives it an edge over others. 320×480 display is well enough for this screen to display vivid range of colors sharply.
Comparing it with Wildfire it has better screen & Wildfire -S is having similar resolution. So overall Galaxy Ace remains ahead of both the wildfire in display & screen quality.
Build Quality
In design perspective Ace is a Bar type handset which looks very much like iPhone but in case of build quality they seriously need to re-engineer many things. The back cover of the phone is made up of plastic,which similar to the Samsung galaxy Tab. But the cover is of cheap quality & susceptible to scratching and breaking very easily. Sides are flat as iPhone & rounded corner. Phone looks & feels good in hand & its look is really nice from front side.
Comparing it with HTC Wildfire series , they have really high quality of material which gives you feel of premium phones & noticeable design features adopted from HTC's high end devices. So, Galaxy Ace Lacks in Build quality very much.
Hot swappable microSD slot, 3.5mm audio Jack, Volume rockers & microUSB slots are available on sides and top of the phone.
User Interface & Android
Samsung has stuffed Touchwiz 3.0 on this device with not really revolutionary features added to factory built of Android 2.2 Froyo (Which is upgradable to 2.3 ) Pinch to Zoom on home screen gives you small screen icons like HTC sense & also same effect is applied to menu. Multiple home screens & general Android UI features are all present like any other phone. Touchwiz is not so great UI but its not even bad either to use.
HTC Wildfire S on other hands comes with Android 2.3 pre installed and industry's best UI HTC Sense – which again makes it look a premium phone in overall look and feel. Unified mailboxes, HTC Friendstream , Social integration, Footprints & loads of Widgets makes Samsung Galaxy Ace looks very normal compared to high end UI of Wildfire S.
Storage & Multimedia
As Galaxy Ace is a mid range smartphone it comes with 158MB of internal memory that can be expanded up to 32 GB. You'll also get 2GB micorSD card with the new phone itself. Same is the case with HTC Wildfire S & gives you better expandable slots for multimedia & apps. Apps can be moved to SD card as both phones are Android 2.2+ So storage will be enough for any kind of use.
Both smartphones supports MP3, Wav, AAC_ audio & MP4, H.263/H.264 video formats But HTC Wildfire also supports Xvid as an extra format but installing players like MoboPLayer & Rockeplayer will let you play almost any format available in market. So nothing to worry about multimedia department.
Packed Samsung headphones are good for general need, but Music junkies can upgrade to better ones with their 3.5mm universal audio jack.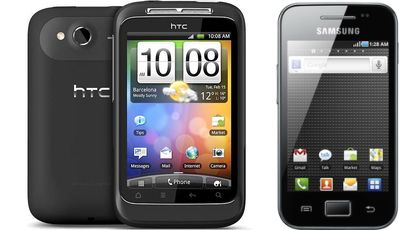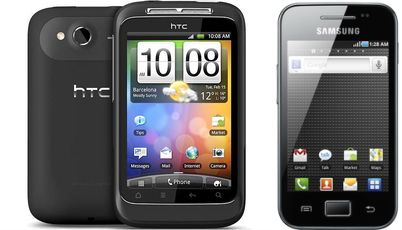 Camera

Samsung Galaxy ace offer better features here too, As it gives you 5 MP camera & video recording of QVGA resolution at 15FPS. Ace also have Autofocus & LED flash that will make picture quality far batter at this budget.
HTC wildfire on other hand also have 5MP camera, Autofocus & LED Flash but have only VGA recording option.
Performance
Well, technically Samsung Galaxy Ace outsmarts any other phone in mid range category because of its powerful 800MHz MHz ARM 11 processor, Adreno 200 GPU & Qualcomm MSM7227 chipset.
Pinch to zoom works great, Browsing experience is good with pre0installed browsers & free ones like Dolpin & Mozilla Firefox.But bad news is phone lacks in Flash capability due to its overall hardware. you can not use many Websites, Apps and Games due to this reasons. But you can watch youtube videos in default application provided by Google & still the phone is good overall in other apps & software support.
Now this is where HTC Wildfire S will grab your attention & you might wanna buy it because it have Flash pre-installed. But here you have to compromise with 600 Mhz processor & 512 MB RAM which will give you reduced performance at some situations.
Battery is well above average for both phones but Samsung Galaxy ace gives 11+ hrs. of talktime on 2G compared to the 8 hrs of talktime on Wildfire S. so definitely Ace is better here too.
Connectivity
Galaxy Ace comes with 7.2 Mbps 3G capabilities, Wi-Fi 802.11 b/g/n with DLNA & bluetooth v2.1 & USB connectivity. HTC wildifre on other hand have similar offerings.
Price & Value for Money
Hmm… Tough competition around here as Samsung Galaxy Ace comes at price of around 14,800 INR (220 Euros) and offers Very big screen, Better battery, Better camera & hardware.
And HTC Wildfire S comes at price of 13,500 INR (199 Euros) and offers Premium build quality, rich Flash & multimedia experience, Better touchscreen & a true smartphone brand name.
Our Verdict
If this is your first Android smartphone – anyone of both will please you more than your expectations. But if you are a geek who loves to explore and wanna have brand name – HTC Wildfire S is definitely for you. And You can save some bucks for accessories.
And the ones who needs faster & better specifications on paper, big screen & performance (Without flash)- You must Go For Galaxy Ace.