You might be amazed to see that generally I just write about Android smartphone High End Gadgets & Telecom News – But the thing is I love to talk about everything I came across that is valuable for sharing.
Right now I have HTC Desire smartphone which is very high end device for my advanced computing & blogging needs but it does not come with video calling feature due to lack of front camera. So I though it would be great if I keep some extra phone just for making video calls.
So I found this great phone in market which is not just cheapest 3G phone but is true value for money thanks to features it is offering –Samsung Hero Hero E3213
Samsung hero is available at price of around Rs 3400 & is not the cheapest phone. There is one more called Lemon W100 priced at Rs 2690. But I have used this phone & its previous version for a long time & I am calling it best because of its Build quality, video calling quality, overall 3G experience.
This new version of Samsung hero is recently launched & has better build quality & call quality than its predecessor.
Like any other multimedia phone Samsung Hero E3213 comes with loads of feature at its price. Following are some of its interesting features that you might like
3G Video Call & Data
Samsung hero offers has VGA camera t front that offers enough quality that any video call needed. Last version of this phone had smaller window for call but its bigger & better in new phone.
Phone will give you a good speed on 3G data too, but as you know we do not have promising 3G data plans or unlimited ones – we recommend you better use it for 3G calling. But yeah, casual Internet usage have really high speed on phone & even if its connected to 3G it gives high speed overall.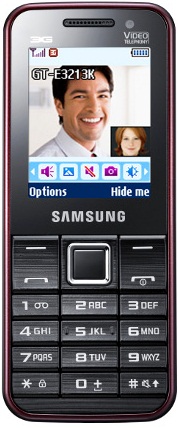 Comparison with other 3G Phones
There is one more from Samsung called Metro S5350 which is priced at Rs 4300 but have 3.2 MP camera, good build quality & 3G calling experience overall.
LG GU-285 is another good phone that have 3G video calling & it is a slider phone. In case you prefer this slider design this phone have 1.3 MP camera, 20 MB memory & expandable up to 8GB. LG GU- 285 is priced little bit higher than its features at Rs 4299
Lemon W100 is of cheaper build quality & does not give you feeling that it will last long. Its priced at Rs 2600 & we do not recommend it at all.
Spice G6500 is having better resolution 1.3 MP camera at rear, 0.3 MP at front for video calling & 4GB expandable memory. Pricing at Rs 4320 this phone does not give you value for money as far as quality is concerned.
Samsung Hero E3213 features
Display 2 inches TFT (128×160 pixels)
VGA Camera (With digital Zoom)
Secondary camera(VGA ) – For video calling
Music Player that can play most of formats
Video Player
Bluetooth
Expandable Memory up to 8GB
Internal memory – 36MB
Li-ion 800 mAh Battery
Price in India
Samsung Hero E3213 is priced at Rs 3400 (Approx) in India
Verdict
This phone is great value for money & seriously comes under 3.5k price. Phone have brand name of Samsung which will give you an extra advantage over other phones – Video calling, Customizable UI, up to 8GB expandable and high speed data – what else you'll ever need at this good price.
Thumps up for this phone.