Nowadays, everyone requires a printer or a multifunctional device, regardless of their business size. Even students are starting to understand how crucial it is to have a printer, particularly a color printer, to print documents from their desktops, laptops, smartphones, iPads, and other devices. Even though many of the papers we handle today are digital, you still need hard copies, which is why a printer is essential.
A cable was the only way to connect your gadget to a printer for a long time. Businesses soon had the option of printing to these devices via the internet thanks to "networked printers," which were linked to an Ethernet switch in a storage room.
Due to the ubiquitous use of WiFi, AirPrint exists now. Your phone, tablet, or computer can wirelessly print to an AirPrint printer linked to your household WiFi network without a direct physical connection.
OUR SELECTION PROCESS FOR
THE BEST AIRPRINT PRINTERS
Our suggestions for AirPrint Printers are based on both academic study and practical experience. The variables listed below were the most important ones to us when choosing which AirPrint Printers to include in this buyer's guide.
Printing Speed: According to our research, the top printers can often print 10 to 15 pages per minute. As a result, printing a three- to five-page document should only take a few seconds. Depending on how much toner is needed and whether you're printing in colour or black and white, your print time will change. It will take longer to print a photo than a printable boarding permit, for example, because photos use more ink.
All-in-One: Some AirPrint printers are all-in-one designs, which means they can also scan and copy documents. This is useful if you want to rapidly duplicate a piece of paper without using your phone, tablet, or other mobile device or digitize old images. Keep in mind that all-in-one printers are typically more expensive and larger.
The purpose of purchasing an AirPrint printer is to print wirelessly, but having a wired backup plan is always a good idea. We've made sure the AirPrint printers we're recommending can be connected using a cable in case your WiFi network is down or the computer you're using could be placed right next to the printer. You can print images shot by your digital camera without a computer using certain of the AirPrint printers in our list that also have an SD card slot.
Dual-Sided Printing: Although printers need paper, you can lessen their impact on the environment by using a printer that can print on both sides of the sheet. The printers we suggest for AirPrint all allow printing on both sides. You can convert to utilizing recycled printer paper if you're particularly concerned about the environment.
Eco-Friendly Ink: Some manufacturers have started designing their printers to use ink bottles rather than conventional ink cartridges. Ink bottles are refillable and hold enough ink to print numerous images and documents containing thousands of pages.
Size: We made an effort to keep in mind the fact that printers typically take up a lot of room. The majority of the AirPrint printers we recommend have dimensions of roughly 18 inches by 12 inches. Don't worry if you don't have much room; we have also reviewed ultra-portable printers!
Best AirPrint Printers of 2022
Although the OfficeJet 250 is small and lightweight (measuring 14.3 x 7.32 x 2.7 inches and weighing only 6.5 pounds), it is still on the larger side for a battery-operated printer. However, the OfficeJet 250 is a superb all-in-one printer with AirPrint that you can bring with you wherever you go thanks to its sleek appearance and versatility (it can print, scan, and copy).
This printer can print up to 10 pages per minute (ppm) in black and white and up to 7 ppm in color, and it has a total paper capacity of up to 50 sheets. On battery, this rate somewhat decreases to 9 ppm for black and white printing and 6 ppm for color printing, but the OfficeJet 250 features an auxiliary battery that can print for up to 90 minutes. The Kodak Step, a portable photo printer, can only print one page per minute, whereas this can print several pages per minute.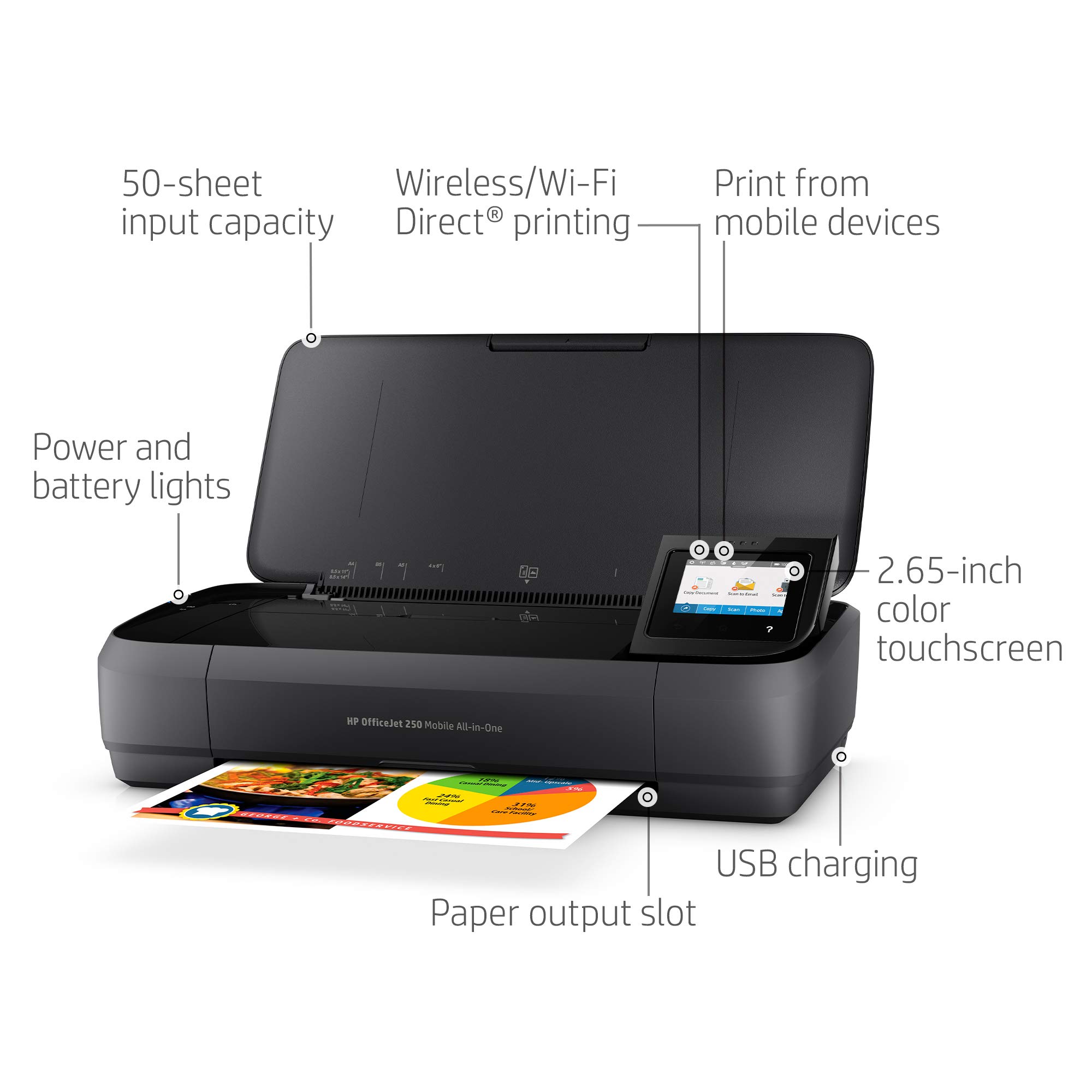 Type: InkJet, Color/Monochrome: Color, Wireless, USB, Apple AirPrint connection, LCD screen, Touchscreen display, Scanner/Copier/Fax: Print, Copy, Scan, Fax.
Pros
Fantastic photo quality
Speed in printing and scanning
Portable
Cons
This isn't the most expensive printer available, but it will work well for individuals seeking a printer that can carry out the essential tasks at a reasonable cost. The 3830 from HP's OfficeJet brand has a tonne of capabilities but doesn't command as much of a premium as more expensive models. Along with printing, it also faxes, scans, and copies.
The 3830 can print documents in black and white at a rate of 8ppm and in color at a rate of 6ppm. By no means are these lightning fast speeds, but it keeps up. The photo quality printed details were remarkably clear.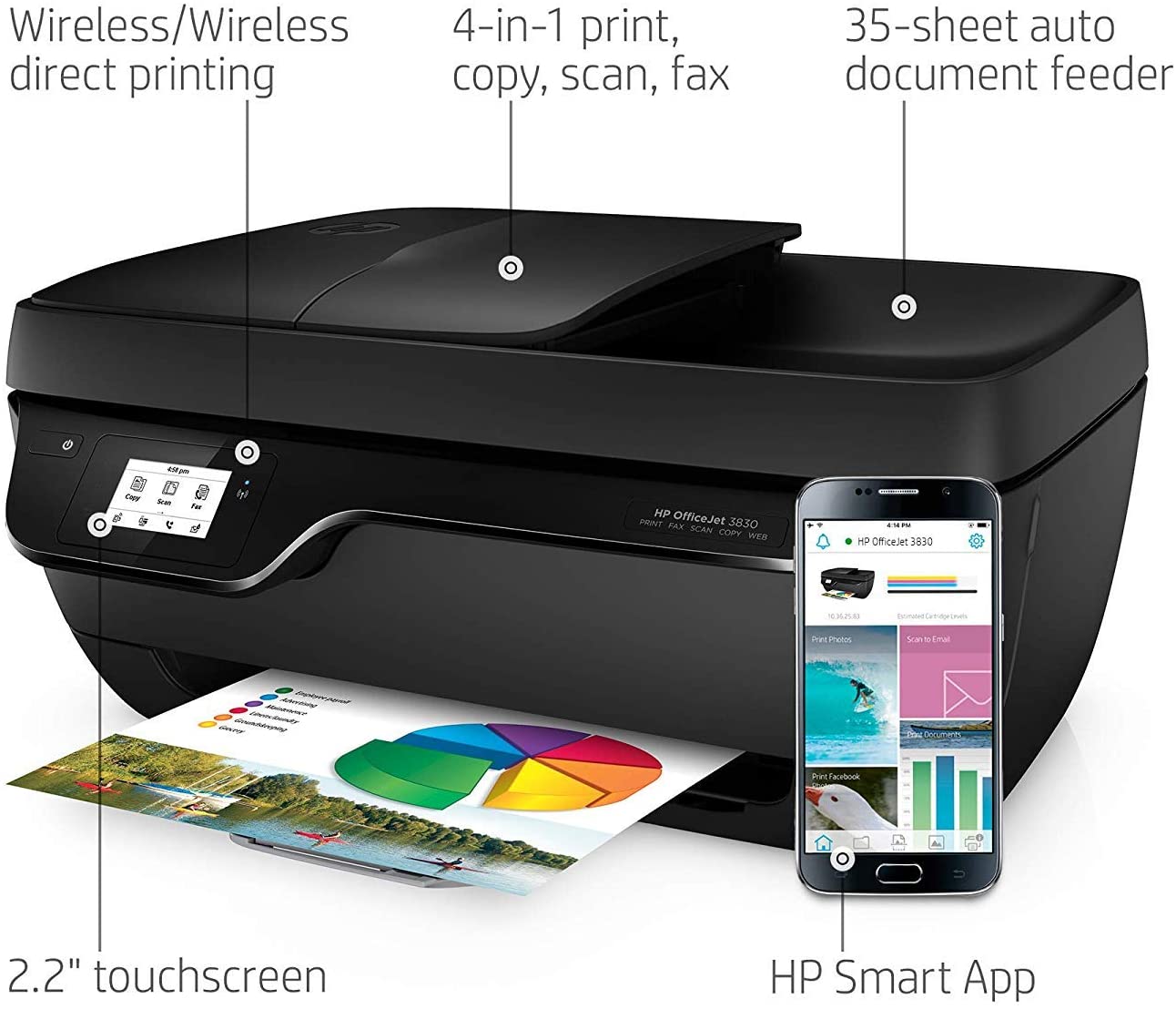 Type: InkJet | Color/Monochrome: Color | Connection Type: Wi-Fi, Wireless Direct Printing, HP ePrint, AirPrint | LCD Screen: Yes | Printer/Copier/Scanner/Fax: Print, copy, scan, and fax
Pros
High DPI and excellent photo quality
Quickly printing
Great value
Cons
3. Canon PIXMA iX6820
Although Canon's PIXMA iX6820 printer isn't as technologically advanced as some of the other models on this list, it still works well and is made to last. It is a versatile inkjet business printer that can print anything from 13 x 19-inch charts to 11 x 17-inch spreadsheets, making it perfect for both the home and workplace. The iX6820's highest colour dpi of 9600 x 2400 provides excellent printing detail. However, colour cartridges quickly run out due to the high level of detail.
The iX6820 is tiny enough to fit practically anywhere indoors and weighs 17.9 pounds, but it is not compact enough to fit into a backpack for on-the-go prints. With a print speed of up to 14.5 black pages per minute and 10.4 colors per minute, the iX6820 can complete a borderless 4 x 6 inch photo in just 36 seconds.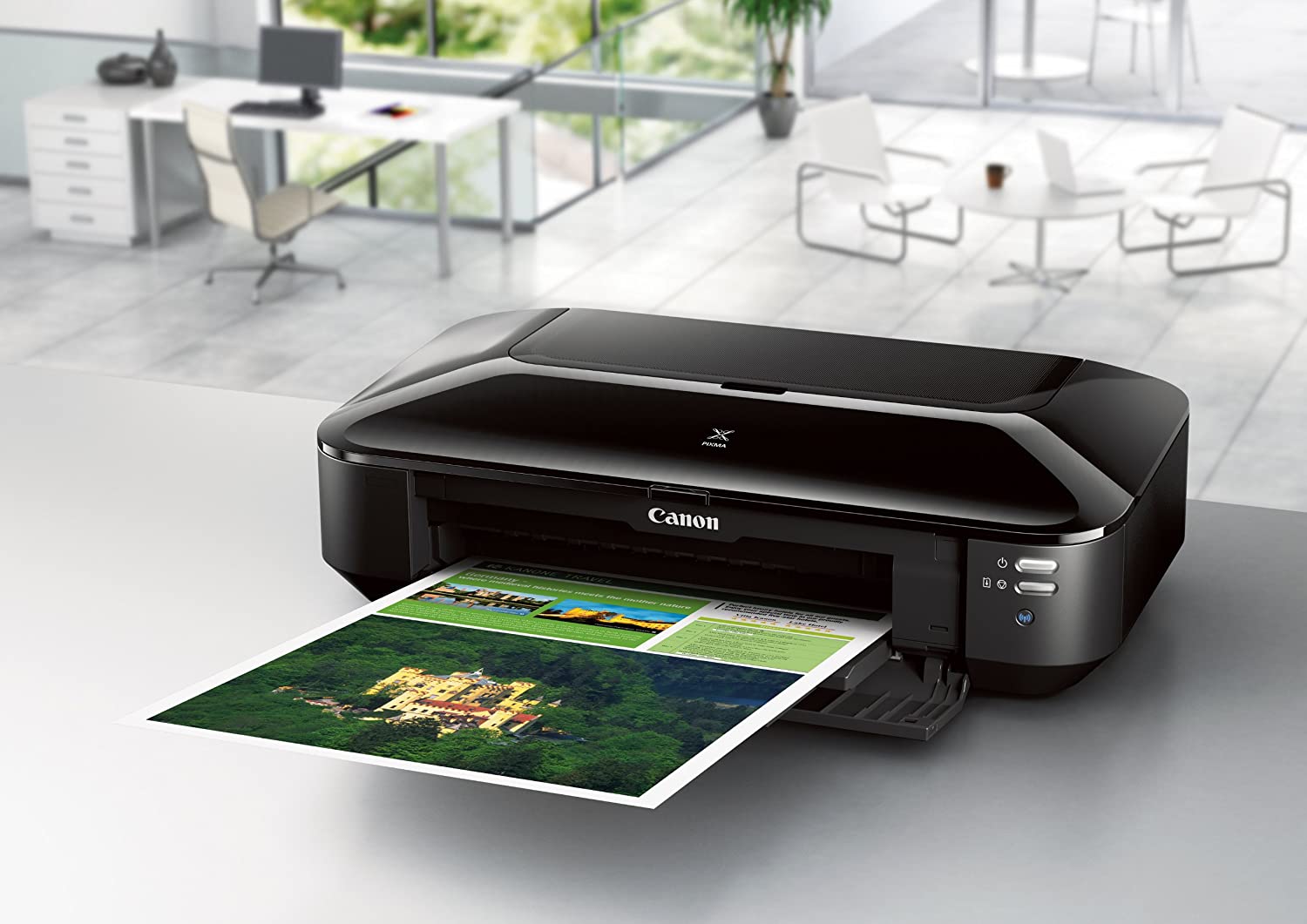 Scanner/Copier/Fax: Print | Type: InkJet | Color/Monochrome: Color | Connection Type: Wi-Fi, Ethernet, Apple AirPrint, Google Cloud Print | LCD Screen: No
Pros
Superior photo prints
Robust design
Reliable print speeds
Cons
Tri-color cartridge quickly empties
4. HP OfficeJet Pro 9025e
The DeskJet Pro 9025e might be exactly what you're seeking if you require a machine that can perform heavy-duty printing duties. This machine can handle multi-page documents fast and print at a speed of 24 ppm. Additionally, with a color resolution of up to 4800×1200 dpi, you may print photos in extraordinary clarity.
Though it's not the smallest printer, this one can't be left to idle in a desk corner either. Given that it is almost 26 pounds in weight, 12.53 inches tall, 17.2 inches wide, and 15.6 inches deep, you should probably give it its own specific stand or table. This printer has a premium appearance with a large LCD screen and a crisp grey-and-white design, but you would specifically want it in an office rather than a living room or bedroom where it would probably take up the entire space.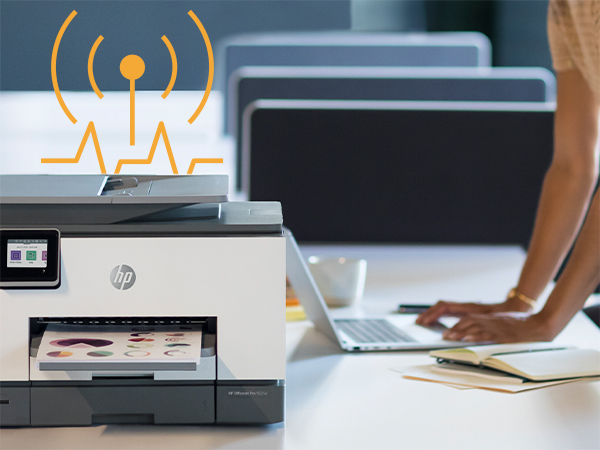 InkJet | Color/Monochrome: Color | Wi-Fi, Ethernet, USB 2.0, Apple AirPrint, HP Smart, Mopria Print Service, Wi-Fi Direct | LCD Screen: Yes | Scanner/Copier/Fax: Print, copy, scan, fax
Pros
Rapid color and black and white output
Excellent prints
Compatible with Alexa and Google Assistant
Cons
You may also want to read: Best 3D Printer Projects for Kids
5. Epson EcoTank ET-3760
The Epson EcoTank ET-3760 uses refillable ink containers rather than consumable ink cartridges, in contrast to many other InkJet printers. The ink bottles that come in the box enable you to print for up to two years, depending on how frequently you use the printer.
The 3760 is excellent for small workplaces and home offices because it can print at up to 4800 x 1200 resolution and eight pages per minute in colour (15 pages in black and white). However, it is a little faster than what we generally see from a low-cost or portable printer like the DeskJet 3755. This is substantially slower than a speedier model like the HP DeskJet 9025.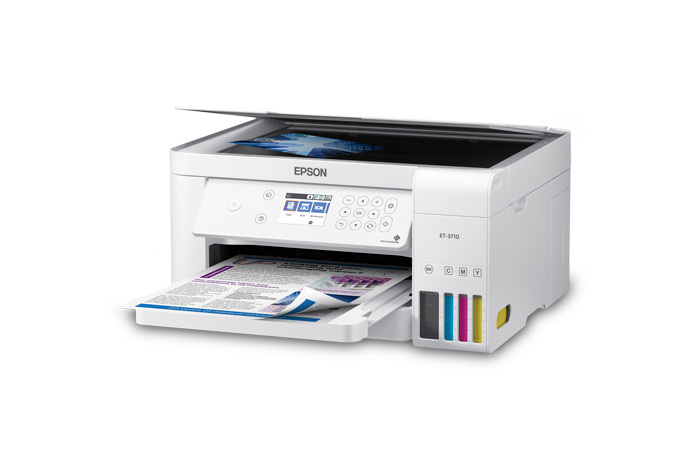 Type: InkJet | Color/Monochrome: Color | Connection Type: Epson iPrint | LCD Screen: Yes | Scanner/Copier/Fax: Print, copy, scan | Wi-Fi, Ethernet, USB, Apple AirPrint, Mopria Print Service, Wi-Fi Direct
Pros
Uses ink tanks rather than cartridges in
Decreases waste and saves money
Excellent print quality
Cons
Complex and expensive upfront
6. Brother HL-L8360CDW Color Laser Printer
This printer can be ideal for you if you require a high-performance printer for your home office or business. The Brother HL-L8360CDW is a colour laser printer with print speeds up to 33ppm that supports both wired Ethernet connectivity and wireless connectivity using AirPrint. However, this is no small machine. It is not at all portable because of its size (17.4 x 19.1 x 12.3 inches) and weight (48.1 pounds).
The security lock function provides additional security and peace of mind to businesses by allowing managers to control and restrict access to printer operations for up to 200 users. Additional features, such an integrated NFC card reader for releasing print jobs with an NFC-compatible card or badge, give even another security layer for restricting access to the printer and cutting down on the cost of wasted prints.
The three regular yield colour cartridges provide up to 1,800 pages while the standard yield black toner cartridges offer 3,000 pages. By combining additional trays, the capacity of the 250-sheet and 50-sheet multipurpose trays can be increased to a maximum of 1,300 sheets of paper.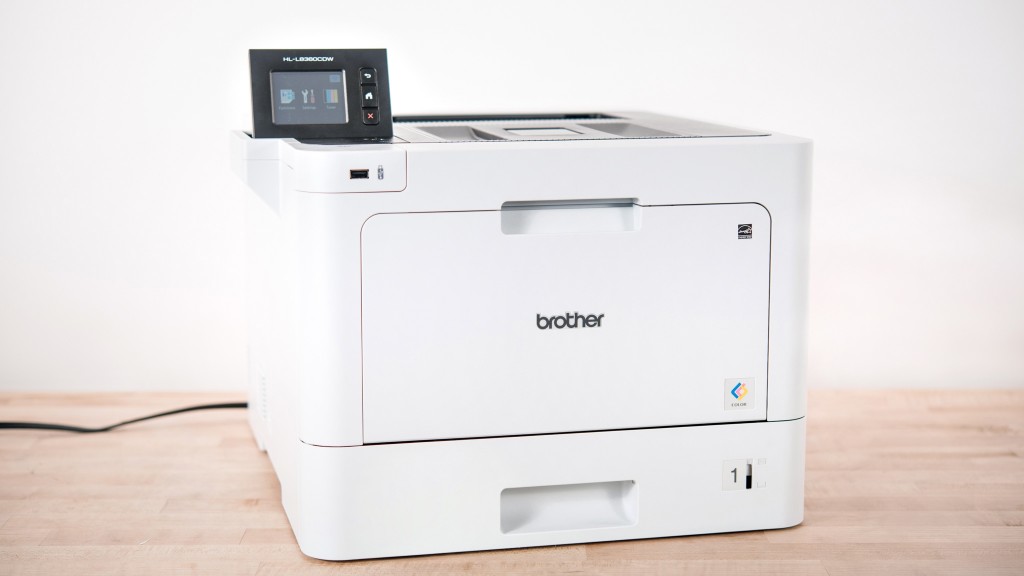 Laser | Color/Monochrome: Color | Wireless, Ethernet, USB, Apple AirPrint | LCD Screen: Yes | Scanner/Copier/Fax: Print | Type of Connection: Wireless
Pros
Quick print times
Outstanding text and visual quality
Numerous possibilities for wireless printing
Cons
7. HP DeskJet 3755 Compact All-in-One Wireless Printer
It used to be virtually impossible to find a good all-in-one printer for under $100. The HP DeskJet 3755 is one of many choices available today from well-known companies. It's remarkably inexpensive despite not offering the faster speeds or higher quality of more expensive equipment. Being only 6 inches tall, 16 inches wide, and 7 inches deep, it also occupies little room in your home workplace. Additionally, you can keep the 3755 in a drawer because it folds into a rectangle when not in use.
The DeskJet 3755 is an all-in-one device, so it can print, copy, scan, and even fax from a mobile device using the HP Smart app. Up to 60 pages can be held in the document feeder, allowing you to scan or copy respectable-sized packets. However, it prints just 5.5ppm of colour and 8ppm of black and white pages per minute. Last but not least, it connects through Wi-Fi and should function flawlessly for those who are mobile-minded because it is tuned for Apple AirPrint.
Type: InkJet | Color/Monochrome: Color | Connection Type: WiFi, USB, Apple AirPrint, HP Smart app | LCD Screen: Yes | Print, Copy, Scan, and Fax: Print, Copy, Scan, and Fax
Pros
Our Favorite

limited

footprint

dependable

companion app
Cons
The absence of

premium print speeds