Google has recently introduced new android marketplace app with a video preview. Most of us are very excited to get this app but they haven't made it available for download for all yet.
The new android market app comes with eye catching graphical improvements & transitions. Google also made available many Books & Movies for download by releasing this app for Android smartphone owners. So now you can buy movies & books directly inside your Android with various price ranges.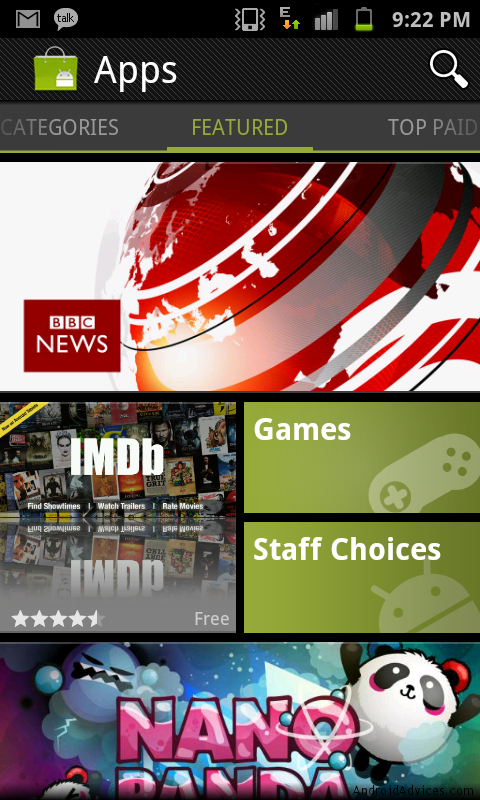 Though movies & books are only available to US right now they are making it available for most countries very soon. But after seeing this video I definitely could not wait for it to launch officially & found a great way to install the Android marketplace new app right now without waiting.
(Note: This will replace your system app, So I suggest only advanced users try this. I have tested it successfully on HTC Desire and Samsung Galaxy S)
So check out how you can install this android market app by following guide (unofficially)
How To Get New Android Marketplace App Right Now
1. Good news first – our trick does not require your phone to be rooted or even the latest android upgrade. The app works great on Android 2.2 Froyo
2. This is a .apk file that get installed in android directly, So all you have to do is download the latest version of the Android Market app .apk file from us.
3. The new android market version is named as – Android Market v 3.0.26
4. Download App Here
Update: 19/4/2012
Notice : Download Links Are Permanently Removed, We Regret for the Inconvenience. 
5. Then browse this downloaded file form your file manager like Astro, Es File Explorer or eFile.
6. Tap it for installing.
7. Android will ask you if you want to update system file – Click OK
And Voilaaaa !!!!
Your Android smartphone now have New Android Market app .
Hope you like the tutorial – Share with us your problems, suggestions & appriciation in comments below. Don't forget to Subscribe to our Free Email Newsletter to get more such awesome tutorials & free gifts.
Check out this cool official video from google – If you don't know how awesome this Android Market update is –