Very good news for the guys who would like to install the Android 2.3.1 Gingerbird flavor on their iPhone & iPod touch. Android 2.3.1 Gingerbread is not yet distributed via Bootlace [ Android installer package ]Because This video is just a preview release yet.
They have also announced that android ports are coming soon for iPhone 3GS, iPhone 4, and iPad. You can download & Install instruction & binaries for manual installing android with following link.
Download Android 2.3.1 Binaries for iPhone & iPod Touch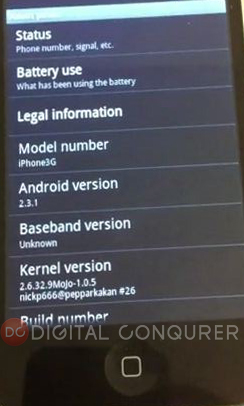 Note that you must have Jailbroken iPhone or iPod Touch for performing this installation. If you want to learn how to jailbreak iPhone or iPod Touch click here. Follow this guide & after that you can go for installing Android 2.3.1 by using the link given above.
Here is the message from developers:
"This is a preview release of Android Gingerbread (2.3.1) for Apple devices, I am busy with other projects for a few weeks and the other 3 active developers are working on porting openiboot to the iPhone 4, iPad and 3GS, so I thought I'd put a test build out for everyone to have a mess around with, please read this post fully before trying it.
This release is for iPhone 2G, iPhone 3G & iPod touch 1G and is ONLY available as a binary package.