Since I have got my Windows smart phone, I am looking for interesting apps that can live up to my expectation compared to Android. And guess what – I am right now using around 50 interesting apps that I would like to review almost all of them. So here is an interesting app review which can refine your vocabulary – Ark Words.
ArkWords is basically is a dictionary app that includes the Thesaurus, Translator & word-f-the-day live tile. Ok, I am slowing down a little bit and let me explain why and how you can use the ArkWords Free Dictionary app.
ArkWords is having quite interesting as well as simple UI, that makes it easy to use for any of you. It comes with 4 different lists of features such as –
1.Dictionary
2. Thesaurus
3. Translator
4. Preferences
Dictionary feature lets you browse through hundreds of words available in online database & you are going to need Data or Wi Fi connection to access it properly.
Thesaurus shows you Synonyms, antonyms & similar words in the same context. You can browse for dictionary from thesaurus too and can actually hear how to pronounce a word.
Now for a non native English writer like me this feature is like cherry on the cake.
Translate option allows you to convert any word or sentence to other languages with one click. The app lets you choose the default translator as a Google.com or Bing.com ,which you can set up in preferences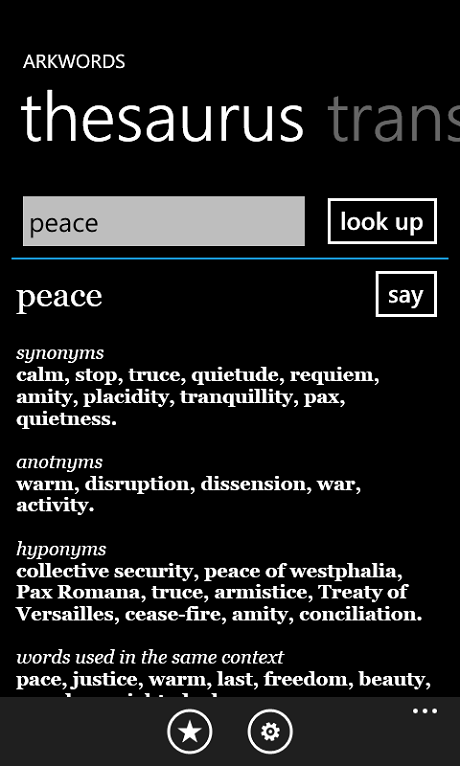 I definitely want to rate this app 100% & recommend to all of you for improving your vocabulary. Best news is this app comes free from Windows phone marketplace. I've been using some other apps but I'm quite sure that this app is best yet optimized for Windows phone 7 handsets.