Across the world, technology is changing how companies manage their processes. One of the most notable areas where these changes are evident is managing customer check-ins. Whether you're in the tourism industry or the health sector, you've probably come across these check-in kiosks at some point.
Placed in strategic public places within establishments with high-foot traffic such as airports, libraries, and hospitals, check-in kiosks serve as important points for people to access services by themselves. It looks like an ordinary computer with an internet connection and a specialized software application necessary for performing specific tasks, only housed within a vertical structure similar to an automated teller machine or ATM. These interactive kiosks are designed to be controlled and managed remotely and designed with the average person's height in mind.
How Check-In Kiosks Work
From a user's perspective, check-in kiosks look simple and easy to use. For instance, if you're traveling and need to check in to your flight, the kiosk will prompt you to identify yourself upon touching the screen. There are several ways to do this: enter a flight confirmation code, insert a credit card, or input your frequent flyer number.
Upon identifying yourself, the screen should display your name and travel itinerary. You'll be prompted to confirm the flight information through the 'enter' or 'OK' button before moving on to seat details. From these check-in kiosks, passengers can review and even make changes to the seats initially assigned to them. It's important to pay attention at this point because some airlines make seat assignments their default screen to entice travelers to pay extra for a seat upgrade. If you don't intend to upgrade, skip the option.
These self-service check-in kiosks also allow you to check in your luggage. To do this, you'll need to scan your boarding pass or identify yourself to start the process. You'll be prompted to enter the pieces of luggage you wish to check in. Some kiosks use the '+' or '-' signs or up and down arrows to increase the luggage count. Confirm once done and use a debit or credit card to pay for extra weight if needed. The kiosk will print your boarding pass after the check-in process is completed.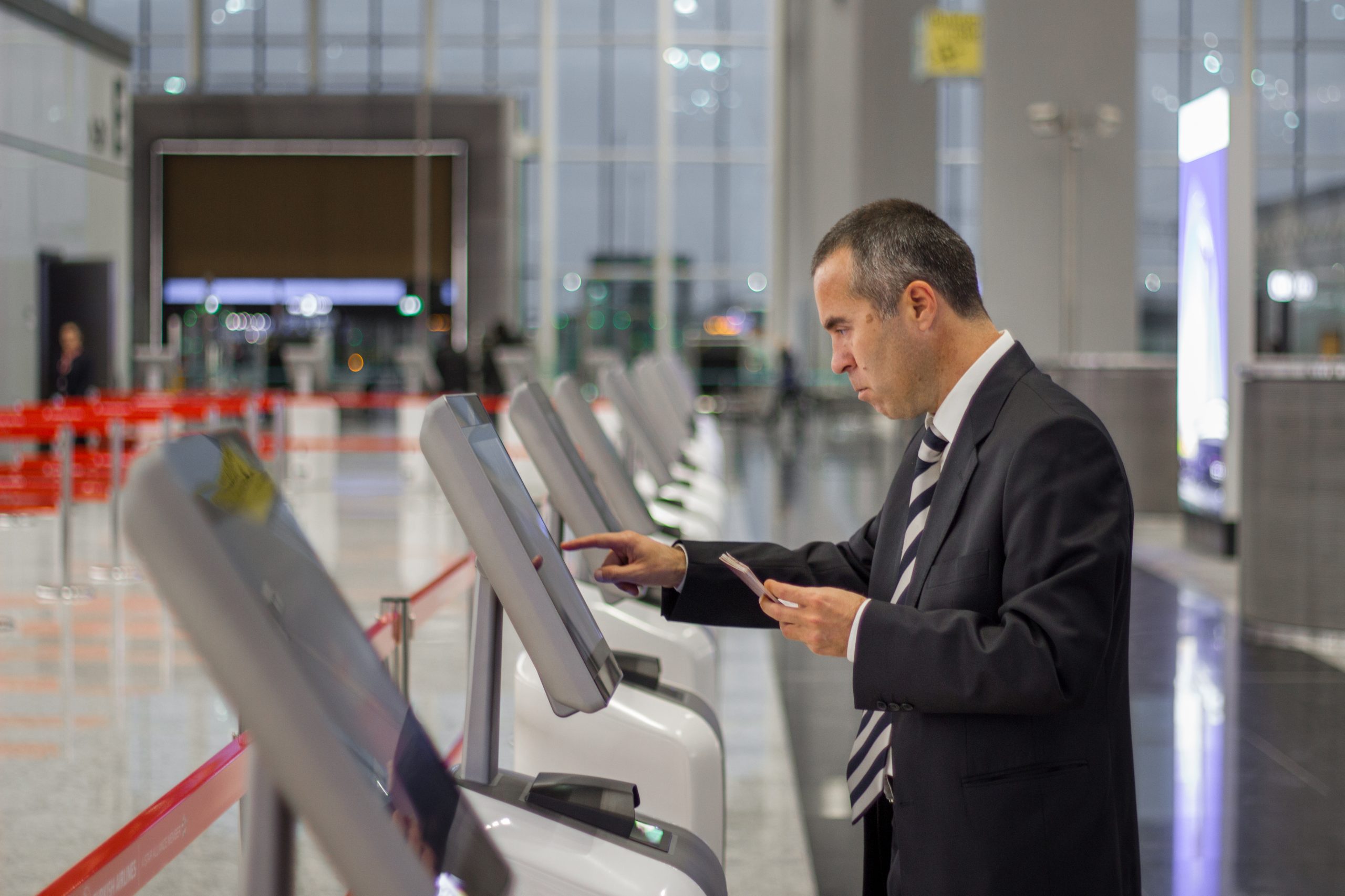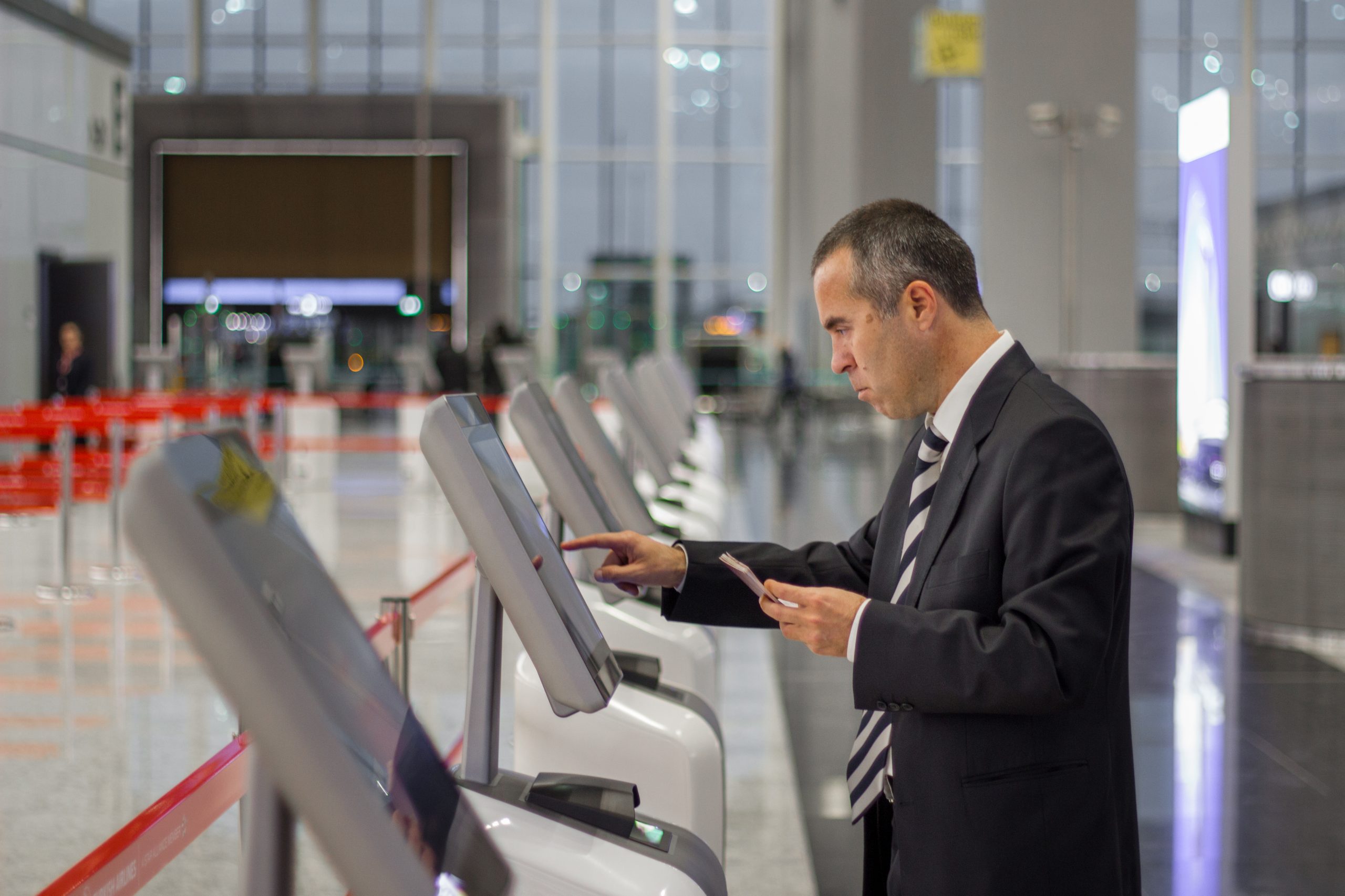 When To Use Check-In Kiosks
Whether you are traveling, checking into a hotel, or entering a hospital, interactive kiosks make the process easier. If you're not sure whether you should use check-in kiosks or not, here are several situations where you should opt for interactive check-in kiosks:
You Don't Want To Wait In Long Queues
If you find yourself entering an establishment with a long check-in queue and you don't want to wait for a long time, interactive kiosks are a great hassle-free way to check in faster since they provide a smooth and secure way of completing the check-in process so you can move on to something else.
In the hotel industry, check-in kiosks are used to register guests and log employees before working. In the health sector, the kiosks help to accept patients quicker into clinics, rehab facilities, and hospitals. But it's in the air travel industry where check-in kiosks have the most apparent prominence since most airlines in different parts of the world now allow passengers to check in their luggage and print boarding passes from these strategically located structures.
You Prefer Self-Service Procedures
People have different temperaments and react in public differently. Some would prefer the traditional check-ins where they could converse with customer care staff to check them in, while others prefer not to encounter other humans and opt for self-service facilities. If you fall in the latter category, opt for a check in kiosk anytime the option is available. By automating these services, heavily populated places such as airports would appear more manageable to people who don't like being in big crowds.
You're Looking For Directions
Besides checking customers in, interactive kiosks offer more services, including providing directions to users. For instance, if you're in an airport and aren't sure which way your terminal is located, you can use check-in kiosks to find the directions and save yourself lots of time and energy. Most airports include digital wayfinding maps in check-in kiosks, making it easier for passengers to find their way around the airport.
Final Thoughts
Check-in kiosks have become popular in various types of industries in recent years. Some of the benefits they offer users include reduced waiting time and providing multiple check-in options for users. The interactive nature of these kiosks makes them easy to use as well. Besides checking in to a service, customers can also use the kiosks to get directions on navigating airports, placing orders, and making payments. Offering automated convenience is its number one quality, which customers appreciate.