Rising demand of telemedicine and advancements in technology is expected to drive the demand for global healthcare chatbots market in forecast period.
According to TechSci Research report, "Global Healthcare Chatbots Market By Component (Solutions, Services) By Type (Prescriptive Chatbots, Conversational Chatbots, Informative Chatbots, Others) By Deployment (On Premises, Cloud) By Application (Symptom Checking, Medication Assistance & Guidance, Appointment Scheduling, Coverage & Claims Management, Others) By End-Use (Patients, Healthcare Providers, Insurance Companies, Others), By Region, Company Forecast & Opportunities, 2026", the global healthcare chatbots market is expected to witness significant growth in the forecast period, 2022-2026. Chatbots are defined as interactive applications to assist the interaction with humans using the textual conversation process. They use artificial intelligence technology to generate insights and take informed actions. These healthcare chatbots use on-premises or cloud-based software and aid the user to know about the symptoms, find hospitals, and book appointments. Therefore, the healthcare chatbots save the clinical staff to indulge in these activities and lets them focus on other essential chores. An increase in the adoption of healthcare chatbots and the growing usage of smart devices is expected to fuel the market growth in the next five years. The surge in the downloads of healthcare applications and the technological advancements of artificial intelligence technology is further influencing the growth of the healthcare chatbots market. Healthcare facilities are using healthcare chatbots to increase their patient engagement rate and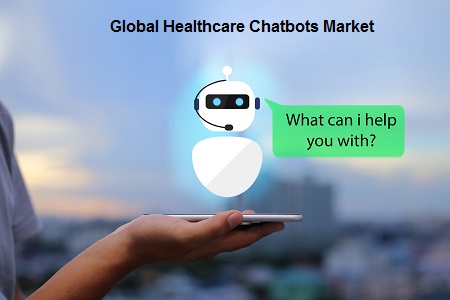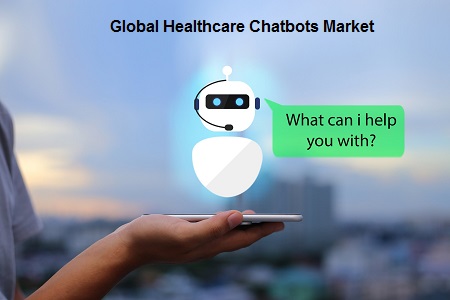 The COVID-19 outbreak across the world which has been declared as a pandemic by World Health Organization has affected several countries adversely. Leading authorities around the globe imposed lockdown restrictions and released a set of precautionary measures to contain the spread of novel coronavirus. Coronavirus-affected patients started suffering from shortness of breath along with coughing and sneezing along with facing other severe conditions. To reduce the impact of coronavirus, people stopped visiting the healthcare facilities physically and instead used the virtual system to contact the healthcare facilities for primary enquires which in turn accelerated the demand of the healthcare chatbots market during this period.
However, the growing concerns about cyber-security and privacy concerns may restrain the growth of the global healthcare chatbots market in the forecast period.
Global healthcare chatbots market is segmented into component, type, deployment, application, end-use, regional distribution, and company. Based on the application, the market can be divided into symptom checking, medication assistance & guidance, appointment scheduling, coverage & claims management, and others. The symptom checking segment is expected to account for major market share in the forecast period, 2022-2026. The growing internet penetration and the proliferation of smart devices are expected to influence the market growth. Patients prefer to opt for online channels for primary enquires to reduce the downtime and know information about the symptoms and take an appropriate course of action to ensure effective treatment. Patients can access healthcare chatbots on mobile websites, social media pages, and mobiles. Healthcare chatbots interact with potential customers to provide possible diagnoses, help find suitable healthcare professionals, and notifies the patients to take their medicine on time. Based on the deployment, the market can be divided into on-premises, and cloud. The cloud-based deployment mode is expected to hold a major market share in the next five years. Cloud-based solutions provide unlimited storage capacity, scalable, reliable, and can be accessed through remote locations.
Your.MD Ltd., Buoy Health, Inc., Babylon Healthcare Services Limited, Baidu, Inc, Woebot Labs, Inc, Pact Care BV, Kik Interactive, Inc, Lifelink Inc, Sensely Inc., ADA Digital Health, Ltd., Infermedica SP, HealthTap, Inc., Inbenta Technologies, Inc., Synthetix Ltd, Nuance Communications, Inc. are the leading players operating in global healthcare chatbots market. Service Providers are increasingly focusing on research and development process to fuel higher growth in the market. To meet evolving customer demand with respect to better efficiency and durability, several healthcare chatbots providers are coming up with their technologically advanced offerings.
Download Sample Report @ https://www.techsciresearch.com/sample-report.aspx?cid=7829