Dramatic changes are being introduced across all verticals by the revolutionary 3D printing technology. After contributing greatly to the progress of medicine, academics, architecture, and product design, 3D printing has now taken an artistic turn. We are Divide By Zero and we are one of the leading industrial grade 3D printer manufacturing companies in India. We have been collaborating with many large enterprises and SMBs, offering them support for efficient prototyping, small volume production, design testing and getting the product to the market in much lesser span of time. However, our collaboration with Srujanamm was a tad different than the others, for it led to a wonderful journey of art, philosophy and intriguing application of the 3D printing technology in the field of art.
About our client: Srujanamm is an art studio based in Pune founded by the innovative artist couple – Shwetali and Uday Raghuwanshi. Srujanamm believes that divinity manifests itself in every corner of this universe, with all its unparalleled and salient features. Shwetali and Uday unleash their creativity to embody these divine and spiritual energies in form of intricate sculptures and sculptural paintings. They follow the concept of – "the bliss from your inner self". This is something that reflects in each of their creativity, which is inspired by spiritual philosophies. They provide integrated art offerings to collectors, corporates, hospitality industry, architects, interior designers etc. The specialty of these artworks signify beauty with a philosophy. Right from a visualisation to its embodiment, every art piece requires endless efforts and hard work to create a one-of-a-kind masterpiece.
3D printed art – a new perspective
Opting for a contemporary medium to express unique conceptual ideas, they blend new age 3D printing technology with different materials to create magnificent pieces of art. With this combination of art and technology, every piece can be made one of a kind, with a different composition, materials and hence different finishing. It can be 3D printed along with various post processing procedure one can achieve various kinds of finishes like gracefully shiny pearl finish or that like molten copper or absolutely anything one can imagine.
This particular 3D printed artwork by Srujanamm is titled "Attraction of Unknown" and has the dimensions : 55H x 52L x 20W inches (with pedestal) 48H x 44L x 15W inches (without pedestal). It weighs about 20 kg, approximately. This conceptual art is based on a spiritual philosophy quoted by Julian Johnson in his famous work The Path of the Masters: "With the grace of Great Living Master, realization of two things in the spiritual state [inner raptures]: the longing to see God, obscuring all else, so intense is the desire and the other is an excessive gladness and delight, which is so extreme that while living, the soul appears to swoon away and seems on the verge of leaving the body."
The simple derivation of this is that every soul has the right to know its creator, and not just to spend its whole life in the realization of his creations. The sculpture has four components – The mermaid is the seeker, the dolphin is a great living master who supervises the world and the after world, fish are the souls entangled in the creation while the anchor represents the creation itself.
3D printed art with Accucraft i250D
Srujanamm used Divide By Zero's hybrid dual-extruder Accucraft i250D 3D printer to develop this beautiful modern artwork. The Accucraft i250D is pre-assembled, calibrated and tested for easy 3D printing, right out of the box. Its high-performance dual extruders enable users to simultaneously work with two types of material or colour options, thus broadening design possibilities. Describe below are the key stages in the development of this 3D printed artwork.
A 3D model of the sculpture was made to base the 3D printed artwork on as shown in the image below.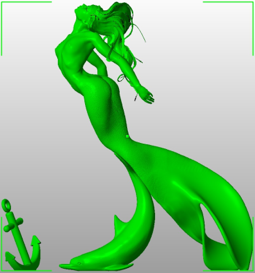 Divide By Zero' Accucraft i250D accurately 3D printed individual parts of this large artwork as shown in the images here: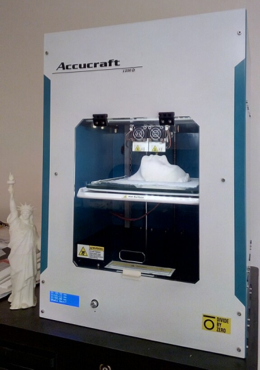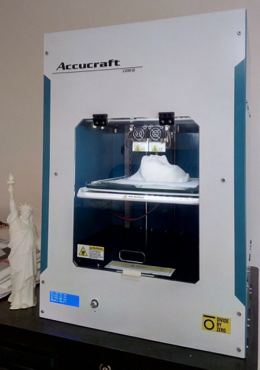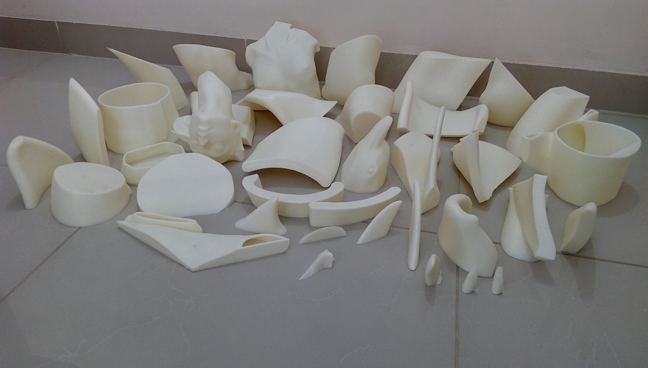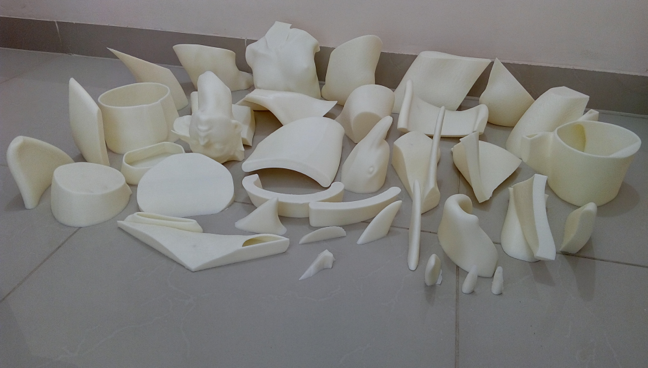 After 3D printing individual parts, they were assembled in a sculptural form and were fixed on a pedestal as seen here: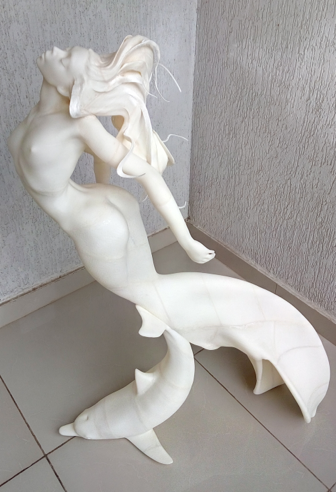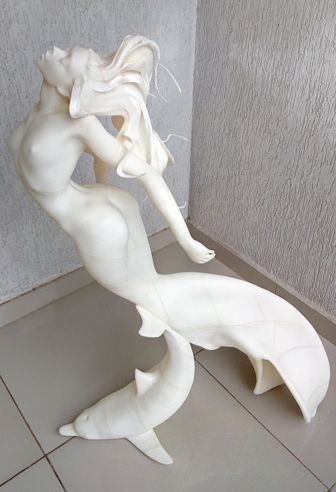 After completing the assembly, a few post-processing procedures and finishing touches resulted in a beautiful conceptualisation of a work of art. You can see the beautiful, completed artwork here: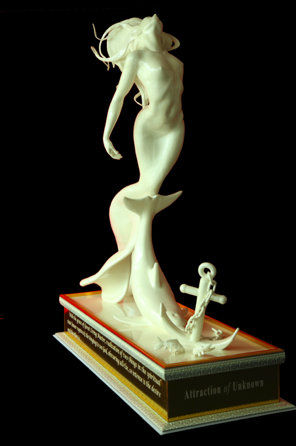 With the help of the Accucraft i250D, the 3D model was then printed for about 900 printing hours. The materials were largely a mix of 3D printing material ABS, alumina, and resin. After 180 days of embodying the philosophy, the result was a precious and attractive sculpture with a pearly white finish, which depicts a secret of life.
In the words of Mr. Uday Raghuwanshi, "It's been my pleasure to inform you that I have successfully completed my much awaited dream project of 3D Printed Life Size Sculpture with the help of your Accucraft i250D."