[paragraph]There are some very detailed project management & planning tools I have reviewed like Wrike, and then there are good team communication or collaboration apps that have been around for a while. Be it visual boards, team chat, and task leveraging project handling tools, I can definitely suggest what works better for specific type of team or work. And if you work in support or sales, and most of your day are spent reading and replying emails, you don't need any of those fancy dedicated apps. What you really need is – Hiver![/paragraph]
Hiver Review
Hiver basically is a chrome extension, that gets connected to your Gmail account and magically supercharges your Gmail for effective collaboration. It provides you a shared mailbox environment where you can create Hiver-special labels that are shared across your team. Your labels and their privacy is customizable and you can choose who have access to your labels. With almost no learning curve you connect with your team, with whatever Gmail accounts they have, without looking for a third party solution.
There are many features that make this a true companion for any sales, support or any small team, but I would like to justify why third party tools are not the best productivity apps for everyone – You do not have to install any other mobile application, or open another browser tab, and jump from window to window to see what your manager has set a task for you. And then once you're done, you have to go back and report through a different app or browser window unless such automatic reporting integration is in place. Third party app notifies you at different devices, and it gets annoying if you have a very active team constantly updating each other.
Why exactly the emails sucked for team communication before? – There are no management tools or features comprehensive enough, and you can't dig through hundreds of emails to find a specific document or discussion. Sure, there are labels and there are tasks, but there is no management interface for them.
Hiver solves both these problems. It brings much necessary email and task management features, and it cuts down some advanced collaboration tools, that sales and support people won't really need. While cutting down these additional features, Hiver brings tools like email templates to reply specific queries or questions instantly.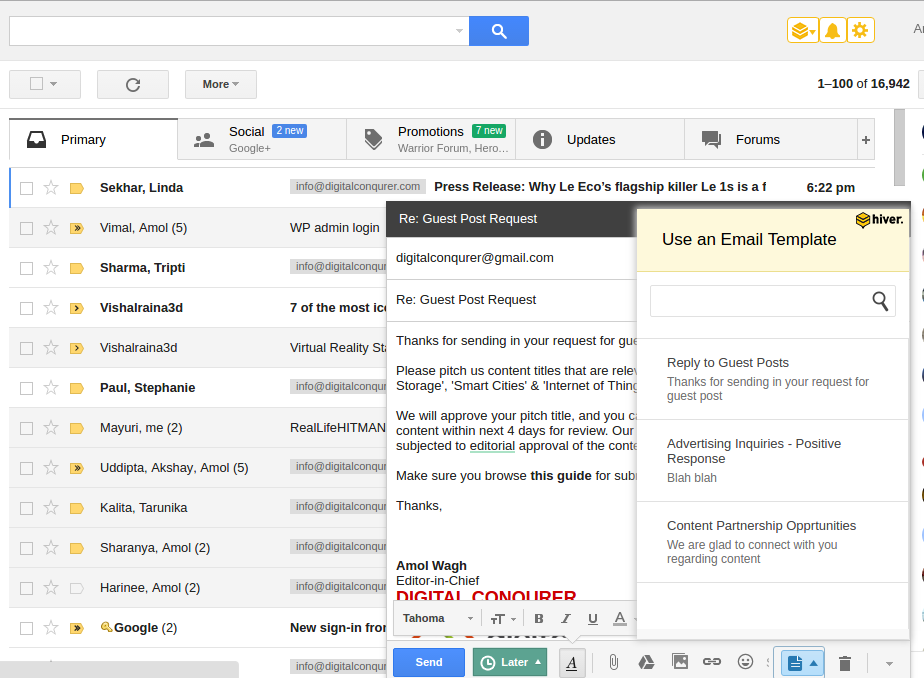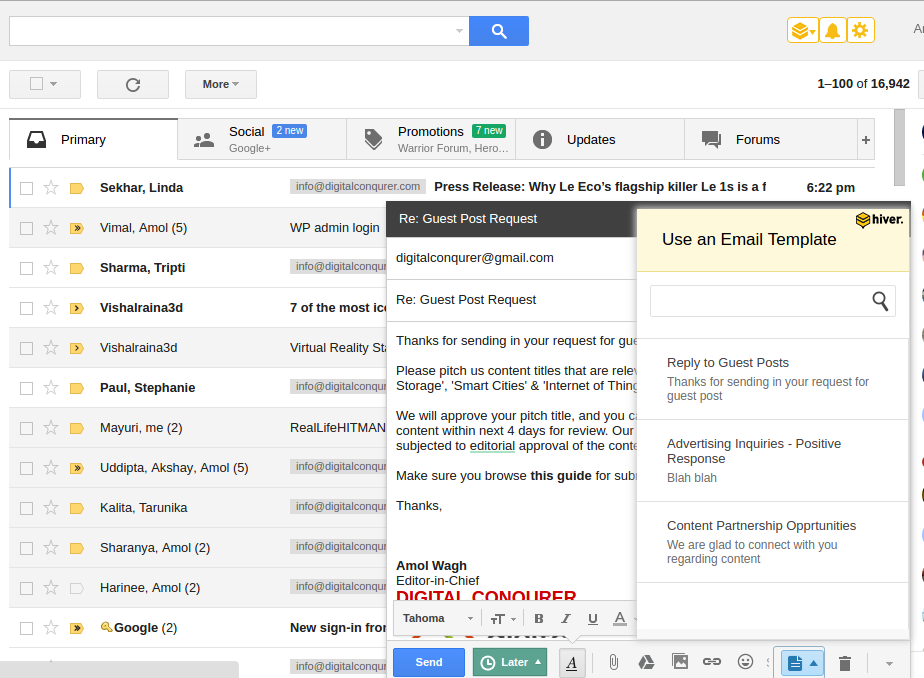 Hiver provides an advanced task management feature that lets you create and assign the tasks to your team members. They will get notified with the custom Hiver menu bar, and members can respond and act instantly for support queries or team queries.
Shared Gmail labels will let you classify your tasks and Shared Contacts make it easier to delegate customer information to other team members. There is another outstanding feature that I wish every mail client should have is 'Send it Later'. You can schedule to mail your team-mate or client later, with quick access of one, two, four hours, tomorrow morning, one week later and custom time schedules. For me, it was mostly useful, as I often forget to send some emails on the following day, and now I can schedule them ahead of time.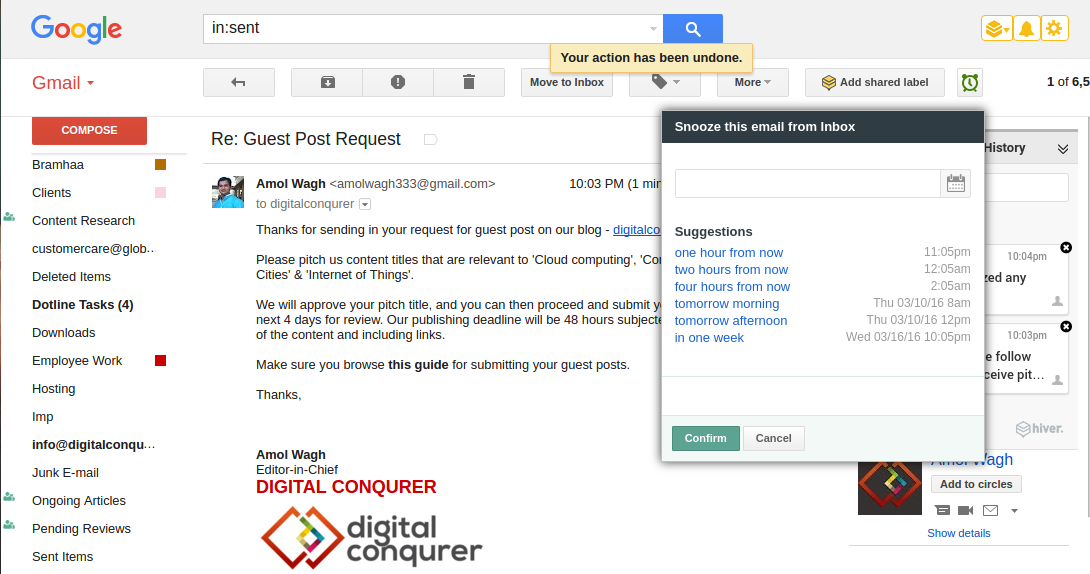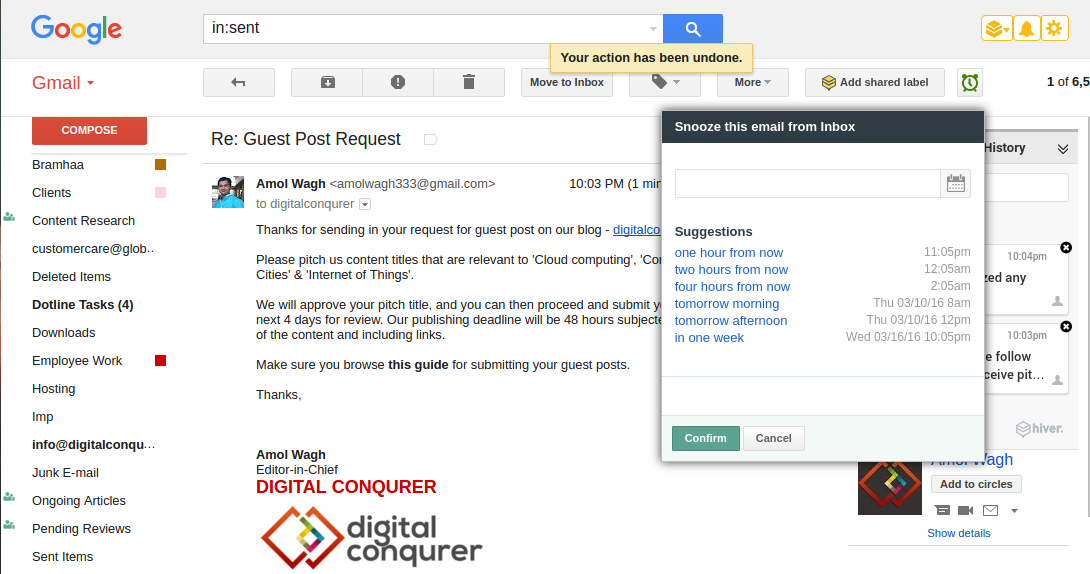 This experienced of enriched Gmail inbox gets even better with email reminders. So far you can only use them through Google Calendar, but it wasn't as handy as Hiver. Both the reminder and email later features are seamlessly integrated within the Gmail's user interface, and it becomes naturally usable at all times. The similar quick timers are also available in 'Email reminder' feature as well.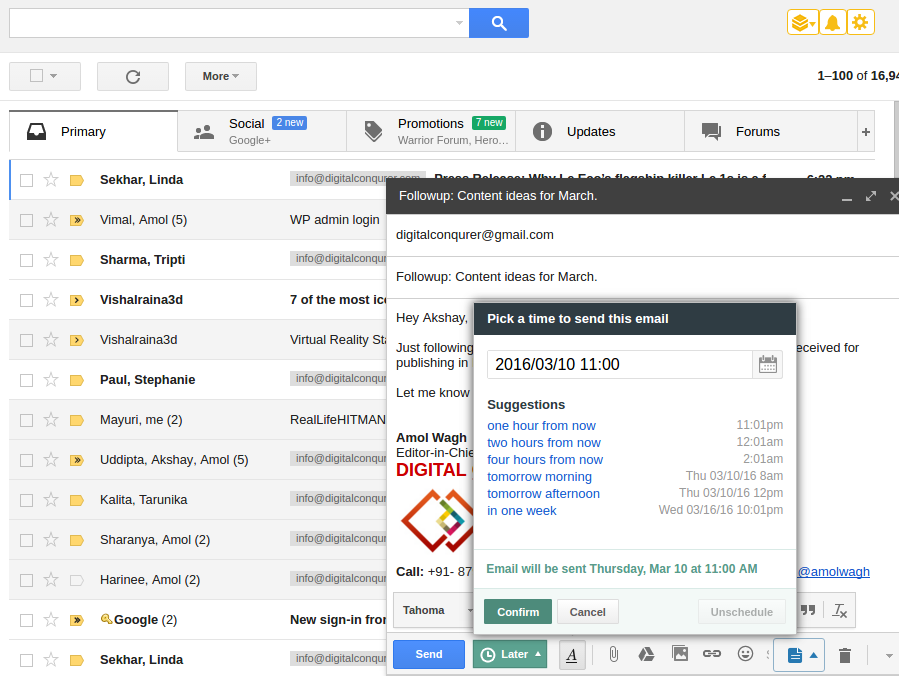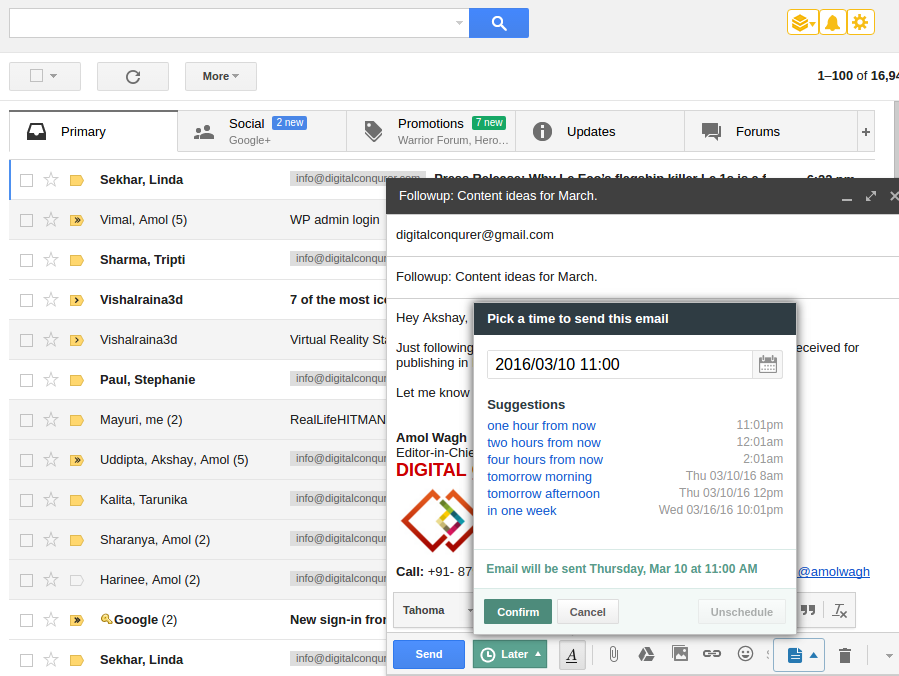 If you have support queries handled my multiple team members, then Hiver automatically detects the collision, and stops second support executive by warning him 'Someone else is already replying this email.' If you are a small team or may be a big team with no support software, this exclusive feature of Hiver kind of saved you huge expense of building a dynamic customer support type system.
Let's move on the most important part on how this productivity tool can enhance your actual email activity. It comes with built-in email templates you can create or customize, and use it reduce your time spent on repetitive email types. Mails like responding to a job application, event invitation, step by step guides and sharing resource material for specific questions, it gets so much easier and faster with these customized email templates.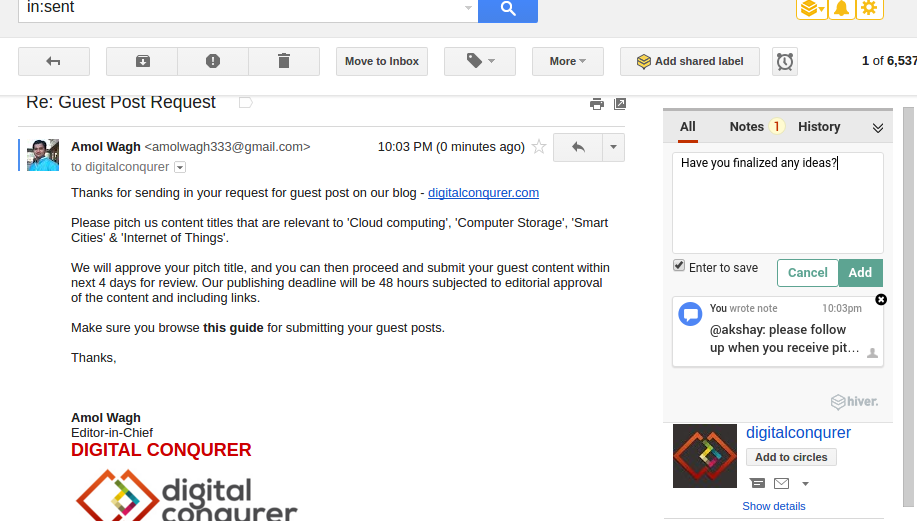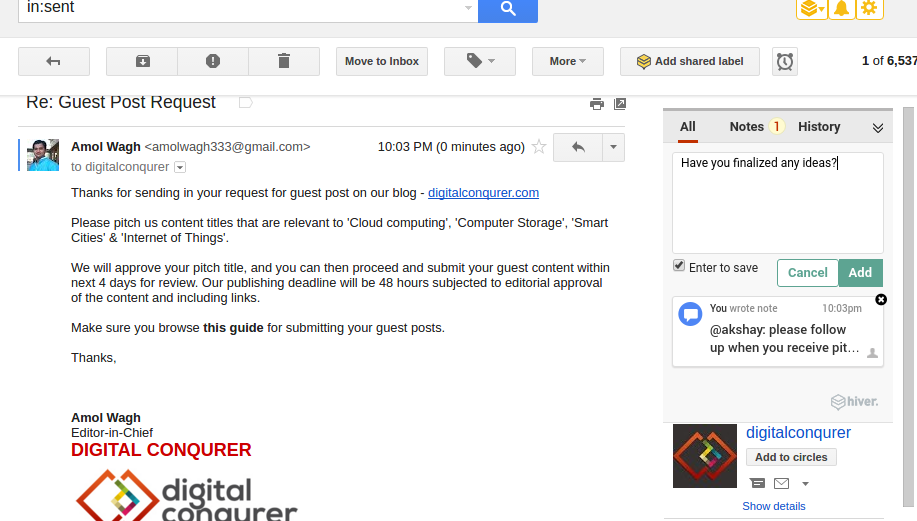 Email notes is another feature that can help you log activities at the right side of your Gmail client. You can add notes, mention team members, take feedback and keep track of all previous activities on that specific email content. These two features make your Gmail, a ninja tool to accomplish all your team discussion, client response, support request and sales management overall.
It takes 5 seconds to install in your chrome, and next time you open your Gmail, it will have all Hiver features. Note that it effortlessly integrate with Google Apps users, and you only pay for those who integrate Hiver, and not for the rest of accounts in your company or team.
User Experience & Who This Tool is Ideally For?
The user interface is nothing new to any Gmail user except the three buttons that takes you to Hiver dashboard, settings, and team notifications. The dashboard like I said is a much-needed addition that lets you manage tasks, email templates, users, requests and shared labels. This is like a hub for your team activities, and once you are done customizing it according to your need, you can start being productive right away.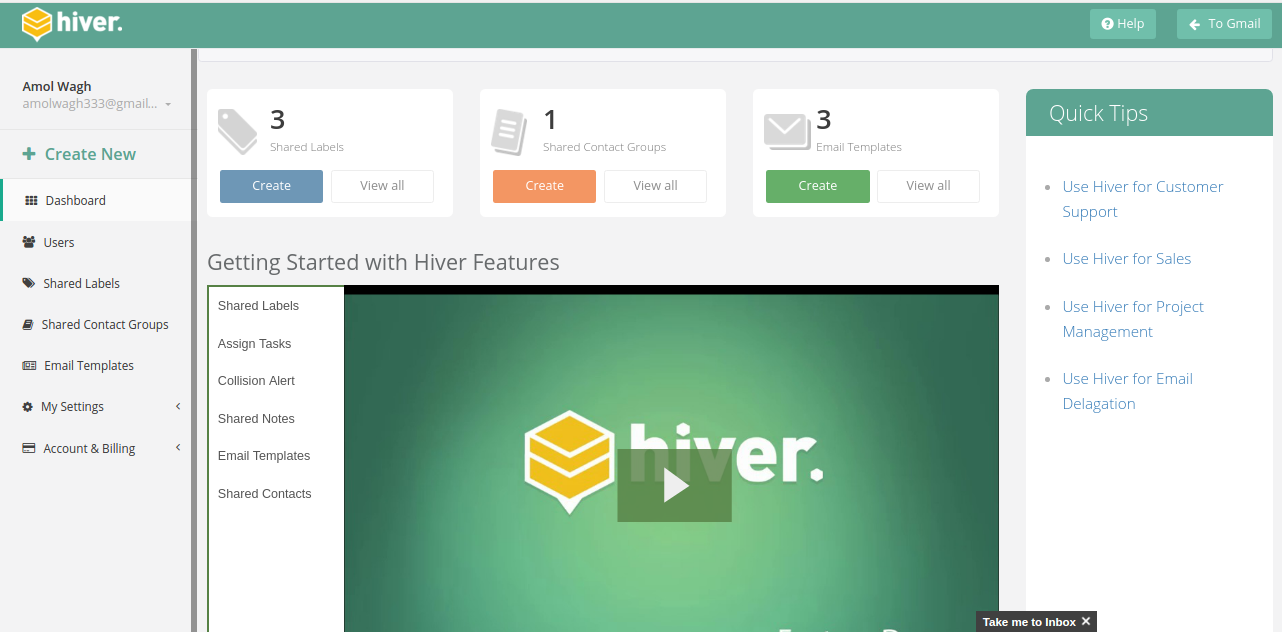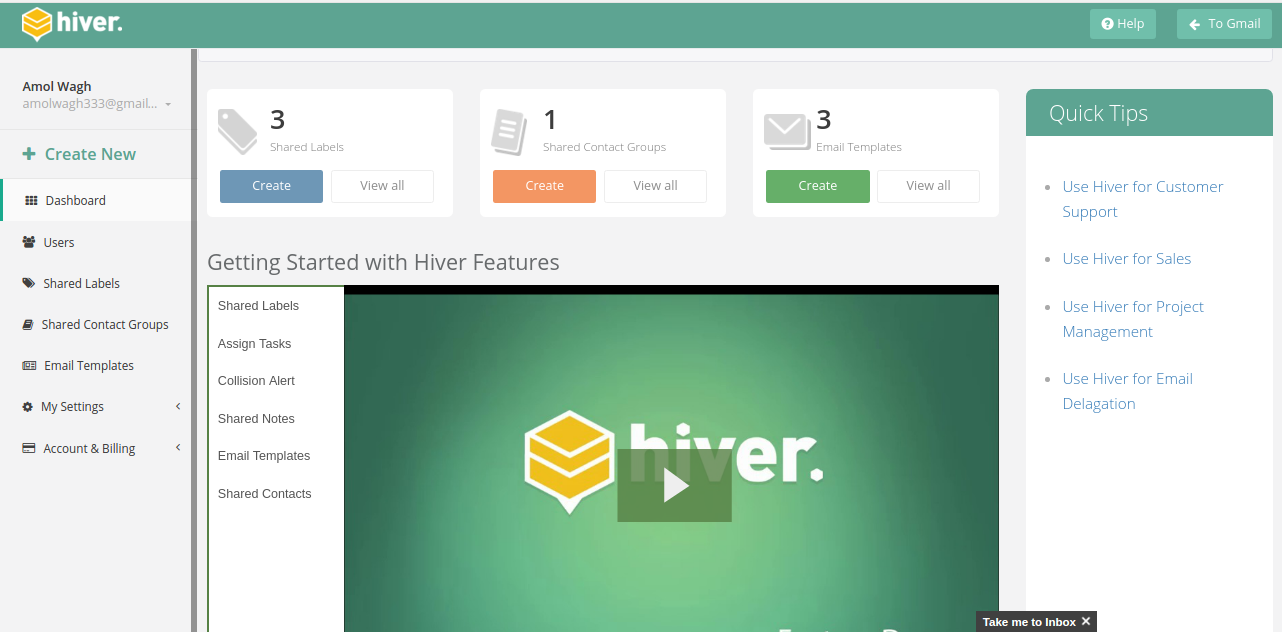 The experience is undoubtedly seamless with Hiver chrome extension, it does not get in a way for your normal email activities, and it doesn't compromise your overall email experience at all. The quick buttons like setting date and time on calendars, quick buttons, notes and reminders are always present when you need them, and in fact, you will miss this feature in case you turn off your Hiver for a minute.
Do not mistake this tool being highly productive only for Sales & Support people but it's in fact, an amazing add-on for any startup looking to integrate quick communication solution or small company that wants to optimize its workflow, or even as one great tool for students to manage small group projects. Throughout this review, you will see how I used this to communicate with my blogging team and advertisers and content creators who contact me. So you can get creative, and use it in many ways you can.
Pricing
With up to 3 users, 3 shared labels, 50 emails per day & 10 notes/day you get access to Hiver for free for first 14 days. Later on, you can opt for plans starting $6/month per user to $18/moth/user for enterprise plan. Know more about pricing and detailed features you get with each plan here.
Verdict
In the world of productivity, features we are offered and the ones we actually use has been often misunderstood by app developers. But by decluttering superficial 'smart' features Hiver stays at basic of communication and makes Gmail stronger with the light touch-ups. This impressive little chrome extension literally supercharges your email experience and brings your team together in a very effective shared inbox experience. Priced very decently for its features, I will highly recommend Hiver for bringing much-needed features that improve email communication, and helps you achieve better productivity for the team of any size.
What productivity software do you use for effective team collaboration? And what is your view on this nifty little tool 'Hiver'? – Do let us know your views and experience with such team collaboration tools in following comments section.