GIGABYTE TECHNOLOGY Co. Ltd, the world's leading premium gaming hardware manufacturer, showcases its latest AORUS extreme gaming systems in Mumbai. A press event is held to showcase top notc AORUS series productsgaming products including AORUS AD27QD monitor, C621 AORUS XTREME motherboard, Z390 AORUS XTREME WATERFORCE 5G Premium Edition Bundle with Intel® CoreTM i9-9900K, AORUS RTX 2080 Ti XTREME series graphic card, and AORUS RGB AIC NVMe SSD.


AORUS is a premium gaming brand powered by GIGABYTE. During the Event, invited guests will get a chance to experience AORUS AD27QD which is world's first tactical monitor with AORUS exclusive features including Active Noise Cancelling (ANC),Black Equalizer, Aim Stabilizer, GameAssist, AORUS Dashboard, OSD Sidekick. ;  Gamers can have huge advantage over their enemies with these out of the box features of AORUS Monitor as this is not just a Gaming Monitor but Tactical Gaming monitor, an equipment that will let gamers control the pace  of the game in a better way.
GIGABYTE also showcases its C621 AORUS XTREME motherboard which smashes single processor computing performance with the astonishing feat of having all 28 cores running stable at 5GHz+. It is an  ultimate platform for those seeking  most advanced computing power for various tasks ranging from digital content creation, deep learning, extreme Game hosting to powerful medical imaging calculation, biological genetic analysis, energy exploration, astronomical science research, and much more.
For extreme overclockers and gamers, GIGABYTE offers extreme performance in Z390 AORUS XTREME WATERFORCE 5G Premium Edition bundle which delivers all cores at the frequency of 5.1GHz and higher on Intel® CoreTM i9-9900K processors pretested and paired with this  Motherboard.  This  flagship motherboard features top-of-the-line heat dissipation with striking aesthetics, drawing out the best performance from Intel® CoreTM i9-9900K processor which  has  been handpicked and pretested for  high frequency  overclocking,  this ensures that every Z390 AORUS XTREME WATERFORCE 5G bundle can hit 5.1GHz at all cores for next level overclocking and performance.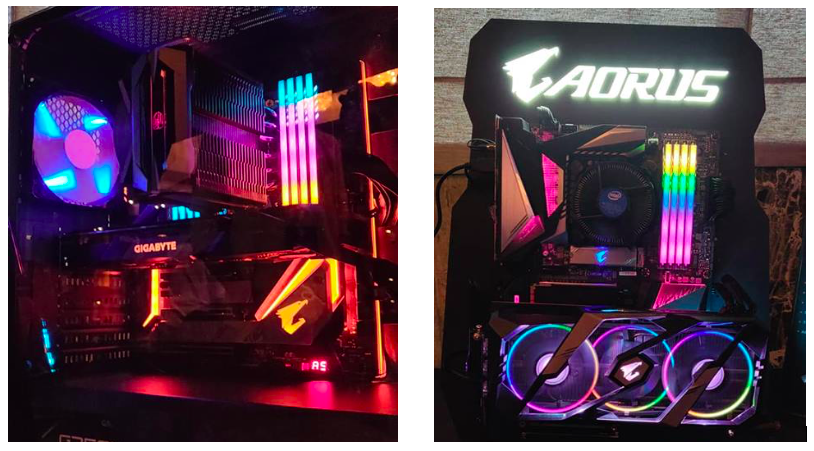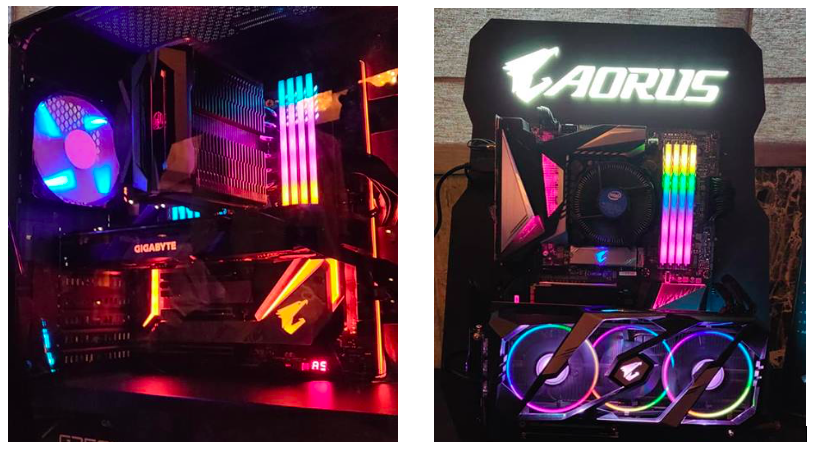 All AORUS extreme Gaming PC system in the event are paired with AORUS RTX 2080 Ti XTREME  series  graphics cards which are equipped with top-of-the-line overclocked GPU certified by GIGABYTE GPU Gauntlet™ sorting technology. The main features of the graphics card include AORUS's 3 patents – industry leading innovative RGB three-ring light effect, WINDFORCE 3x 100mm Stack Fan, and 7 video outputs. Consumers will not only enjoy  best in class computing performance, but also have the best visual enjoyment and user experience.
The newest in the product league is  AORUS RGB AIC NVMe SSD with mainstream storage capacity options that can also be experienced in the event. AORUS RGB SSD showcases colorful, digital LED lighting and is the first SSD on the market to have full lighting synchronization with motherboards and graphics cards. The new SSD fulfills the GIGABYTE standard for durability and reliability, having undergone rigorous testing to ensure that users enjoy only the best and most stable SSD performance.
" We wish to bring whole set of new and extreme gaming experience to Indian gamers not only with AD27QD monitor but also extreme desktop performance which comes from pre-tested i9-9900K, top-of-the-line motherboard, graphics card and SSD" said Tony Liao, Associated VP of the GIGABYTE Channel Solutions Business Unit.
For more information and news on GIGABYTE products, please visit the official GIGABYTE website:
About GIGABYTE Upgrade Your Life
GIGABYTE, a global leading brand in the IT industry, offers a broad product portfolio including Motherboards, Graphics Cards, PC Components, PC Peripherals, Laptops, Desktop PCs, Network Communications, Servers. GIGABYTE also demonstrates the pinnacle of its hardware excellence in AORUS, in which it provides a full spectrum of innovative gaming products that deliver the ultimate performance and exemplify PC's capability of bringing gamers unprecedented delights. Since its founding in 1986, GIGABYTE has taken the lead in the world's motherboard and graphics card innovations and been internationally recognized by National Quality Award, Taiwan Excellence Award, Asia Info Tech 100, and as a Taiwan Top 20 Global Brand. With the idea to "Upgrade Your Life", GIGABYTE creates innovative digital solutions that completely satisfy consumer needs and desires. Please visit www.gigabyte.com for more information.