Eurocom is making waves in the high-performance laptop market with its announcement of 4 TB M.2 Sabrent Rocket NVMe SSD storage now available in their already impressive line of laptops. With this announcement, Eurocom has set the world record for the largest internal storage in a laptop by offering up to an incredible 28 TB of SSD storage space using 5 physical drives.
But who needs this massive power? Power users who work with incredible amounts of data and cannot risk any errors when it comes to their critical data being transferred and stored can all benefit largely from NVMe SSDs. These power users include, but are not limited to: IT professionals who work in Computer Aided Design (CAD), IT Architects who work with programs such as SOLIDWORKS, software designers/engineers who want to reduce their transfer and render times, professional gamers who want to fully-optimize their computing experience, and many more. If a user is working with a large amount of data, an NVMe SSD is the solution for those looking to greatly improve transfer/render times while considerably reducing the risk of losing important data.


Besides blazing-fast storage, Eurocom continues to set the trend in laptop performance and customization by giving users the ability to configure their laptops with up to 128 GB RAM along with a wide choice of today's most powerful CPU and GPU hardware. The result? Eurocom's heavy-duty users can a dream system with unmatched power on-the-go! One of the systems that fully support 28 TB of SSD storage is the Tornado F7W Mobile Workstation
The Tornado TF7W is capable of supporting up to 5 physical drives with a total space up to an astonishing 28TB of internal SSD storage. It has 3 x M.2 NVMe slots and 2 x 2.5" SATA3 slots that can run in multiple RAID configurations (RAID 0/1/5/10). It is capable RAID 0/1/5 configuration with NVMe SSD's. This RAID feature is uncommon in most of the high-end laptops in the market today and is one of the many different ways Eurocom laptops give power users the unique tools and customization they need to perform complex tasks and processes.
Capable of supporting ECC memory up to a total 128 GB of DDR4 RAM, the Tornado F7W is one of the very few laptop designs to utilize ECC and non-ECC memory in the same physical model. ECC memory is used with Xeon-class CPU's while non-ECC memory is used with i7 and i9 processors.
This system has a 17.3-inch display size, is 51mm (2.04 inches) in thickness and weighs 4.14kg (9.1 lbs). It supports a selection of workstation-class GPU's including the Quadro P5200, P4200 and P3200. The GPU's are upgradeable via MXM 3.1, socket-based technology and the size of each card is 82mm x 105mm. Eurocom also offers a several-choices of processors ranging from i9 900K, i7 9700K-which are 8-core CPU's, as well as Xeon 6Core/12Thread E-2816G CPUs. These processors are LGA 1151 socket-based, allowing for future upgrades to next-generation processors once they are available.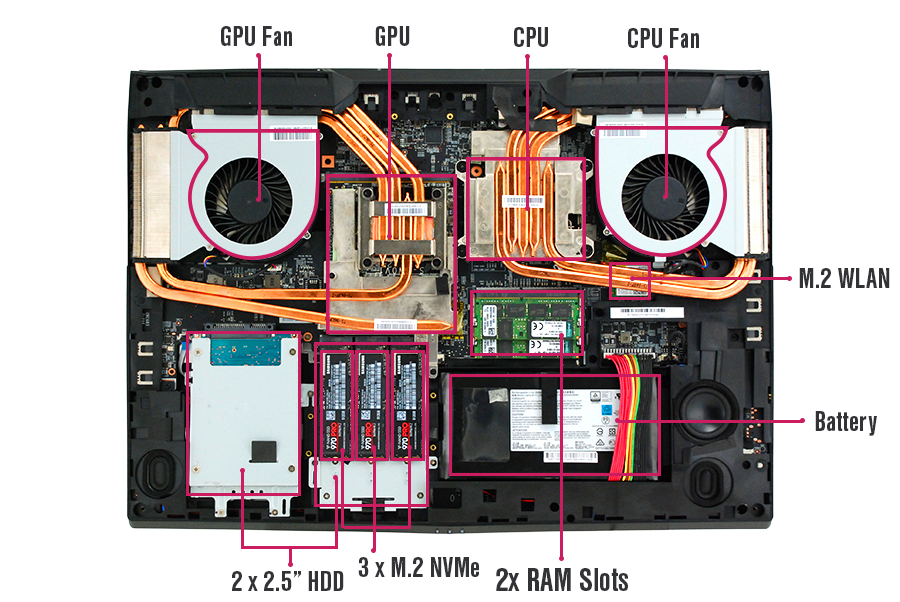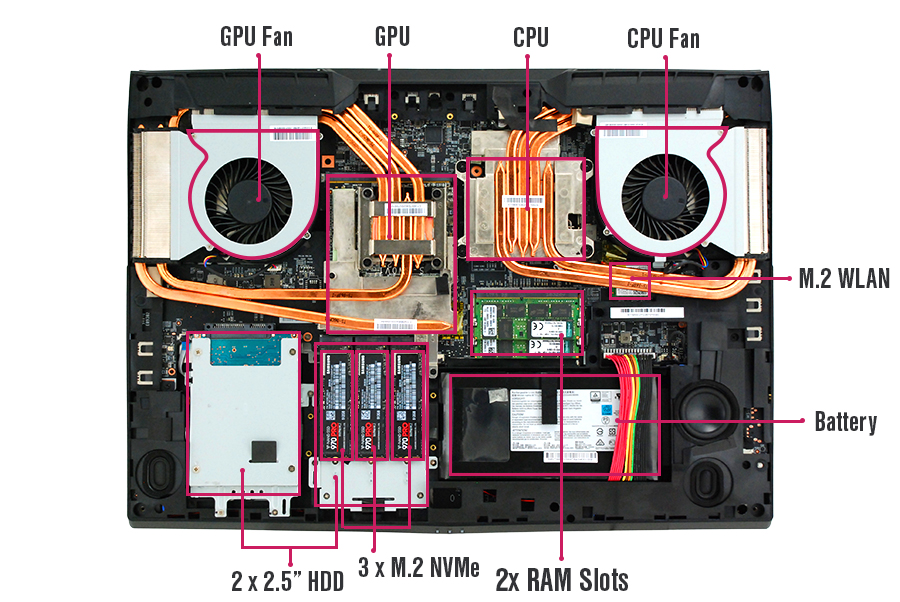 The Tornado F7W comes loaded with security features critical to the management of intellectual properties stored within different companies and organizations. It is equipped with a Smart Card reader and a fingerprint scanner for security access as well as TPM 2.0 and BIOS disk encryption for further data security. Eurocom also offers and optional, "anti-hacking protection suite," consisting of the removal of webcam, microphone and wireless cards. This allows for protection of intellectual assets and further defends against malware, tampering and theft of intellectual assets and/or data.
The Tornado F7W is loaded with many ports allowing the usage of 4 total displays. The following ports are also provided: Thunderbolt 3.0, 5 x USB 3.1, HDIMI- just to name a few. Eurocom supports multiple operating systems including VMware, Microsoft Server 2016 R2, Windows 10 and Linux.
Tornado F7W Core Features:
Choice of 17.3 inch/43.9 cm LCD resolutions: FHD, UHD 4K
Choice of LCD frequencies: 60Hz or 120Hz
Choice of upgradeable, MxM 3.0 Quadro GPU's: 6GB GDDR5- (P3000, P3200); 8GB GDDR5- (P4000, P4200); 16GB GDDR5- (P5000, P5200)
Choice of CPUs: 6 cores/12 threads- (Xeon E-2176G, Xeon E-2186G, i7 8700, i7 8700K, i7 8086K); 8 cores/8 threads- (i7 9700K); 8 cores/16 threads – (i9 9900K)
Choice of Memory (RAM) options: 16GB- (1x16GB DDR4); 32GB- (2x16GB DDR4); 64GB- (4X16GB DDR4, 2X32GB DDR4); 128GB- (4X32GB DDR4)
Choice of Storage options: up to 5 physical drives with RAID 0/1/5, NVMe SSD, up to 28TB of storage
Choice of Operating Systems: ‎VMWare, Microsoft Server 2016 R2, Windows 10 and Linux
Choice of Security features: TPM 2.0, BIOS Disk Encryption, Smart card reader, security lock, fingerprint scanner, webcam, microphone and WLAN
Choice of Ports: 1x Thunderbolt 3.0; 5x USB 3.1; Mini Display; HDMI 2.0; Mic in; Headphone S/PDIF out; Line-in; Line out; RJ-45 / LAN