The G Pro X Superlight 2 Gaming Mouse is built to deliver Next Generation Performance, Precision and Design for the World's elite Esports Athletes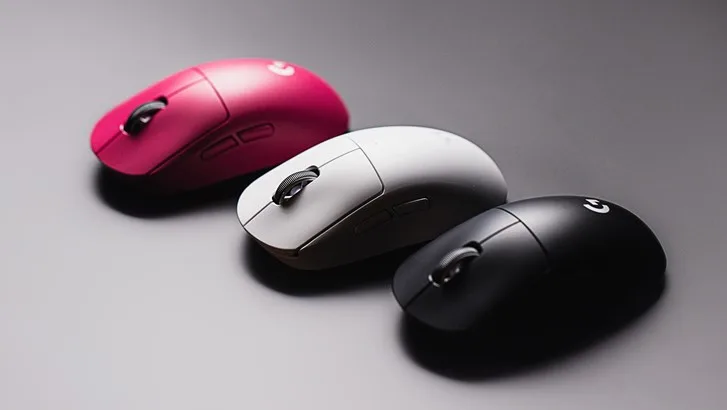 National, 19th October 2023 – Today, Logitech G, a brand of Logitech (SIX: LOGN) (NASDAQ: LOGI) and leading innovator of gaming technologies and gear, today introduced the newest product in the award-winning PRO Series Line, the Logitech G PRO X SUPERLIGHT 2 Gaming Mouse.
Over the past three years, Logitech G has been working with hundreds of the world's most- skilled professional esports athletes to create the next generation of PRO Series gear. This product completes the PRO series line by offering the highest level of PC performance across mice, keyboard and headsets.
The Logitech G PRO X SUPERLIGHT 2 Gaming Mouse combines precision, performance and reliability, making it an indispensable advantage for elite-level gaming.
State-of-the-art technologies and features include its LIGHTFORCE Hybrid Switches, a new hybrid optical-mechanical switch technology that combines the revolutionary performance of optical sensors in speed and reliability while providing the crisp response and mechanical feel that Pros love.
The new mouse also includes the brand new HERO 2 Sensor, with tracking at over 500 inches per second and up to 32,000 DPI. Its unique dual array design increases working range and maintains tracking performance, even when lifting or tilting the mouse.
Based on feedback from pro gamers, the new PRO X Superlight retains its award-winning shape and geometry of the original PRO Superlight and also a weight of only 60 grams.
Additional features include: PRO-grade technology, USB-C, 95-hour battery life, POWERPLAY compatibility, a larger array size and a best-in-class 25 kilohertz maximum frame rate. Zero-additive PTFE mouse feet to deliver a smooth glide for seamless reactivity to any game.
For pros, the smallest setting change can make the difference between victory and second place. In the new PRO Series products, DPI, sensitivity, report rate, surface, game settings and more are all interconnected. And with G HUB updates and Onboard Memory Management software (OMM), players now have even more control and configuration capabilities:
New sensitivity UI in G HUB and OMM for configuring DPI with full presets, separate X/Y axis controls, and more.
HERO 2 sensor that can copy settings from one mouse to the other to make sure you get the exact DPI from your old mouse.
Designing for a Positive Future
In addition to creating the world's highest-performing gear, Logitech is equally committed to creating a more equitable and climate-positive world by actively reducing our carbon impact. With upgraded and intentional design, using these new gaming products is a choice players can feel good about. The Pro Series includes certified post-consumer recycled plastic to give a second life to end-of-use plastic from old consumer electronics.
Paper packaging comes from FSC™-certified forests and other controlled sources. By choosing this product, players are supporting responsible management of the world's forests.
All Logitech G products are certified carbon neutral and use renewable energy when possible, during manufacturing. When players purchase a Logitech G product, the carbon footprint of that product has been reduced to zero by supporting forestry, renewables and climate-impacted communities.
Pricing and Availability
The Logitech G PRO X SUPERLIGHT 2 Gaming Mouse is available in Black, Magenta and white colorways at INR 16,995.
About PRO Series
Logitech G PRO Series is an award-winning lineup of professional-grade headsets, mice, and keyboards designed to the exact specifications of the world's top esports athletes. Engineered through a rigorous Design by Collaboration program, PRO Series products include carefully selected features and innovations to achieve the absolute pinnacle of performance while also providing all-day comfort that professional gamers demand.
About Logitech G
Logitech G, a brand of Logitech, is a global leader dedicated to serving the needs of Gamers and Creators with award-winning hardware, software, and solutions. Logitech G's industry-leading products include keyboards, mice, headsets, mousepads, simulation products such as wheels and flight sticks, webcams, lights, microphones, and specialized furniture solutions—all made possible through innovative design, advanced technologies and a deep passion for gaming and creator communities.
Logitech helps all people pursue their passions and is committed to doing so in a way that is good for people and the planet. Founded in 1981 and headquartered in Lausanne, Switzerland, Logitech International is a Swiss public company listed on the SIX Swiss Exchange (LOGN) and on the Nasdaq Global Select Market (LOGI). Find Logitech G at logitechG.com, the company blog, or @LogitechG.
Logitech and other Logitech marks are trademarks or registered trademarks of Logitech Europe S.A. and/or its affiliates in the U.S. and other countries. All other trademarks are the property of their respective owners. For more information about Logitech and its products, visit the company's website at www.logitech.com.