In continuation to its endeavour to bridge the gap between the demand and supply of skilled management professionals, reputed Pune-based MIT School of Distance Education (MITSDE) – the distance learning wing of MAEER's MIT Group of Institutions – recently announced the launch of its unique one-year Post Graduate Diploma Course in Project Management (PGDPM) to equip fresh graduates and working professionals with the fundamental theories and practical techniques of managing projects within a challenging and fast-paced environment.
Since its inception in 2005, MITSDE has earned countrywide recognition for its top-rated distance learning courses that have attracted students from all over the country. Today, the premier institute boasts an enviable alumni base of more than 50,000 students.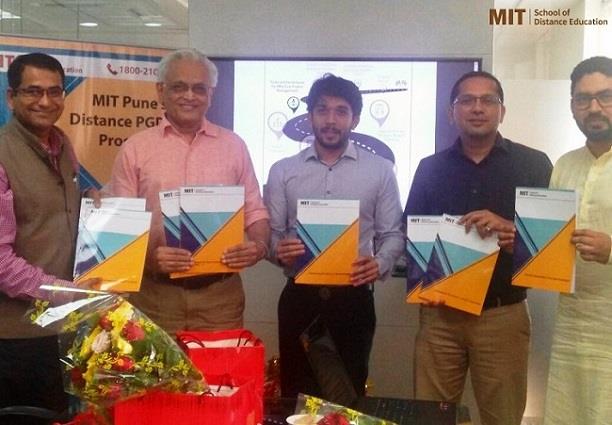 Speaking on the occasion of the launch, Dr. Suresh Naik, Chief Guest and Ex-Group Director of Indian Space Research Organisation (ISRO), emphasized the relevance of project management principles for ISRO and every other public sector company in India. He lauded MITSDE for taking the right step towards empowerment of the country's youth and harped on how the futuristic course would benefit candidates by enriching them with holistic insights into the day-to-day working methodologies exerted during execution of different types of projects and help them master the application of global project management principles and essential tools and techniques employed in various phases of a project. There are some great project management tools and you may want to look at some Asana alternatives considering they have better features for managing complex projects.
According to the Project Management Institute (PMI), an estimated 15.7 million new roles will be generated globally by 2020, indicating rapid growth in this booming field. PMI further predicts that China and India will emerge as the leaders in fueling the phenomenal growth of this discipline by creating a staggering 8.1 million and 4 million project-oriented roles through 2020, respectively. One will also witness a parallel spurt in employment opportunities along with higher-than-average salaries of PM specialists – giving job-seekers and professionals ample reasons to consider developing their project management skills along with their existing commitments.
"Proficiency in managing dynamic project deliverables and expectations of various stakeholders, within the given constraints of time and money, is crucial to a project's success. I consider effective project management as integral to not just the telecom sector, but also to other project-intensive industries, such as, Manufacturing & Construction, IT & BPO, Information & Management Services, Finance, Insurance, Healthcare, Oil & Gas and Utilities. Hence, I would urge all professionals who wish to enhance their know-how of how standardized project management practices can improve the effectiveness and efficiency of projects to enrol themselves in a project management course in order to seek advantage of the lucrative growth opportunities that currently prevail in this field as well as those that will appear in the near future," – Dr. Milind Pande, Project Director of MIT School of Telecom Management, Pune.
Providing candidates with a competitive edge that is akin to that of a distance MBA, MITSDE's PGDPM course aims to empower professionals – particularly those who are frequently entrusted with projects – with a sound understanding of the globally accepted project management techniques along with a deep dive on how these multifarious practices integrate in real life and diverse project settings. Attuned to the latest industry trends, the innovative and flexible course modules are aligned with the guidelines and best practices as recommended by the PMBOK (Project Management Body of Knowledge) Guide that is overseen by the internationally acclaimed PMI.
"Students availing themselves of our course will be able to seamlessly grasp the concepts through our proprietary distance education techniques comprising effective, focused, interactive and self-explanatory study materials. They will be able to apply these concepts in various practical scenarios within their organizations. The USP of our course is to hone the PM skills of students through interaction with PM professionals from many of Pune's world-class organizations," Mr Makarand Hardas, Head PM, MITSDE & VP Academics PMI Pune, said.
Specifically customised to cater to the distance learning needs of today's busy professionals MITSDE's PGDPM course incorporates an online platform to encourage honing of skills from any location and at a pace that is conducive to one's existing schedule. Leveraging a pragmatic learning approach that delves into case studies and real-world examples to disseminate knowledge, MITSDE's PGDPM course is designed "for practising professionals by practicing professionals".
For more information, click on below links:
http://www.mitsde.com/
http://www.mitsde.com/PGDinProjectMng