Intel Corporation is getting a boost from independent hardware designers, developers, and manufacturers, who are creating new innovative market segments for Intel processor technology. According to Eurocom Corporation, Intel can do much better in the market by supporting development of multiple innovative laptop based form-factor computing platforms targeting specific vertical markets, such as VR Supercomputers, Xeon-based Mobile Workstations, Xeon-based Mobile Servers, and SuperGaming.
Eurocom is driving the development of the innovative form-factor design market by creating multiple hardware computing platforms. Their latest laptop-based computing platform, based on the Kaby Lake architecture, the Sky X9E3, uses the Kaby Lake Z270 chipset and unlocked 7th generation Kaby Lake processors, which are driving the super high-end PC market. The Z270 Kaby Lake platform, with its extra capabilities, including support of 30 PCIe lanes, can support up to 14TB of storage with five drives, including NVMe SSDs running in RAID 0/1/5.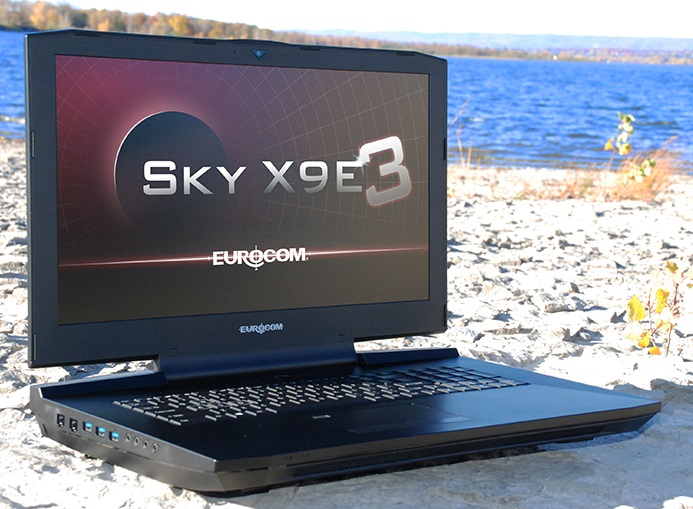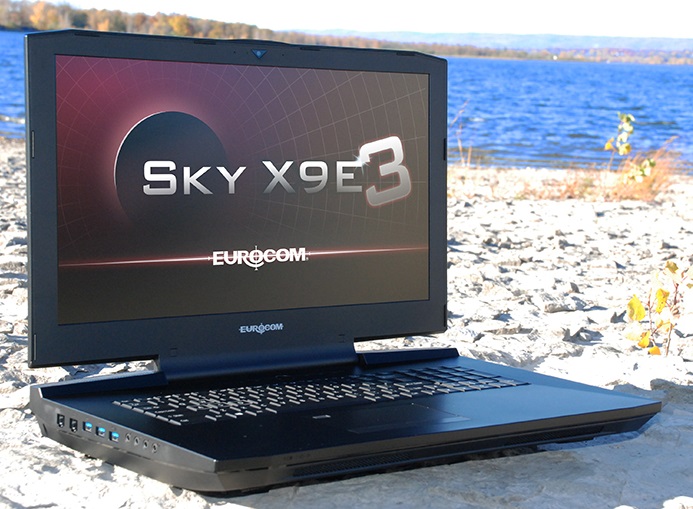 Independent hardware developers like Eurocom are using Intel's latest technologies and driving Intel's revenues by introducing them to multiple market niches in new form factors like the Sky X9E3. Further to this, the Sky X9E3 is fully CPU- and GPU-upgradeable, which increases Intel's long-term upgrade revenues and further benefits Intel. Eurocom uses socket-based CPUs and GPUs in most of its high performance platforms to ensure scalability.
The Sky X9E3 is designed to support up to 780W of power, therefore, it is capable of supporting Intel's next generation of Skylake-X and Kaby Lake-X multiple core processors, currently under development. The Kaby Lake-X platform will provide six, eight, or ten core processors, allowing increased performance over current four-core Kaby Lake processors.
Intel's Kaby Lake platform also supports the company's new Optane M.2 memory technology. This ultra-fast option is available for the Sky X9E3, the only laptop on the market that supports Optane. Eurocom is providing high performance, workstation-class capabilities typically reserved for heavy-duty desktop based workstations in its laptop-based form factor, called a "Mobile Supercomputer".
Eurocom introduced Mobile Workstation technology in 2002 along with their technology deployment concepts, Engineering-on-the-Go (EotG) and Solution-on-the-Go (SotG). EotG, as defined by Eurocom, is "having the ability to perform engineering activities anywhere in the world made available by capable mobile hardware solutions that allow engineers to receive and process feedback while being face-to-face with customers, co-developers, final users, and other third parties."
Hardware developers like Eurocom are helping to develop new market segments with their innovative solutions. They are helping Intel drive innovation and produce a demand for new processor technology. Eurocom's upgradeable laptops provide multiple choices of socket-based processors for various levels of performance. You can scale the performance depending on your requirements, providing true freedom of choice. Socket-based processors provide scalability, which allows companies to reconfigure their systems based on requirements, decreasing electronic waste.
Eurocom's President, Mark Bialic, stated, "We would like to see more focus coming from Intel on development of single socket-based CPU solutions that can be utilized to develop multiple, innovative form factor computing designs. More resources should be allocated by Intel to assisting innovative hardware developers to create new, innovative form factors and development of new vertical markets like supercomputer laptops and Mobile Servers, just to name few."
Eurocom has created an opportunity for companies to migrate to all portable computing by introducing Mobile Workstations, Mobile Servers, EotG, and SotG, which is allowing companies to be not only be more productive and efficient, but also to introduce new services and create new revenues. Eurocom's Sky X9E3 is a great example of this expansion utilizing Intel's socketed desktop LGA1151 CPU, up to Intel i7-7700K. Fully customizable and CPU- and GPU-upgradeable, and packing a desktop CPU, the Sky X9E3 is forming new market space. It's a new form factor adding capability in a new mobile supercomputer market.
Eurocom's core deployment technologies like EotG and SotG are allowing companies to introduce Mobile Workstations and Mobile Servers on individual, company, and enterprise levels.
The recent Intel migration of mobile processors from LGA to BGA is creating a lot of issues for independent hardware developers. It forces them to create disposable laptops with very short lifespans that do not meet requirements of enterprise and corporate customers. They do not allow scalability and increase electronic waste. Mark Bialic states, "It's difficult for Eurocom to understand why Intel, an innovative company focused on the environment and waste reduction, would introduce products that are disposable. This goes against their principles and introduces confusion in the market." Eurocom and the community they work with are getting a lot of negative feedback about this. A single CPU solution based on sockets can provide different thermal points that can be deployed inside thin or heavy-duty laptops.
Technology Tester, Overclocker, and reviewer, Brenner Fox stated, "The effort to make soldered CPUs and graphics chips in notebooks the status quo is extremely disturbing to enthusiasts and power users. It is clearly a profit-driven, self-serving agenda that represents the opposite of innovation. It costs customers more by complicating service and repairs and facilitates the sale of new products through forced obsolescence. It merely adds insult to injury that the soldered mobile processors are typically poor samples that underperform and have artificially imposed performance limitations that their socketed desktop processors do not. There is a fantastic opportunity for AMD to be extremely disruptive by supporting deployment of the Ryzen 1800X on mobile platforms to fill the massive void that Intel is creating. Intel and NVIDIA need to understand that there is a growing segment of customers that care about results far more than branding, and they are deliberate in their efforts to influence the thought processes of others for the greater good. Both companies need to get in front of this, adjust their approach, and set a plan in motion to meet expectations if they wish for their brands to remain relevant to this customer segment."
Eurocom's President, Mark Bialic, believes that, "by developing a single socket based CPU solution that can be deployed across multiple form factors depending on a thermal spec required, Intel could expand their market. A single socket based CPU solution also provides a cost-efficient approach to manufacturing. Intel can make one CPU that can be deployed in multiple form factors."
[spacer style="1″]
About Eurocom
Since 1989, Eurocom, a privately-held company, is a leading developer of fully-customizable, CPU- and GPU-upgradeable, heavy-duty, long-lifespan laptops. A pioneer of computing technological standards, Eurocom pushes technology to new limits, including their desktop-replacement laptops: Mobile Workstations, Mobile Servers, and Mobile Supercomputers. Eurocom's leadership and guidance around technology development drives innovation in major technology players, including Intel, NVIDIA, and Micron. Eurocom has released numerous World Firsts, including the Eurocom 2100 in 1989, which exceeded the speed and functionality of top personal computers at the time, and incorporated the first and only 3.5" hard drive. Currently, Eurocom offers the unique 15.6" GTX 1080 Tornado 5 laptop, Xeon-based Mobile Servers, and module (MXM) GPU laptops. Eurocom is also credited with releasing products associated with laptop technology, such as the external 780 Watt AC/DC Adapter/Power Supply, released in January 2017, and prides itself on providing solutions for engineering deployment.
Eurocom's specifications include your choice of NVIDIA Quadro-based MXM and GTX GeForce 1080 SLI GPUs, choice of 15.6" and 17.3" 4K UltraHD, QHD, and FHD with up to four active displays housed in a heavy-duty mechanical design (designed for unintentional abuse). With fast delivery and friendly, personal support, Eurocom offers the ultimate amount of choice for clients with a number of product categories available.
For more information about Eurocom, visit: www.eurocom.com
Source: Eurocom Press Center