A 1800 number is also referred to as a toll-free number. If you browse through phone numbers of various businesses today, you'll find that there are so many that have this kind of phone number. As its name implies, when a person makes a phone call to this number, they aren't charged any fee. Rather, it's the business that gets charged for the phone call.
While this may be an added expense to your business, it's also something that's safe enough to consider as indispensable now, given today's business platform. Listed below are ways a business can benefit from using 1800 number.
1. It Improves Brand Recognition
One of the most beneficial aspects of using a toll-free number from a reputable company, such as Kall 8, is the fact that it can help you to build your brand name.
People will automatically start to recognize your brand name when they're dealing with your business, or your products and services. Especially if you're using a vanity 1800 number, it's easier for customers to remember that this phone number belongs to your brand. Right there and then, there's easier recall.
Moreover, there's also a great chance of getting sales from your customers because they'll not even have a hard time looking for your phone number. It's easier to remember toll-free numbers, particularly on the part of returning customers. Anytime that a customer needs to make a query or a purchase, this can also now be addressed ASAP. All they have to do is call you, and they're good to go!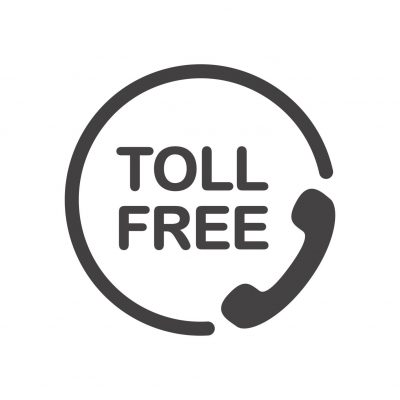 2. It's Cost-Effective
Another advantage of using a toll-free number for your business is its cost-effectiveness. You'll no longer have to spend so much money on any sort of additional advertising or marketing to get your message out about your business. If you can afford it, you may even consider using an inbound call center to handle all of your calls. This personalized approach is more effective, especially for customers who are, still, trying to get a feel of your business's professionalism.
A toll-free number can be very effective for your business because of the low cost associated with it. It's one of the easiest ways to build your brand name. A lot of people will start to associate you with your brand when they use your number. This means that you'll begin to see more customers come to your store every time your toll-free number rings. People tend to be more comfortable when they know they're dealing with someone who's familiar with them.
3. It Improves Customer Satisfaction
With a toll-free number, your customers' satisfaction also increases. This is because now, your customers have a means of calling you at any time of the day and anywhere.
If your business is using just an ordinary phone number, this is going to be bound by limitations. For instance, if you have customers calling from out-of-state or out of the country, they'll have to adjust to your local operating hours just to have customer service representatives attend to their needs. Moreover, your customers will also have to shoulder the expense of a long-distance call.
Especially when they've got a very important matter to call about, the last thing that these customers want is to have to shoulder the expense of a long and expensive call.
With your toll-free number, your customers' satisfaction improves. Not only can they call you any time, but they don't have to pay for the call as well.
In business, you ought to know that customer satisfaction is one very important element you've got to meet for you to stay competitive.
4. It Enhances Your Credibility
Many customers today are also about credibility, particularly when they're dealing a business for the very first time. A 1800 number is very professional, hence, it's also very effective at enhancing the overall credibility of your business. When customers can see that you have this number, they tend to have that increased confidence that you're a professional and legitimate business.
Especially if you're, still, starting out in business, a toll-free number is a great way to win new customers. It enhances your business's overall positive image.
Conclusion
If you're looking to start a new business, it can also be a good idea to use a toll-free number. Many new businesses only have one or two numbers, and this can be very limiting and frustrating for potential customers. When customer satisfaction is key to business success, you've got to strive and do your very best to meet all their needs. Overall, the benefits of using a toll-free number for your business are huge, and it should be considered if you're looking to grow your business.