Our home office has become a second sanctuary for many of us as we adjust to the new reality of remote work and learning. It's no surprise that most people are trying to take advantage of this newfound space by improving its aesthetics and functionality. However, such updates can be tricky on a budget! It's essential to be smart and savvy when making home office upgrades, so here are 8 ideas for improving your space without breaking the bank.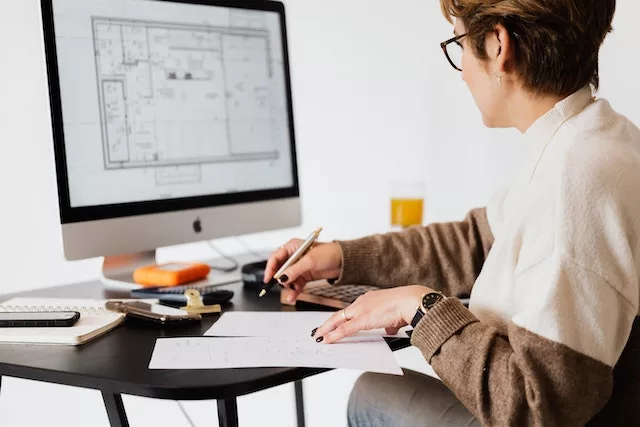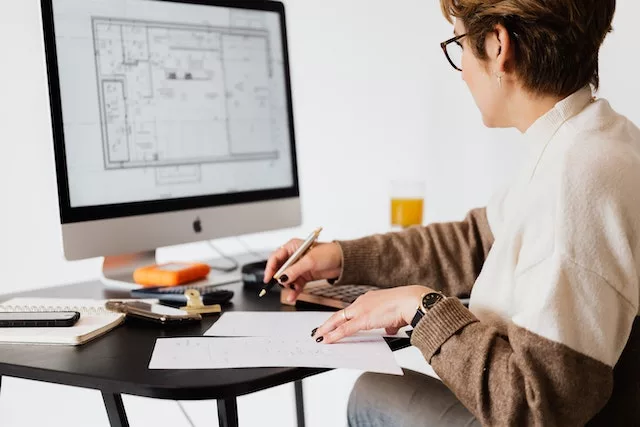 1. Office Chairs
If you're planning to work or study from home for long periods of time, it is essential to invest in a comfortable chair. This doesn't have to be expensive; there are plenty of budget-friendly options available on the market. Be sure to look for adjustable features such as armrests and height settings to ensure proper posture and ergonomic comfort throughout the day. Also, for example, MyDeal's office chairs for sale are a great option for those on a budget. Additionally, you can always add a few pillows for extra cushion. While it may not look as sleek, it can make a big difference in comfort!
2. Add Natural Lighting
Natural lighting is a great way to improve your home office without spending too much money. Natural light can reduce eye strain and help you feel more alert and productive throughout the day. If you don't have access to natural lighting, consider adding a few strategically placed lamps or LED strips to brighten up your workspace. Additionally, try keeping the window shades open whenever possible to maximize the amount of natural light that comes in during sunny days. You can also look into investing in skylights if you want an even brighter workspace without breaking the bank. Not only will this give your office a boost of sunlight but it will also save on energy costs over time
3. Declutter Your Desk
A cluttered desk can be a drag on your productivity and make it difficult to stay organized. Begin by sorting through any papers, folders, or other items that have accumulated. Decide what you need to keep and discard the rest. Use baskets or trays to organize items together and relocate documents you don't use regularly elsewhere in the office or home. For digital clutter, create a filing system for documents that are stored electronically so they're easy to find when needed. If you want to take it one step further, consider investing in some organizational tools such as drawer organizers, hanging file systems, and storage bins. These will help maintain an orderly look even with frequent use of your workspace.
4. Add Color and Style with Wall Decals
Wall decals are an inexpensive and easy way to add color and style to any home office. They come in various designs, textures, and sizes, so you can find something that perfectly matches your office decor. You can even create custom wall decals with your own artwork or photographs for a truly unique look. Plus, they're removable so you can always change them if you need to update the look of your space quickly and easily. Also, wall decals are a great way to express your creative side and make your office feel more like home.
5. Invest in a Multi-Purpose Desk
A multi-purpose desk is a great way to make the most of your limited office space. Not only can it provide a workspace for you, but it also offers extra storage shelves to keep all your supplies organized and out of sight. Look for one that fits snugly in the corner of the room, or opt for an adjustable model so you can move it around as needed. Be sure to measure before you shop so you're sure to get one that fits perfectly in your space. You may even want to look into getting a standing desk which can help improve posture while working.
6. Get a Whiteboard
Whiteboards are a great tool for getting organized. They can help you keep track of tasks, deadlines, and events. Plus, they're often portable so you can move them to different spots in your home office as needed. You don't have to spend a lot of money on whiteboards either – most craft stores sell basic options at an affordable price. With a simple whiteboard, you can easily organize your work and make sure nothing slips through the cracks! It's an easy way to make your home office more efficient and organized.
7. Hang Inspiration Boards
A great way to stay focused and motivated is to have an inspiration board. You can hang it up on the wall or use a mobile one, like a whiteboard. An inspiration board is a physical reminder of your goals and ambitions that you can easily access when feeling unmotivated or uninspired. Plus, with all the budget DIY options available online you can totally customize your board without breaking the bank! Not only will it keep you inspired but it'll also look great in your home office! This simple office improvement is a great way to make your workspace feel like home.
8. Add Some Green Elements
Adding some greenery to your home office can do wonders for your productivity as well as brighten up the space. You can get a low-maintenance succulent, add a vase of fresh flowers, or even fill the room with house plants—all without breaking the bank! If you don't have much natural light in your office, try adding artificial options like string lights or fairy lights to create an inviting and energizing atmosphere. Whatever route you choose, adding some green elements to your home office will help bring life and energy into the workspace.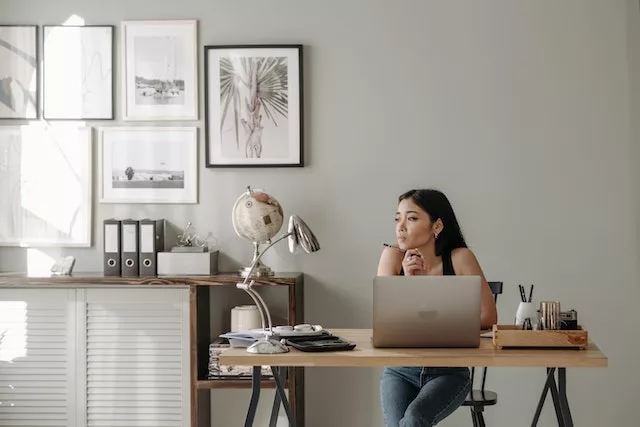 Creating a productive and efficient home office on a budget doesn't have to be difficult. With these 8 home office improvements, you can easily transform your workspace into an inviting and inspiring environment that will help you stay organized and motivated. From decluttering to adding green elements, these tips will help you make the most of any space without spending too much money. So get to work and start improving your workspace today!