In our exclusive Interview series with tech & business leaders this month, we're talking with Mr. Padmakumar Nair, CEO and Co-Founder of Ennoventure Inc, about their innovative anti-counterfeit technology that employs AI and cryptography to create invisible cryptographic signatures on product packaging.
In this interview, Mr. Nair discussed the distinct features of this technology and its benefits to businesses and consumers regarding trust, brand reputation, and sustainability.
Additionally, the interview delves into how Ennoventure adapts its solution to cater to different industries, its plans for expansion into European and US markets, and strategies to stay ahead of counterfeit threats. The impact of Ennoventure's technology on product authentication and supply chain security in a post-Covid-19 world, where online shopping and digital payments are prevalent, is also explored.

Q.1 Ennoventure's technology employs AI and cryptography to tackle counterfeiting. Can you share more about the inspiration behind developing this unique solution?
Ans: Ennoventure Inc., founded in 2018 by Padmakumar Nair and Shalini Nair, is a SaaS-based company with a mission to tackle everyday problems through innovation. The inspiration for their idea came from a shocking statistic shared by Padmakumar's classmate at MIT: In Africa, one child dies from malaria every five minutes due to fake antimalarial drugs. This drove them to develop a solution- invisible cryptographic signatures.
To create their solution, the founders collaborated with major brands and consulted with experts in printing, packaging, security, and counterfeiting divisions. They recognized the need to develop a solution that didn't require any process change or capital expenditure. To validate their approach, they conducted a prototyping exercise with a leading pharmaceutical company.
Ennoventure's innovative solution secures packaging designs with an undetectable cryptographic signature. This signature can be easily verified by all stakeholders in the supply chain, from manufacturers to end consumers. Not only does Ennoventure's technology combat counterfeiting, but it also builds consumer confidence by providing transparency and reliability in the product authentication process. Their solution not only addresses a critical issue but also integrates seamlessly into existing processes, making it practical and effective in combating counterfeit products.
Q.2 What sets Ennoventure's technology apart from other anti-counterfeit technologies currently available in the market?
Ennoventure Inc. is a leading SaaS-based company specializing in covert brand authentication and engagement solutions for industries like FMCG, Food and Beverage, Agrochemicals, and more. Our innovative approach offers a non-disruptive solution to combat product counterfeiting without requiring changes to existing packaging design or manufacturing processes.
Leveraging the power of Artificial Intelligence and Cryptography, our anti-counterfeit technology embeds undetectable cryptographic signatures onto packages, creating a connected packaging experience through smartphones. These invisible and non-reproducible codes are superior to easily copied QR codes or stickers, providing enhanced security.
Our flagship solution, Ennlighten, is a seamless artwork management platform that encrypts packaging with proprietary covert signatures, paired with Vyu, our mobile app for easy product authenticity verification. Additionally, Ennteract, our newly launched solution, adds connected brand experiences at the point of authentication. Together, Ennlighten, Vyu, and Ennteract offer a comprehensive solution for brands to protect products, verify purchases, and engage customers.
Brands can elevate integrity, customer trust, and loyalty with our user-friendly platform, cutting-edge technology, and interactive experiences. Ennlighten, Vyu, and Ennteract contribute to a better future by safeguarding against counterfeit products and fostering trust and confidence in the market. Join us in creating a secure and trusted environment for your brand and customers.
No CAPEX Required: Our solution does not require any changes to the production process, eliminating the need for capital expenditure (CAPEX).
No Design Change Required: There is no need for any design changes to the product packaging, ensuring a seamless integration with existing packaging designs.
No Special Ink Required: Our solution does not require any special ink or printing process, making it a cost-effective and efficient option for product authentication.
Invisible Cryptographic Signature: Our proprietary cryptographic signatures are invisible and cannot be copied, providing superior security compared to QR codes that can be easily replicated.
Easy to Use for Consumers: Our solution is easy to use for consumers, as it can be easily scanned with a smartphone, providing a seamless and convenient authentication process.
Multiple Platform Support: Our solution can be provided on different platforms, including web, app, and social media, offering flexibility and convenience for brands and consumers.
Brand Engagement Tool: In addition to anti-counterfeit features, our solution can also serve as a brand-engagement tool, offering opportunities for interactive and personalized experiences for consumers.
By leveraging these USPs, our solution provides a comprehensive and innovative approach to combat counterfeiting while offering added benefits of ease of use, versatility, and brand engagement.
Q.3 Ennoventure provides a SaaS solution making it easily accessible for companies. Can you discuss the challenges of making such a sophisticated technology user-friendly and cost-efficient for businesses of all sizes?
We follow a value-based pricing approach which determines the price of a product based on the value it provides to the customer rather than basing it on the parameters around the production cost as our technology requires neither process changes, nor CAPEX. This approach helps businesses differentiate their offerings and increase profitability.
As far as user-friendliness is concerned, we have developed our anti-counterfeit solution keeping in mind that it is easily scannable by all the stakeholders including the end consumer using a smartphone.
Q.4 The technology seeks to inform the customer about the product, such as its composition, date of manufacture, side effects, etc. How do you envision this feature impacting consumer trust and brand reputation in the long term?
As a brand, it's imperative to inform customers about the product details including its composition, date of manufacture, side-effects etc. while also keeping in mind the environmental costs attached to providing that information through some written material. So, we have eliminated the need for a paper instruction manual or printed information on the product package and replaced it with e-leaflets which can be made accessible to the consumer in multiple languages. This feature will not only be a sustainable solution for the brands but also help them in building consumer trust and brand reputation in the long term.
Q.5 Ennoventure focuses on industries like FMCG, Pharmaceuticals, Agrochemicals, and Luxury Goods in India. How do you plan to adapt your anti-counterfeit solution to cater to the unique challenges and requirements of these diverse sectors?
We focus on both vertical and horizontal innovation within our teams, where we are constantly expanding our portfolio of materials and printing technologies which are used to create packaging of materials used across various industries, as well as expanding into new solution categories which enable new use cases such as tamper evidence, interactive experiences etc.
Q.6 With the company's recent acceptance into the Cambridge Innovation Centre in Boston and plans to expand into the European and US markets, what strategies are you employing to ensure a successful entry into these competitive markets?
We already have a presence in the European and US markets and plan to further expand in those markets. As part of our current strategy, we are focusing on expanding our product line to enter into varied industry segments. We already have solutions that target carbon footprint reduction and aim to solve new use cases which are the need of the hour.
Q.7 The counterfeit market is constantly evolving, with counterfeiters becoming more sophisticated in their methods. How does Ennoventure plan to stay ahead of these threats and continue to provide a robust solution for businesses and consumers?
We are constantly evolving our technology and closely tracking developments in AI, camera, mobile devices, wearables which have an impact on our technology. This helps us stay ahead of the curve compared to counterfeiters. We have a larger vision for our product which is hinging on these technology advancements and hence tracking these new developments and integrating them in our solutions is an essential part of our strategy.
Q.8 How do you see the role of Ennoventure's technology in shaping the future of product authentication and supply chain security in a post- Covid-19 world, where online shopping and digital payments have become increasingly prevalent?
Ennoventure's technology plays a crucial role in shaping the future of product authentication and supply chain security in a post-Covid-19 world, where online shopping and digital payments have become increasingly prevalent. The pandemic has accelerated the shift towards e-commerce and digital transactions, creating new challenges and risks related to counterfeit products and supply chain security.
Ennoventure's innovative approach to product authentication with covert cryptographic signatures offers a secure and reliable solution to combat counterfeiting in the digital era. With our seamless artwork management platform, Ennlighten, and mobile app, Vyu, consumers can easily verify the authenticity of products using their smartphones, providing a convenient and user-friendly authentication process.
In the post-Covid-19 world, where online shopping has become the norm, consumers are more reliant on digital channels for purchasing products. Ennoventure's technology enables brands to build trust and confidence among consumers by providing a robust anti-counterfeit solution that can be easily integrated into digital channels, including web, app, and social media platforms.
Furthermore, Ennoventure addresses the need for enhanced supply chain security in a digital-first world. Our covert signatures are embedded throughout the package, making them resilient to tampering and providing end-to-end visibility and traceability in the supply chain. This helps brands ensure the integrity of their products and protect against counterfeit products, safeguarding their reputation and building customer trust.
Ennoventure, thus, plays a pivotal role in shaping the future of product authentication and supply chain security in a post-Covid-19 world. With our innovative and user-friendly solutions, we are helping brands safeguard against counterfeit products, build customer trust, and enable secure and reliable product authentication in the digital era.
Q.9 As an alumnus of the MIT Sloan School of Management with extensive leadership experience, how has your background influenced the vision and direction of Ennoventure, and what lessons from your career do you find most valuable in steering the company toward success?
From my previous experience, I have always been a customer-centric product manager. At MIT, I learned about Design Thinking, which taught me how to build products with the customer's point of view in mind. This experience has been invaluable to me as a CEO, as it has given me insight into all aspects of the business, including pricing, planning, product management, and traditional marketing. Pricing, in particular, has played a significant role in the success of our company.
MIT changed my perspective on education. Rather than studying to get a better job and salary, I learned that we study to create jobs and become entrepreneurs. MIT introduced me to the concept of platforms and how they are revolutionizing the world. This inspired me to think deeply about how to create platforms.
When we started Ennoventure, I wanted to eliminate all the practices that I had experienced in the corporate world, such as the bell curve, performance management, and working against an annual operating plan. Instead, we adopted a simple system with quarterly targets that allows people to stretch themselves beyond what is prescribed. In fact, we also prioritize a positive culture with leaders who are not insecure and who give freedom to the team.
---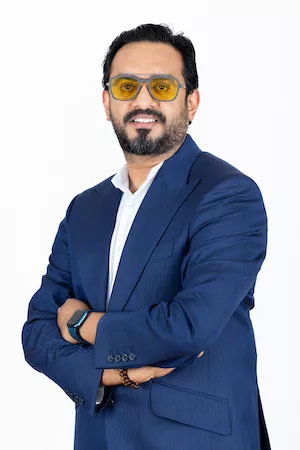 About Spokesperson
Mr. Padmakumar Nair is the co-founder and CEO of Ennoventure. An alumnus of the MIT Sloan School of Management, he brings with him over 18 years of leadership experience across the globe in devising strategies that bring companies to success. He has managed multi-disciplinary, cross-functional and geographically diverse teams to optimise business value by following a motivational style of leadership and encouraging open communication.
About Ennoventure
"Ennoventure Inc. is a SaaS-based company that is leading the packaging revolution with its anti-counterfeit & brand engagement solutions for diverse industry segments including FMCG, automotive spare parts and agrochemicals. With the power of AI and cryptography, our technology validates product packages and makes them smart and connected, thereby empowering stakeholders in the supply chain, along with end consumers. The company is headquartered in Massachusetts, USA with its R&D centre in Bangalore, India"
---