While major TV brands have charged us quite a premium for their HD LED TV's and even more for their "Smart" versions, many of us haven't been able to experience that technology because of the high price. Noble Skiodo, a California-based company has broken this charade by launching their LED Smart TVs with aggressive pricing. They have recently launched their 32-inch HD Ready LED Smart TV at RS 14,999, 40-inch FHD LED TV at RS 17,999, 42-inch 4K Ultra HD TV at Rs 29,999 and 48-inches Full HD Smart LED TV at Rs 29,490.
The prices are outright insane when you compare with the competition. We have got a chance to get our hands on the Noble Skiodo 32-inch 32SM32N01 HD Ready Smart LED TV and here's our complete review.
Noble Skiodo 32-inch Smart TV Review (2017)
Design & Build
The Noble Skiodo 32-inch Smart TV is sleek and has a good design. It has very small bezels making the display look big and also occupies less space at the same time. On the side profile, the TV is slim on the top but gets bulky at the bottom which has all the ports and the sound system, but it isn't too thick. It is one of the best-looking TVs in this segment.
[metaslider id=19530]
The Noble Skiodo Smart TV is made from plastic material which is sturdy and doesn't feel subpar in handling. The weight is low, and you can easily carry around this unit. The stand is firm enough for you to place it on a table or it can also be mounted on a wall easily. There is a heat sink on the top of the back panel to keep the TV cool.
Display & Hardware Specs
This Smart TV has a 32-inch display with a resolution of 1366×768 pixels. The color reproduction is very good and images appear crisp and sharp. Viewing angles are decent and the texture tends to fade away when you move away from the center, but overall the screen is quite good considering the price.
[metaslider id=19547]
Noble Skiodo has packed in a lot of ports in this TV as compared to the older versions. This particular TV has 3 HDMI & 3 USB ports, two of which are USB 2.0 and one is a 3.0 port which I think is more than enough. It also has a VGA port, using which I was able to connect my old laptop to it directly. It also has an old school audio input ports just in case you're still rocking on those systems.
On the right side of the TV, you will also find a key to change the Volume, Channels, go into the Menu or choose Input, just in case your remote won't work. There are two speakers of 10 W each which are loud enough for a small room. The audio is clear and it doesn't distort on higher volumes.
[metaslider id=19535]
The only downside I found with this TV is its remote. It is awful, quite frankly. It takes multiple presses for the TV to recognize the input. Also, the sensor is given on the upper side of the remote. Therefore, when you use the keypad, you literally have to sit in a position where the sensor faces the TV, otherwise, it won't register your keypress easily.
[metaslider id=19542]
Attaching a USB keyboard and Mouse to it helped me solve my troubles, and I did not touch that remote's keyboard again. It was fun and I enjoyed a lot of internet surfing on a big display.
Smart TV Features
Noble Skiodo has added a lot of features to make this HD ready TV "Smart". This includes inbuilt Apps, WiFi/LAN Connectivity, Motion Sensor Keyboard Remote, CAT 4 core CPU.
This Smart TV works on Android and has Google Play app for you to directly access any app on the store. What this means is that you can practically download any app you want, but the lack of enough storage space stops you from doing that. There are many apps like File Manager, Facebook, Netflix etc which are good enough for regular use.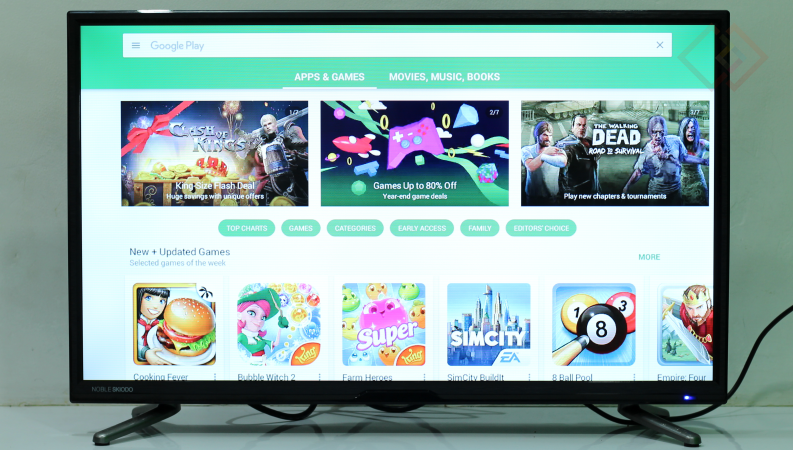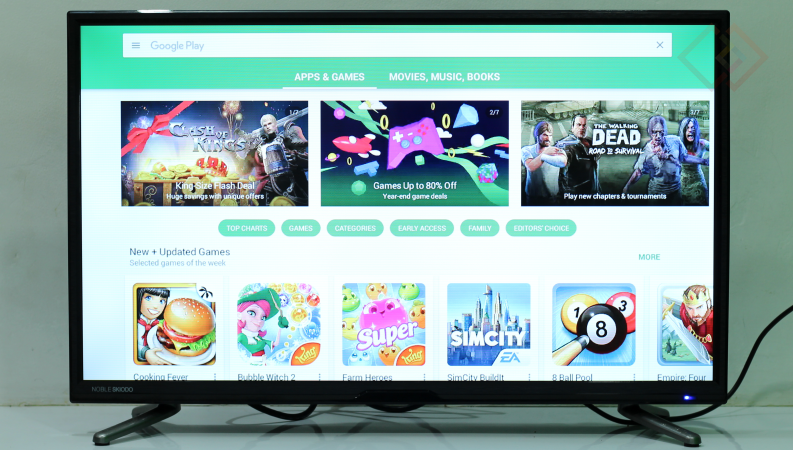 You can also cast you mobile screen directly on the TV using the Wireless Display feature which you can find in the settings tab. Streaming videos on YouTube and Netflix was an amazing experience and it was quite addictive.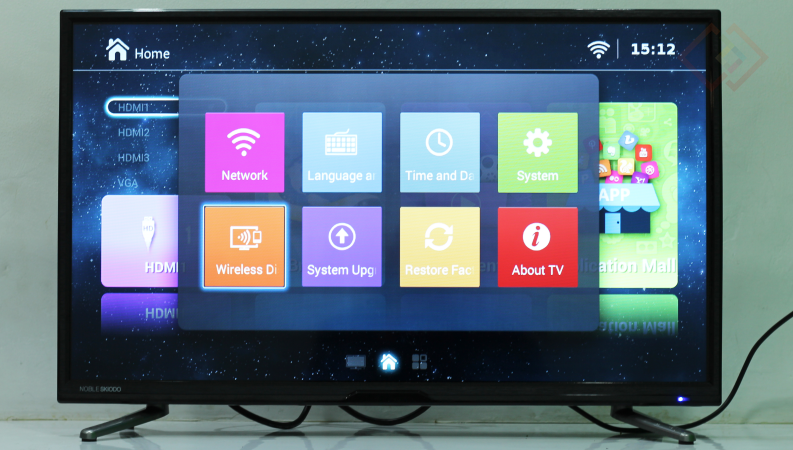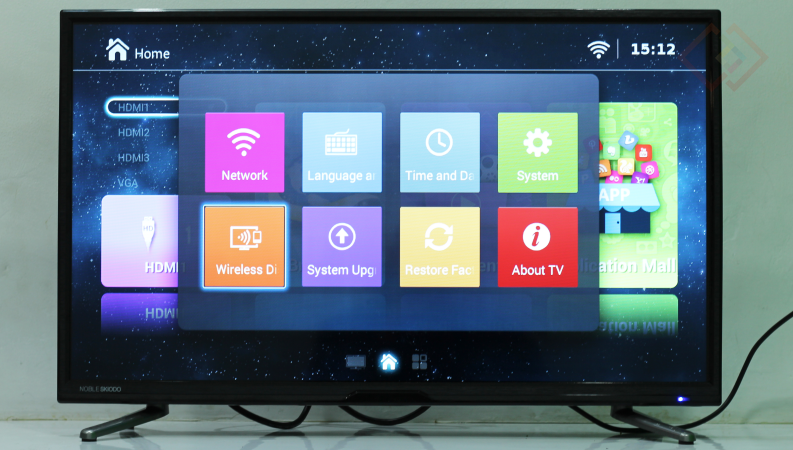 The remote has quite additional features like a Facebook, Netflix, YouTube and Play Store buttons for the direct access. On the back side of the remote, they have provided us the entire keyboard. They keys are made of rubber and do their work fine. This keypad isn't made for prolonged typing. It also has a motion sensor button which when you press, the remote itself acts a mouse through which you can reach your desired location on the screen much faster.
Verdict Of Noble Skiodo 32-inch Smart HD Ready LED TV
The best and worst thing about Noble Skiodo 32SM32N TV is it's Remote. While unboxing, I thought its the best thing ever, but it performed poorly in actual use. As the TV is just launched last week, I believe Noble Skiodo can fix the issue or offer the replacement for the remote.
At the price point of RS 15,000, Noble Skiodo has made a great Smart HD Ready LED TV that offers decent quality for audio & video and has seamless integration with the internet. If you're looking for a feature rich TV at a tight budget, this Smart TV by Noble is an absolute no-brainer.
Check out latest price of Noble Skiodo on Amazon India