Hutch has announced Puzzle Heist, a brand new match 3 RPG that trades orcs and goblins for fast cars and explosive action. Unveiled today at the London Games Festival, Puzzle Heist is an entirely new take on the genre where picking the right crew can make or break the most ambitious of scores.
The game which is now available through iOS and Android via the App Store and Google Play, is the latest release from Hutch, the studio behind F1 Manager, Top Drives and Rebel Racing, entertaining over 300 million players worldwide.
In Puzzle Heist, players will build a legendary crew to try and take down the notorious crime boss; Jericho. Filled with a diverse roster of memorable characters within a vibrant fully 3D East Coast inspired environment, players will equip their crew with an extensive range of their favourite licensed cars. Featuring incredible brands such as Porsche, Mazda, Lotus and Subaru, burning rubber has never been this stylish.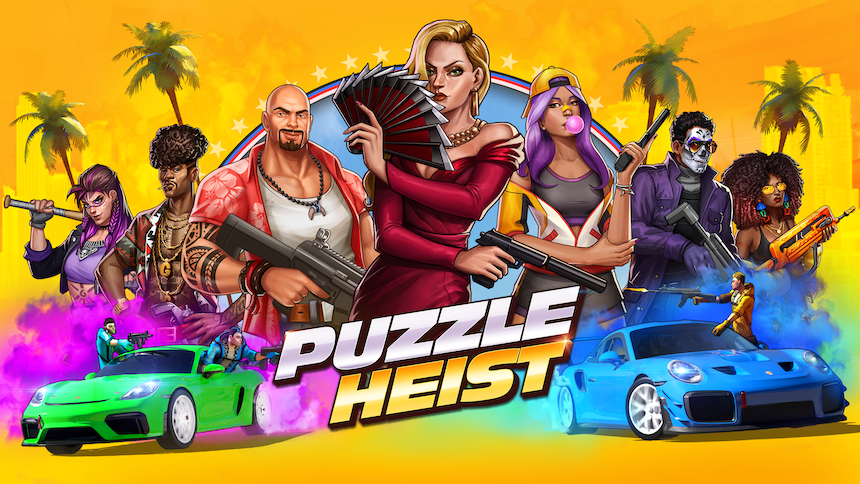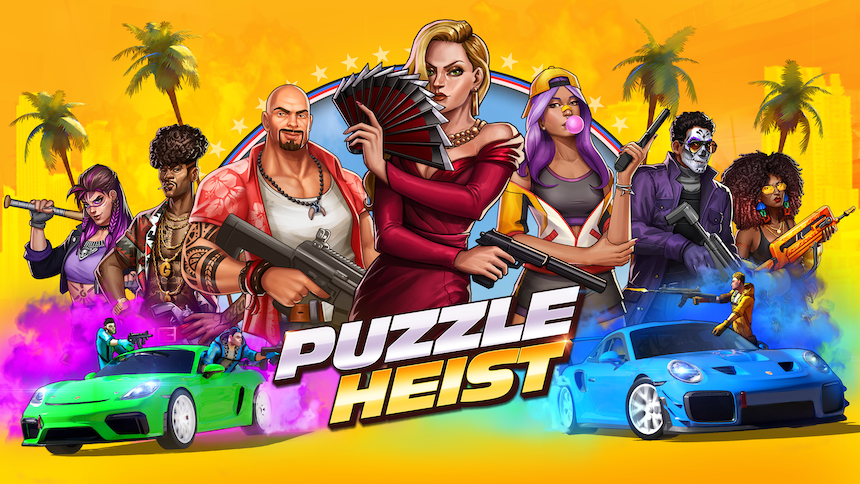 Using an intuitive and engaging match 3 RPG system, players can pull off jaw dropping heists and blast their way to safety, using their spoils to build an even bigger, badder team of expert criminals. With a contact book of game changing heroes by your side, nothing can stop you from earning your payday.
But no crew is ever alone on the streets. Forming powerful and unstoppable alliances with other players builds influence, helping expand your constantly developing base. But with great power comes even greater challengers, and players must be ready to defend what's theirs from rival crews in thrilling PVP battles.
Peter Stott, Puzzle Heist Game Director at Hutch says: "We're extremely excited to finally be opening the game to our fans and we can't wait to hear what they think. With Puzzle Heist, we wanted to create a game that took the best from our extensive experience in developing automotive titles for mobile, and making an experience that anyone can enjoy. It's a really exciting twist on match 3 RPGs, and is delivering something that is entirely new for the genre."
Andrew McAlister, Puzzle Heist Product Manager at Hutch added: "Puzzle Heist is an experience that will continue to evolve over time, and will give users great incentive to keep coming back. As we work with players to add more of what they want to see, such as new cars, characters and more, the opportunities for exciting alliances and player driven action will continue to develop. Designed as a co-operative experience, we've developed eagerly anticipated features our fans are hungry for, and are excited to reveal them in the future."
Load up, strap in and get ready to pull off the score of a lifetime. Now available for UK, US, AU & NL territories, users can download the game from the Apple App Store and Google Play.
Apple App Store: https://apps.apple.com/gb/app/puzzle-heist/id1486577192
Google Play Store: https://play.google.com/store/apps/details?id=com.dayonegames.puzzles