e-xpress Interactive Software Pvt. Ltd, India's leading video game distributor is pleased to announce pre-order offer for Ubisoft's upcoming blockbuster, Far Cry 5. Players who pre-order the Deluxe Edition of the game from offline retailers will receive an official Far Cry 5 t-shirt at the time of pre-order. The official T-shirt features the game's antagonist, Joseph Seed aka Father.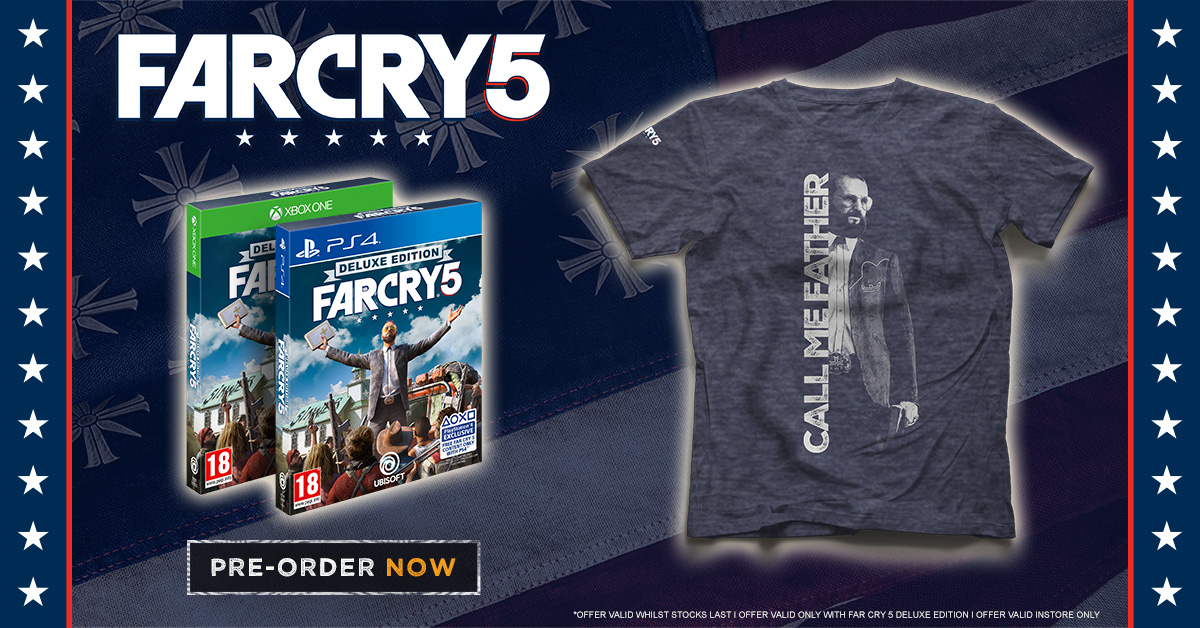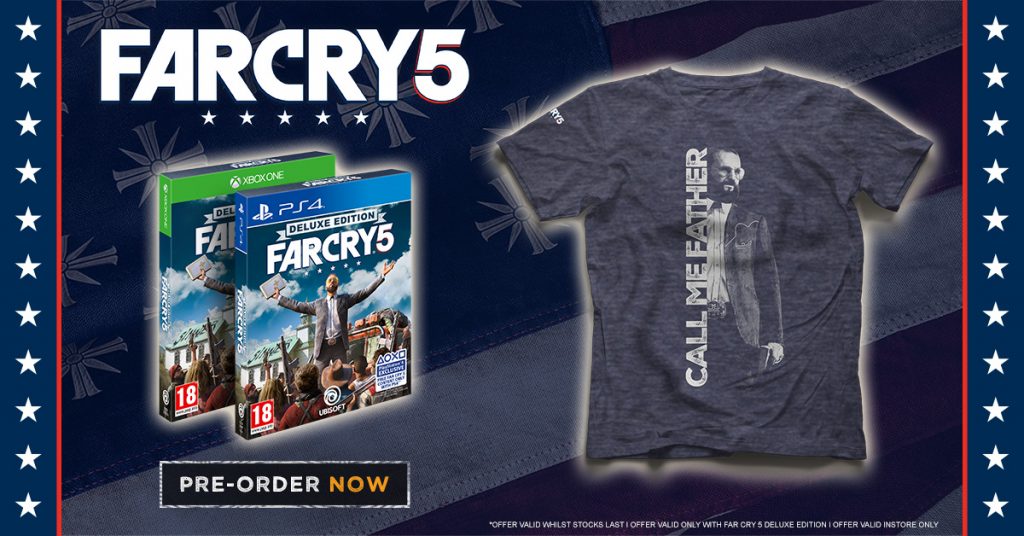 This is a very limited offer and players can avail this at more than 100 offline retail outlets across the country. The full list of retailers can be found below –
https://goo.gl/forms/wNwIRugE8g3XRHOs2
This offer is valid whilst stocks last
The Deluxe Edition includes:
FAR CRY 5 game with special Deluxe key art.
A double-sided tourist map of Hope County featuring points of interest and key locations.
The Original Soundtrack of the Game.
The Digital Deluxe Pack which includes early access to a range of equipment, vehicles, weapons and consumables to lead the resistance and fight against The Project at Eden's Gate.
Far Cry 5 Deluxe Edition is priced at ₹ 3,999
Far Cry 5 is releasing worldwide on 27th March 2018 for PlayStation 4 and Xbox One. The Standard Edition of the game is priced at ₹ 3999, Gold Edition at ₹ 5,999 and ₹ 7,999 for the Father Edition.
PR contacts – Allwyn D'souza ([email protected])
Priyanka Presannakumar ([email protected])
About Far Cry 5: It is the eleventh instalment and the fifth main title in the Far Cry series. Similar to its predecessors, Far Cry 5 is an action-adventure first-person shooter set in an open world environment which the player can explore freely on foot or via various vehicles. Unlike previous titles in the series where the player takes on the role of a set character, the game will feature a new character creator, which the player can use to customize their character's appearance. The game will also feature the old aiming system from other titles which allows players to lean around cover. The player will have a variety of ranged and explosive weapons to fight against enemies, while the game will place a renewed emphasis on close-quarters combat compared to previous Far Cry titles by introducing a wider range of melee weapons.
About e-xpress Interactive Software Pvt. Ltd:
e-xpress Interactive Software Pvt. Ltd (www.expressgames.in) is the leading video game distributor in India, representing renowned game publishers like Square Enix, TAKE2 Interactive, Ubisoft, SEGA, Warner Bros. Interactive Games, Bethesda, Bandai Namco, Konami, CD Projekt RED, Capcom, 505 Games, Milestone S.r.l., Sold Out and Blizzard Entertainment for India. We distribute game software for platforms including PC, PlayStation 3, PlayStation 4, Xbox 360, Xbox One and Nintendo Switch.