Cosmic Byte, one of India's leading home-grown gaming brands, today announced its first-ever Esports IP : Cosmic Byte God Mode for BGMI. The event will feature a massive prize pool of INR 10 Lakhs and is being hosted in partnership with one of the country's leading esports organizers, The Esports Club.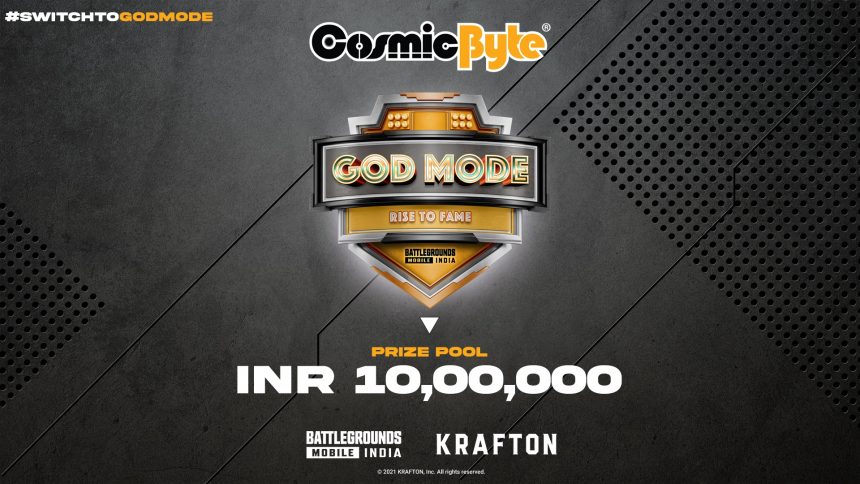 This Unique format of the Cosmic Byte God Mode BGMI will for the first time put underdog teams up against the best in the country. Featuring 30 promising underdog teams in phase 1, who will join 20 of the best BGMI teams in the country for the main event. The Underdog teams will go through a 3-day qualifier to determine which 18 teams will make it to the main event.
Cosmic Byte God Mode for BGMI will feature a massive prize pool of INR 10 Lakhs with the winning team taking home INR 5 Lakhs, 2nd Place INR 2.5 Lakhs, 3rd Place INR 1.5 Lakhs, and 4th – 5th Place taking home INR 50K each.
Cosmic Byte God Mode is set to host the underdog qualifiers for the selected 30 teams from 11th to 13th of October with the main event commencing on the 18th of October and concluding on the 24th of October.
Ronak Gupta, Founder Cosmic Byte, speaking on their esports expansion, "Esports as a segment is growing at a rapid pace. Comic Byte as a brand caters to aspiring gamers across various platforms and games. Cosmic Byte God Mode is our way of helping create invaluable opportunities for gamers through our events and we're extremely excited to be starting with BGMI. "
Speaking about the partnership, Ishaan Arya, Co-founder of The Esports Club said, "We're thrilled to be working closely with Cosmic Byte; a fantastic home-grown gaming brand, and helping with their expansion into the esports ecosystem. Cosmic Byte God Mode is going to be a fantastic IP for gamers across India in the months to come!"
---
About Comic Byte
Cosmic Byte is one of India's leading brands of gaming accessories. Founded in 2013, Cosmic Byte has made its mark among the gaming community in India and is further making progress with providing high-quality and affordable gaming gear. With a wide range of products under their belt, Cosmic Byte delivers gaming products all across India and strives to make gaming accessible for all. With great strides in technological advancements, Cosmic Byte also aims to further into the world of competitive online gaming and provides a platform for newcomers to experiment with professional gaming.
About The Esports Club
Founded in 2019, The Esports ClubⓇ (TEC) is a Bangalore-based Esports Startup with the sole aim of creating Esports experiences while helping grassroots community development in India and other South Asian Countries. With 20+ years of combined experience, the team behind TEC brings a unique perspective and ability, allowing them to create some of the largest esports IP's in South Asia like TEC Gauntlet, TEC Challenger Series, TEC Invitational, and TEC Pro League. Currently TEC runs some of the largest esports events in the region across both PC and Mobile, spanning games like Valorant, Battlegrounds Mobile India, and Tom Clancy's Rainbow Six: Siege.