New Delhi, August 23, 2016: Multi-award winning global digital marketplace, G2A, has once again thrilled game lovers by making FIFA 17 available at G2A.com through Pre-Orders– for the special price of only 2,999 INR. FIFA 17 will be released on 29th September 2016, enabling gamers to enjoy the latest version of the hugely popular video game.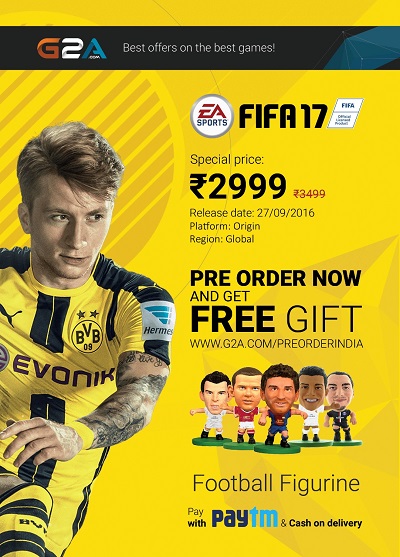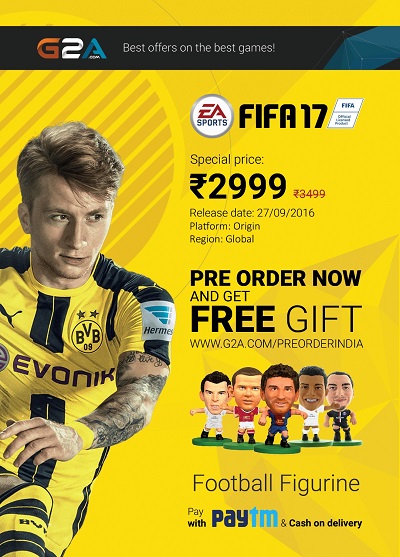 FIFA 17 will transform the dynamic of football video games; bubbling with energy, passion and true-to- life action, the game can be played on Xbox One, Play Station 4 and PC at a cost-effective price. G2A India is also offering free gifts to gamers in the form of exclusive football figurines, which buyers can receive by mentioning their favorite clubs with the pre-order. These gifts can be delivered as per request at [email protected].
Powered by Frostbite, FIFA 17 immerses gamers in an authentic football experience by simulating the tactics, moves and atmosphere experienced in a real-life football match while enabling you to select modern-day football players and teams with which to play for a customized experience.
Rohit Dahda, Head of G2A India said, "FIFA 17 is the most advanced game developed for gamers and it will completely revolutionize the way players think and move. Everything is as realistic as possible and you can experience the game on a level like never before. India is emerging as one of the most prominent video gaming markets and we are happy with the response from buyers on the digital marketplace."
FIFA 17 is compatible with Windows 7/8.1/ 10- 64 bit OS, 8 GB RAM, CPU of Intel Core i3-2100 @ 3.1GHz or AMD Phenom II X4 965 @ 3.4 GHz and NVIDIA GTX 460 or AMD Radeon R7 260 game card as a minimum requirement for PCs.
As the largest marketplace of digital products, G2A.com is the world's fastest growing digital marketplace and provides a platform for developers, producers and game players to buy and sell over 37,000 digital products. G2A serves more than 10 million customers and welcome 400,000 customers each month.