India is known as the land of spirituality, and believe it or not it has been and always be the part of our every Indian life. Shemaroo has an interesting number of devices that offers a range of Bluetooth speakers for various religion that can help you find peace and wisdom in our busy day to day lives, or I believe it can also be a unique gift for many occasions and age groups.
Today I am going to review Srimad Bhagwad Gita, A Bluetooth speaker on the epic tale of Mahabharata based on the famous Hindu Scripture.
Srimad Bhagwad Gita Review
Unboxing & First Impressions
Shemaroo has made it a classy packaging for the product, and it seems to be one of the premium 'Bhakti Series' products in their range of various devices. Unboxing the device is easy as you can pull out the main unit from the right side. Inside is again an impressive set of this Bhagwad Gita Book device, which resembles the original book. It is placed in shiny yellow clothing along with the User Guide, The IR Remote and two batteries.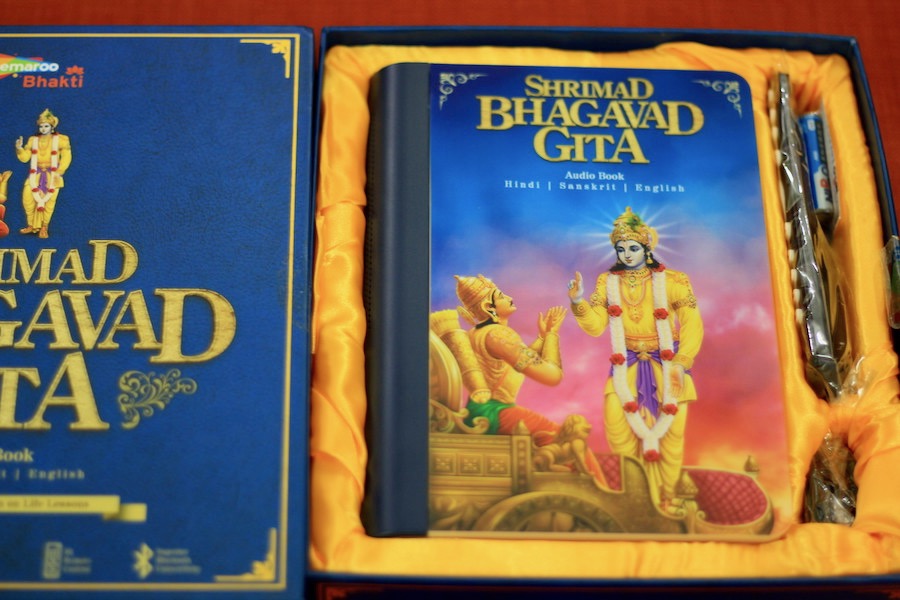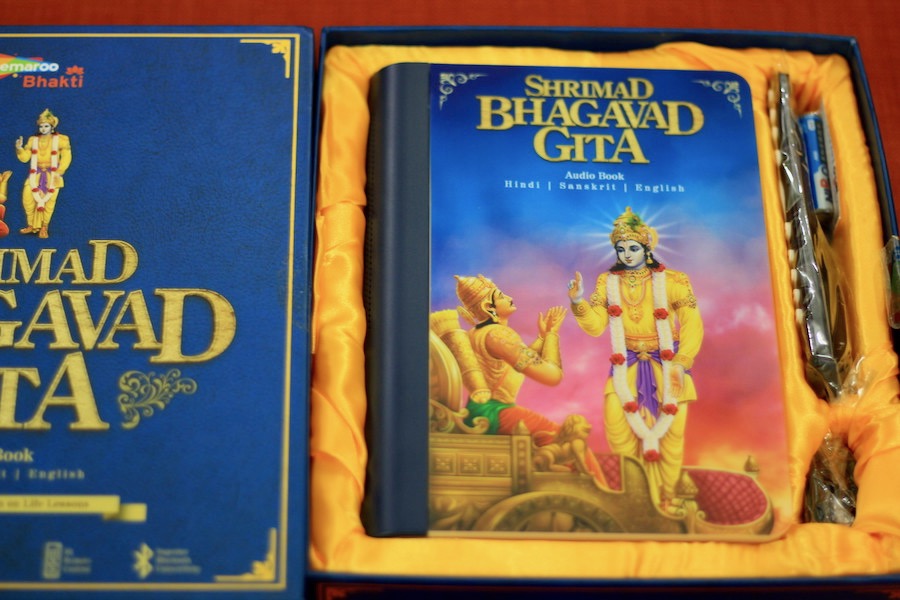 The speaker itself looks much more realistic to the holy scripture, as it has been designed to look exactly of the shape and size of the Srimad Bhagwad Gita. It has the famous drawing of Arjuna being blessed with knowledge by Lord Krishna on the top side. On the bottom, you'll find the same design followed by a famous verse of the Gita and branding of Shemaroo Bhakti Series. There are also 7 buttons on the back that covers colour and track selection and Bluetooth features. On the side of this spiritual bluetooth speakers book is a 6W speaker followed by a big power button, and AUX port, and micro USB port for the charging.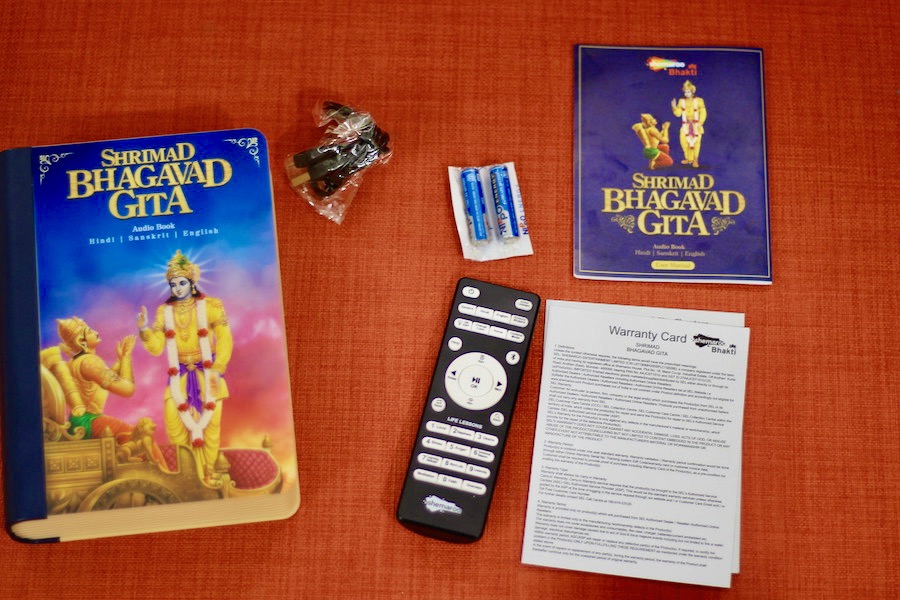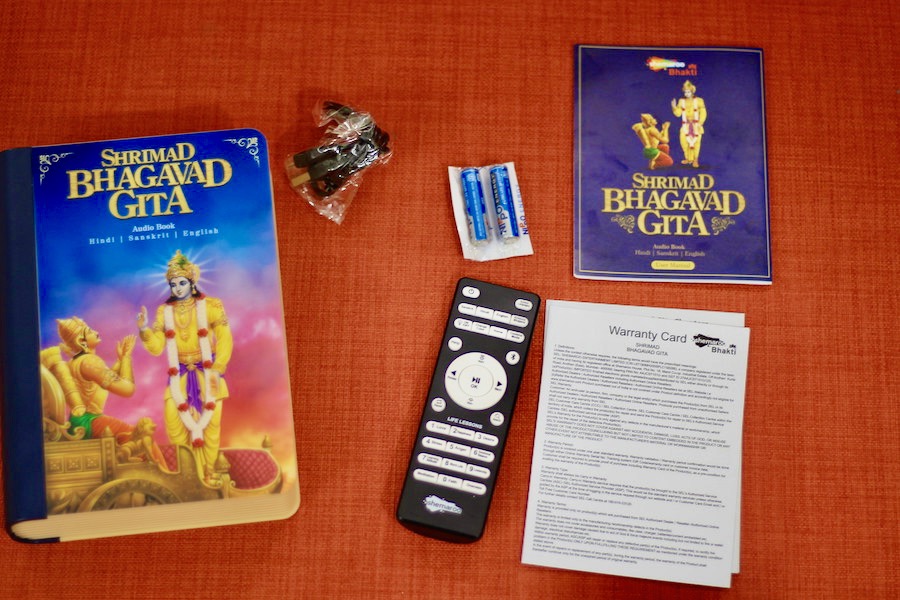 Overall, Srimad Bhagwad Gita speakers make a great first impression
Features & Specs
Shemaroo has properly structured the Audio Book as we know the greatest Hindu Scripture is – 18 Chapters and 700 Verses. They have made into summaries of Life Lessons and you can switch through them quite easily using the remote controls.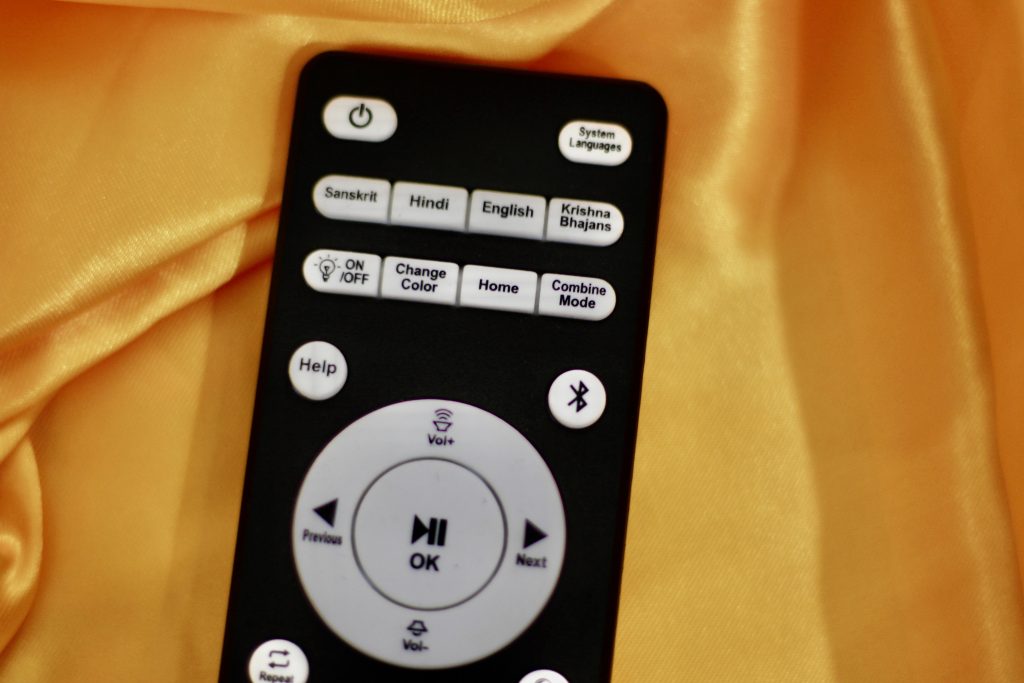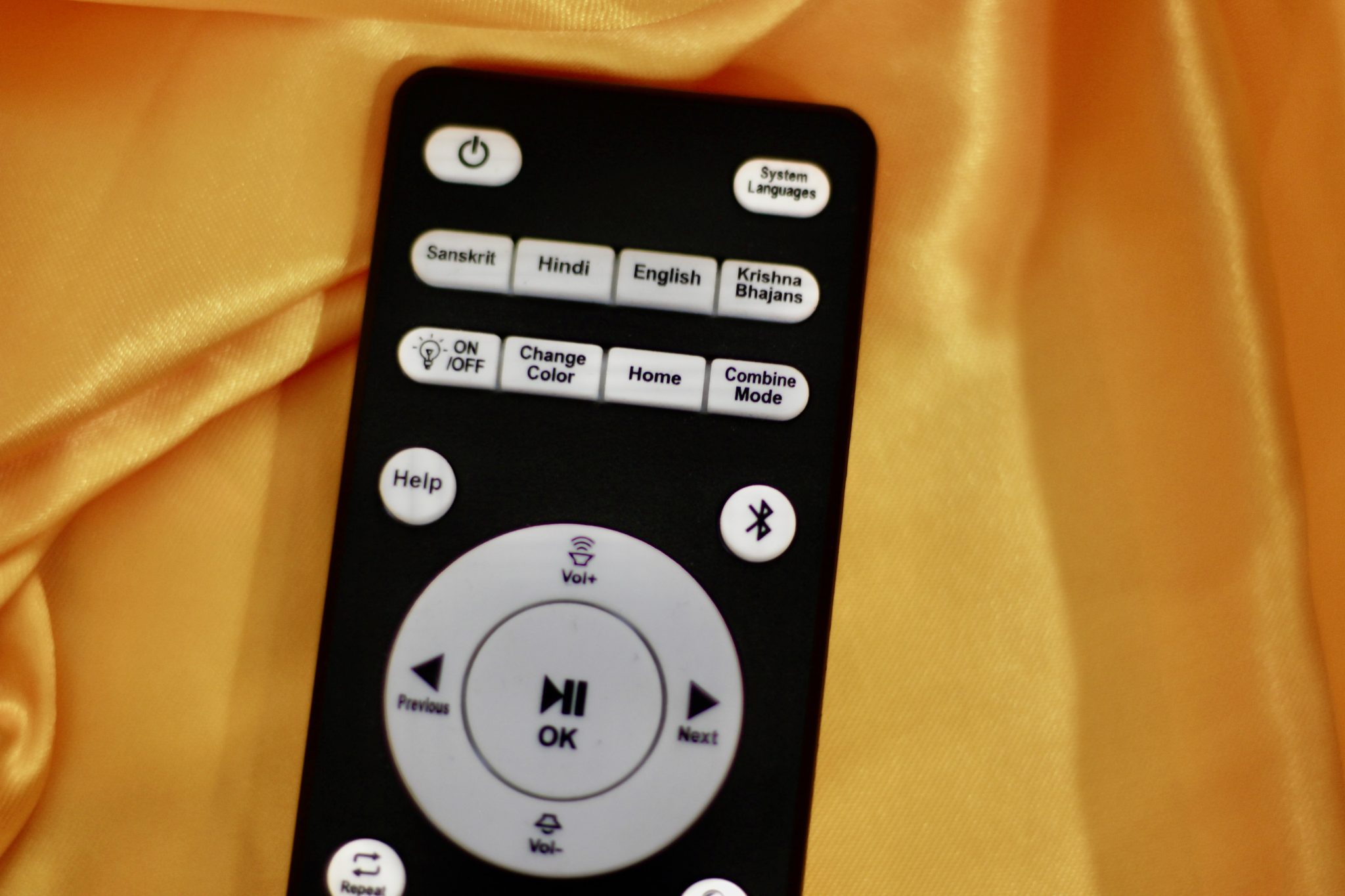 The remote itself is quite interesting as it mainly takes you to the important Life Lessons in a click of a button. So easy even senior users can easily operate it. You can jump between lessons like Love, Happiness, Desire, Stress, Anger, Emotional Balance, Learning Attitude, Work-Life, Leadership and Faith. There are additional wordings on Meditation and Oneness on the same keypad.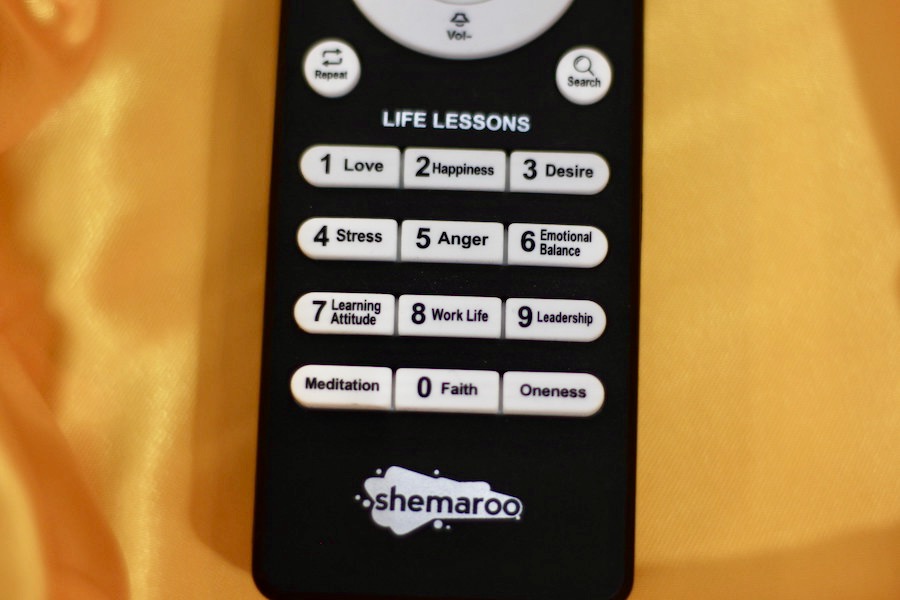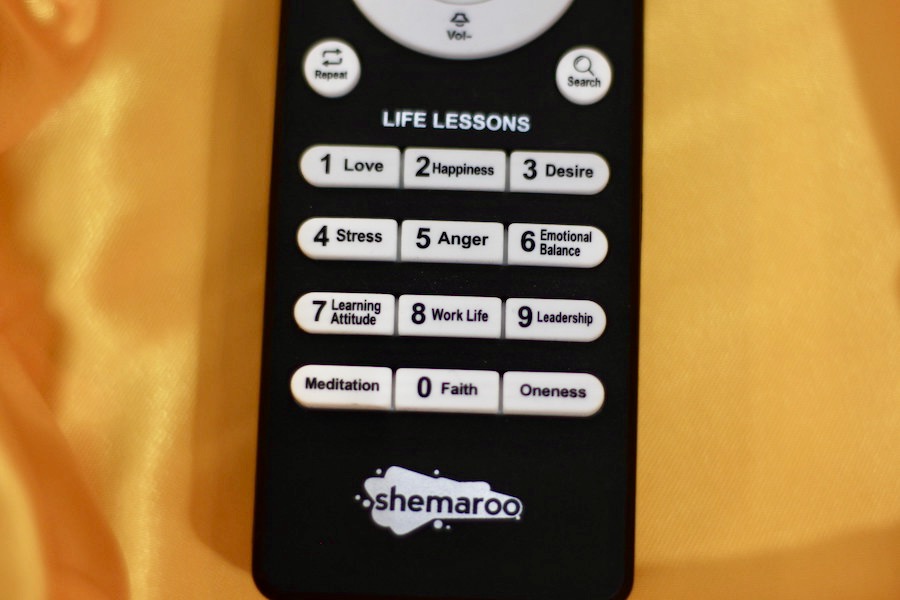 This quick access remote makes so much sense for a religious device like this, as you can deal with you at the moment life problems with the Wisdom from none other than Lord Krishna. It's a great way to find solutions while you reshape your beliefs that we can learn from the greatest scripture of all time thanks to the technology.
The remote also lets you switch between languages like Sanskrit, Hindi and English, the three languages all of Bhagwad Gita are available in a single package. You also get additional 100 specially curated Krishna Bhajans, which can be accessed easily with infrared Remote. There are miscellaneous other buttons like help, Bluetooth, repeat volume and playback controls that offers easy operation.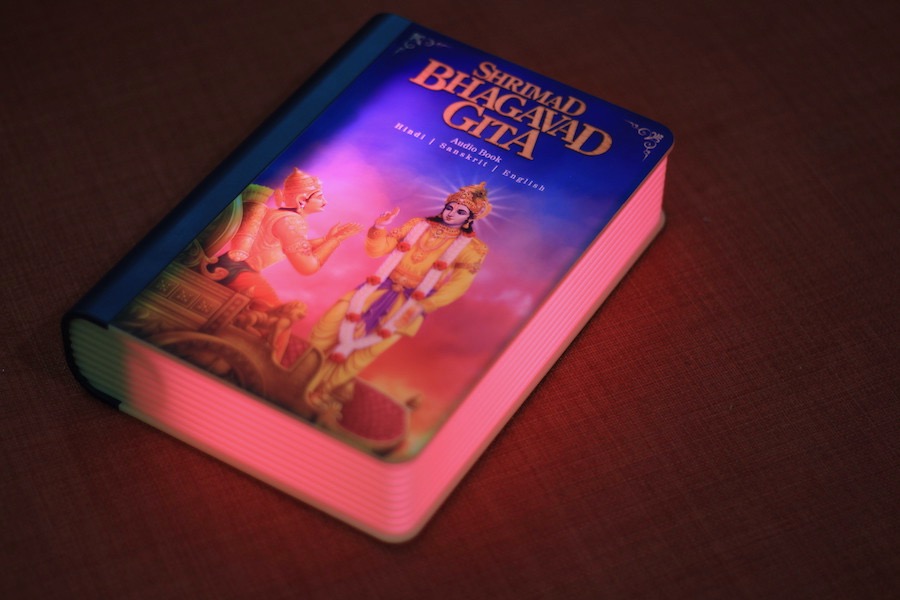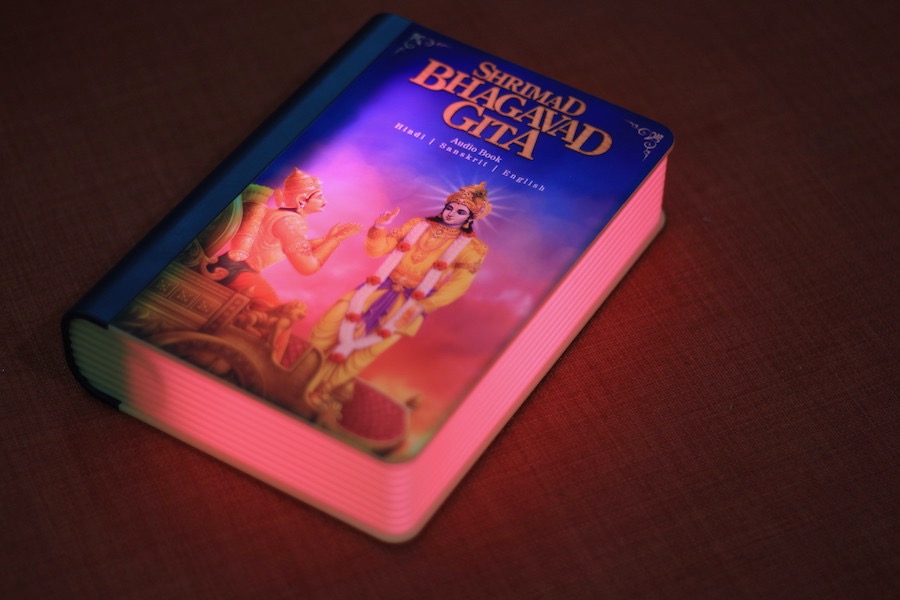 The device itself has lighting and colouring effects that breathe in and out peaceful colours, a great addition that makes it look attractive when you play the Srimad Bhagwad Gita, especially at night times. You can switch off or set colours using the remote itself. Interestingly there is also a dual-language playback like we've seen in the printed version of Srimad Bhagwad Gita, where you listen to the original Sanskrit verses first and then a preferred language Hindi/English afterwards.
Audio Book Experience
Srimad Bhagwad Gita comes with a high quality 6 Watt speaker that makes the overall audio experience a treat to your ears. The same speaker is also at your disposal for Bluetooth Playback by connecting your smartphones and playing any other audio or music.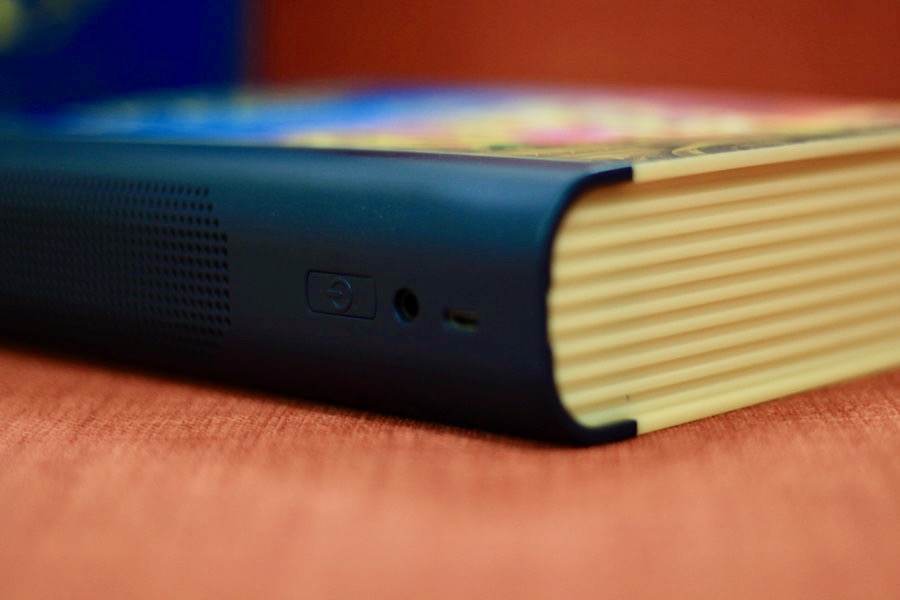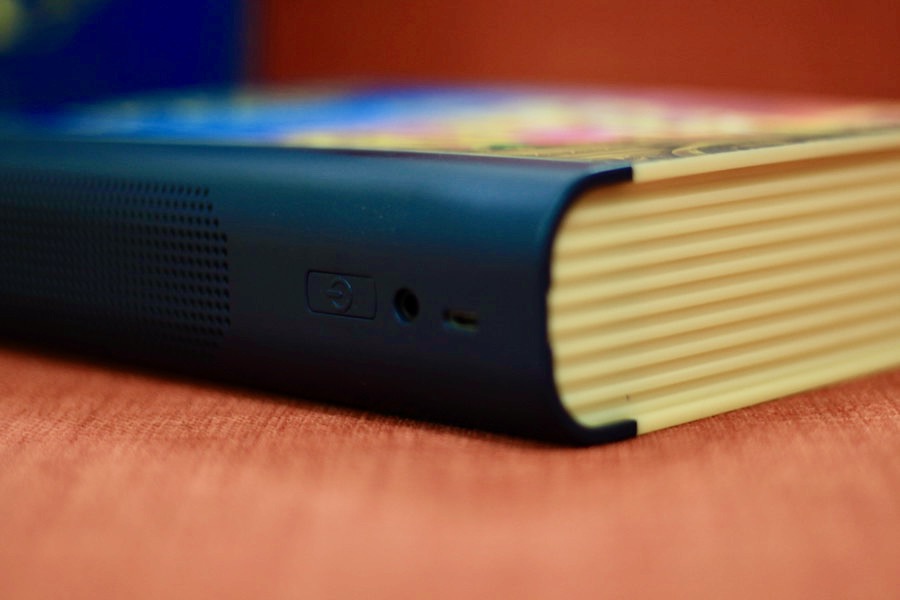 The verses feature some of the famous artists like Suresh Wadkar, Roop Kumar Rathod and Sanj V, who are known for their soulful voices in various devotional contribution to music. The audio quality is superior, crisp and well suited for the narrated content that is offered with great production quality we expect from a reputed entertainment company like Shemaroo. This audio device experience may not be new for the younger audience, however its fascinating and brings peace to all the higher age groups for its simplicity and easy access to spirituality.
Battery Life
The company has promised 8 hours of long-lasting battery for Srimad Bhagwad Gita speakers, which was nearby same when I tested the device over two weeks. I was using the device on and off for almost a week with 1 chapter a day, and it lasted well enough so I don't have to charge it again and again. Impressive compared to standard wireless audio devices, however, if you're only using this as Bluetooth speaker, you may see slightly reduced in battery performance.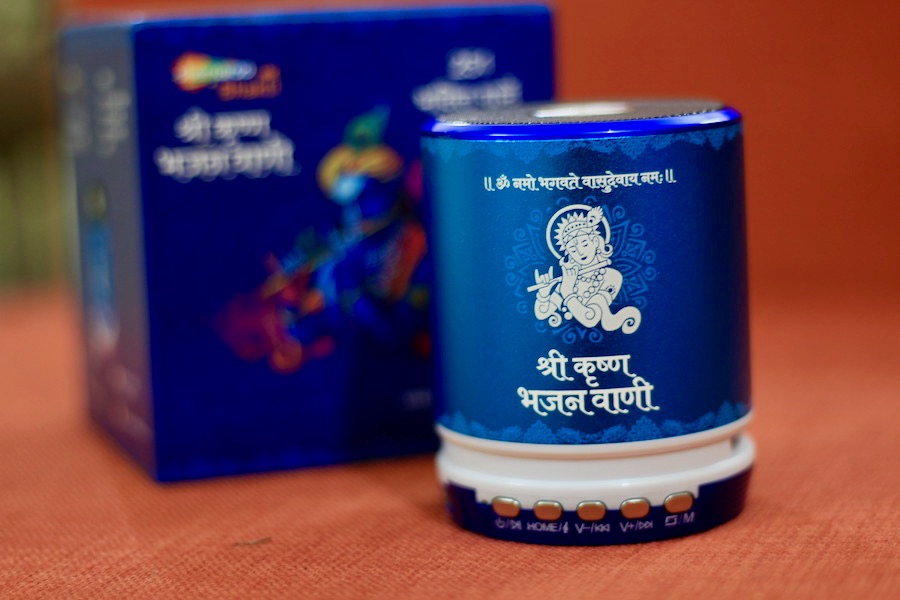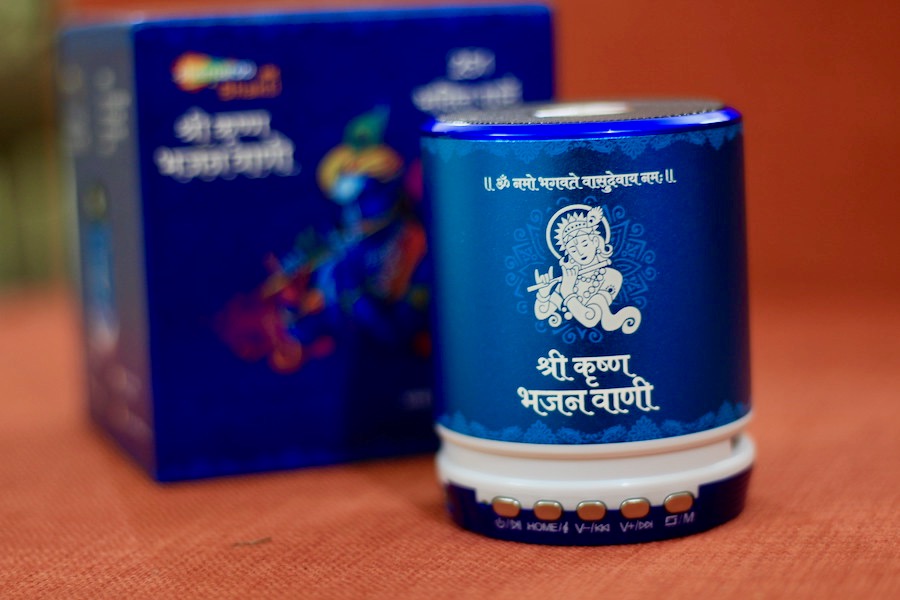 Range of Shemaroo Bhakti Series Products
I also received Sri Krishna Bhajan Vaani, which is part of their religious series that features 5-watt speakers 251 devotional songs by Anup Jalota, Anuradha Powdwal, Javed Ali, Suresh Wadkar, Kumar Sanu, Sadhana Sargam and Praful Dave.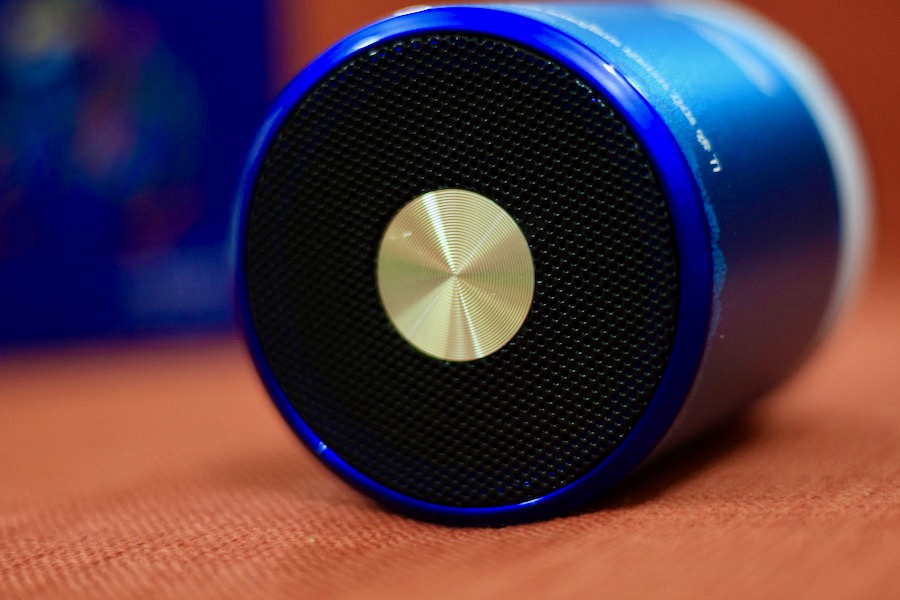 It's pretty much Similar to the Bhagwad Gita in terms of feature but a more affordable product range made for different religions. In this series, you'll find a range of products like Sri bhajan Vaani, Sri Ganesha Bhajan Vaani, Sri Sai Bhajan Vaani, AmritBani and Ibaadat Quran Majeed Speaker. The minor differences being curated content for a specific niche, a 5-Watt Speaker with 6-hour playback, metal body and no remote control functionality.
Learn more about Shemaroo Bhakti Devices (Official website)
Verdict
This device brings a unique experience at home, and a dedicated device makes it super easy to use for all age groups. I have the Bhagwad Gita at my home which I have read once in childhood thankfully with the help of my mother. But since then we only see it in tv shows and movies, which our busy lives won't give us enough times to sit and watch. Srimad Bhagwat Gita Audio Book by Shemaroo Bhakti Series offered me a chance to revisit into the values and wisdom I wanted to learn from the greatest Hindu scripture without giving it hours and hours.
For its simplicity, spiritual guidance, well thought out design and features, and most importantly for its high-quality audio experience, I will highly recommend Srimad Bhagwad Gita as a must-have family gadget.
Get Shemaroo Bhakti – Srimad Bhagwad Gita Online – Amazon.in | Seniority