Wireless Vacuum cleaners are becoming powerful by the day, and today we're going to do Roidmi F8 Storm FX review and unboxing, an advanced wireless vacuum cleaner from Xiaomi ecosystem that has impressed the western world with its performance.
Let us get into the unboxing part first.
Unpacking the Roidmi F8 Storm FX is quite easy, all you have to do is just release the carton box locks, and we're in.
The nicely packed welcome kit is there with the documentation including product installation guide, a warranty form and some more documentation. Inside, you will also find this unique brush, which I guess is for cleaning the filters. I'll discuss this in the review part. The second item is a box with Mattress Brush, printed right on the top. This accessory feels solid and well built. The roller insider has multiple blades and looks nice. On the connector, you'll find these soft buttons, the will click to confirm its connection with other parts. On the bottom, you'll find the two pins which will go into another part of this wireless vacuum cleaner.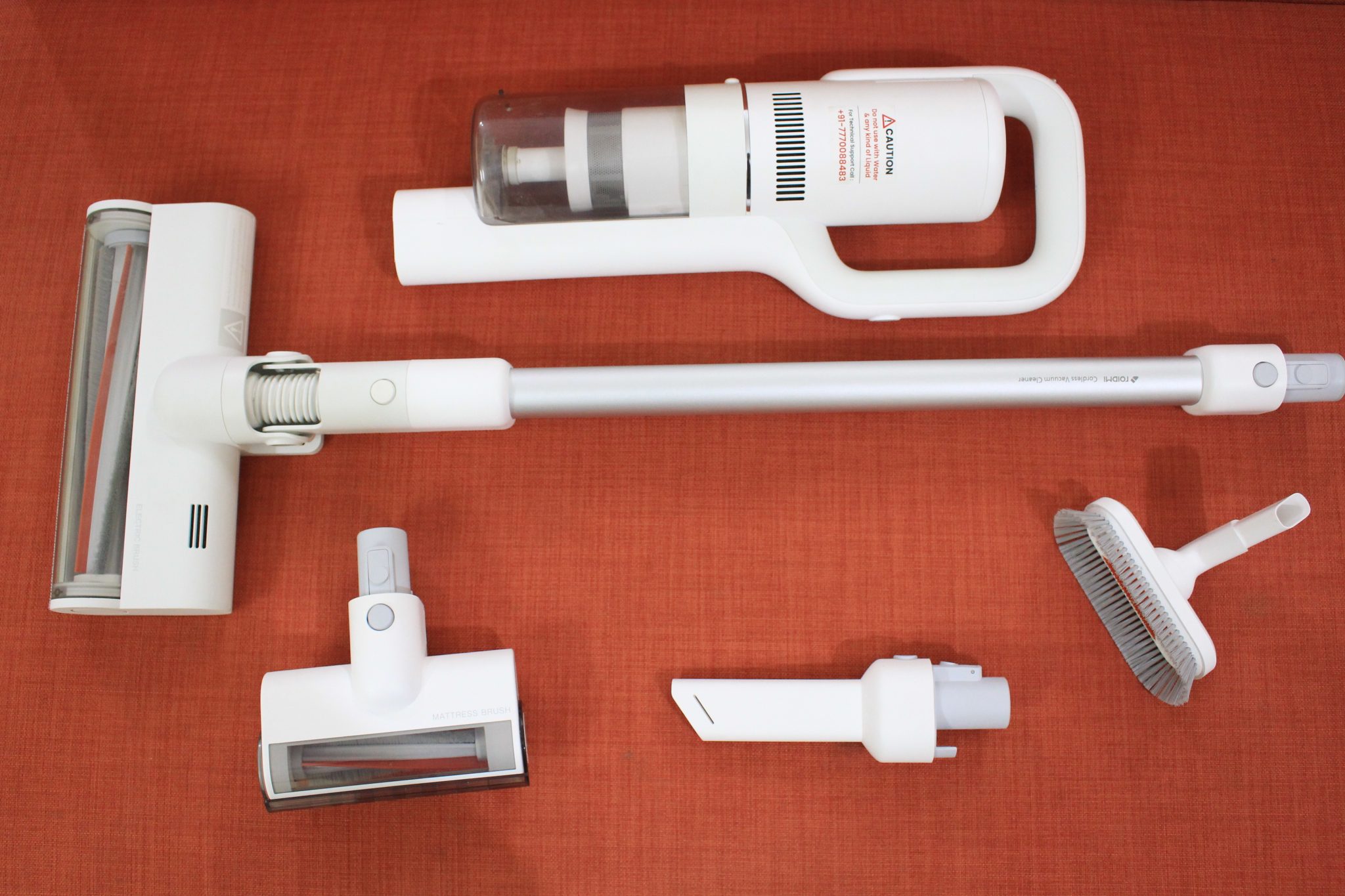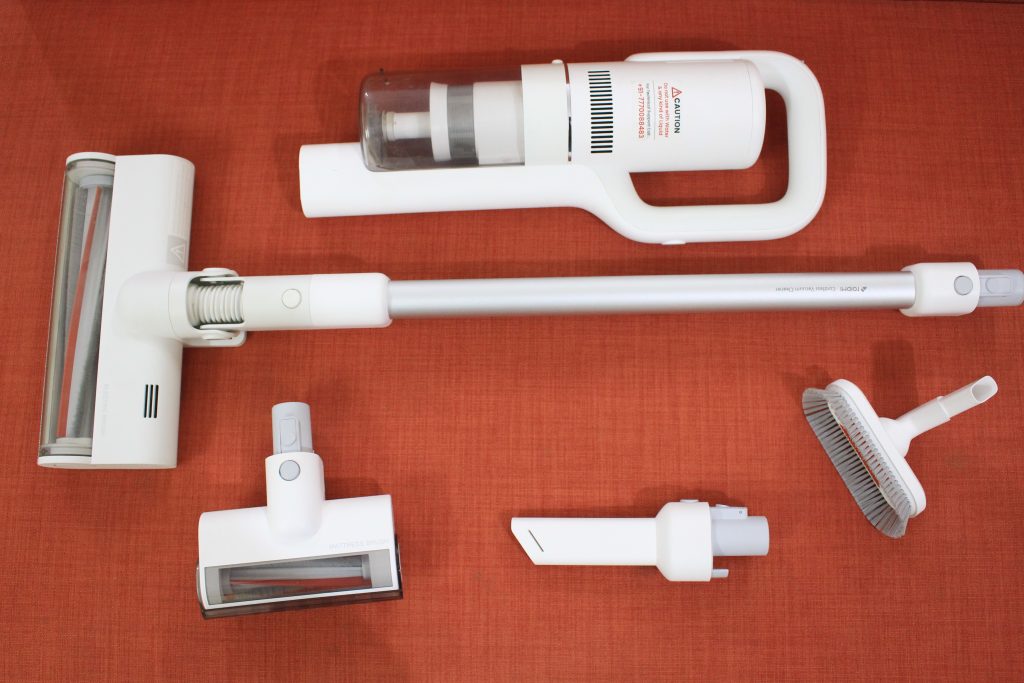 Next up is the extension boom that provides you extra length especially for floor Vacuuming. It is built with metal, feels very strong and well designed. The branding follows here as well which looks pretty amazing. Next again is a floor brush, the most important of all comes with only one roller unlike its International sibling, because consumers here has solid floors like Marble, tiles etc. Looks pretty sleek, same design as the mattress brush, and heavier one overall. The well-designed hinge makes extremely flexible for floor cleaning.
Then we have the main handheld Vacuuming machine, that is pretty handy to use, and feels premium to hold. It is made with high grade plastic we see in most premium products. This unit contains the HEPA filter, charging port, power ON/OFF buttons, LED charging/battery indicator, power mode button and connector to add all the accessories.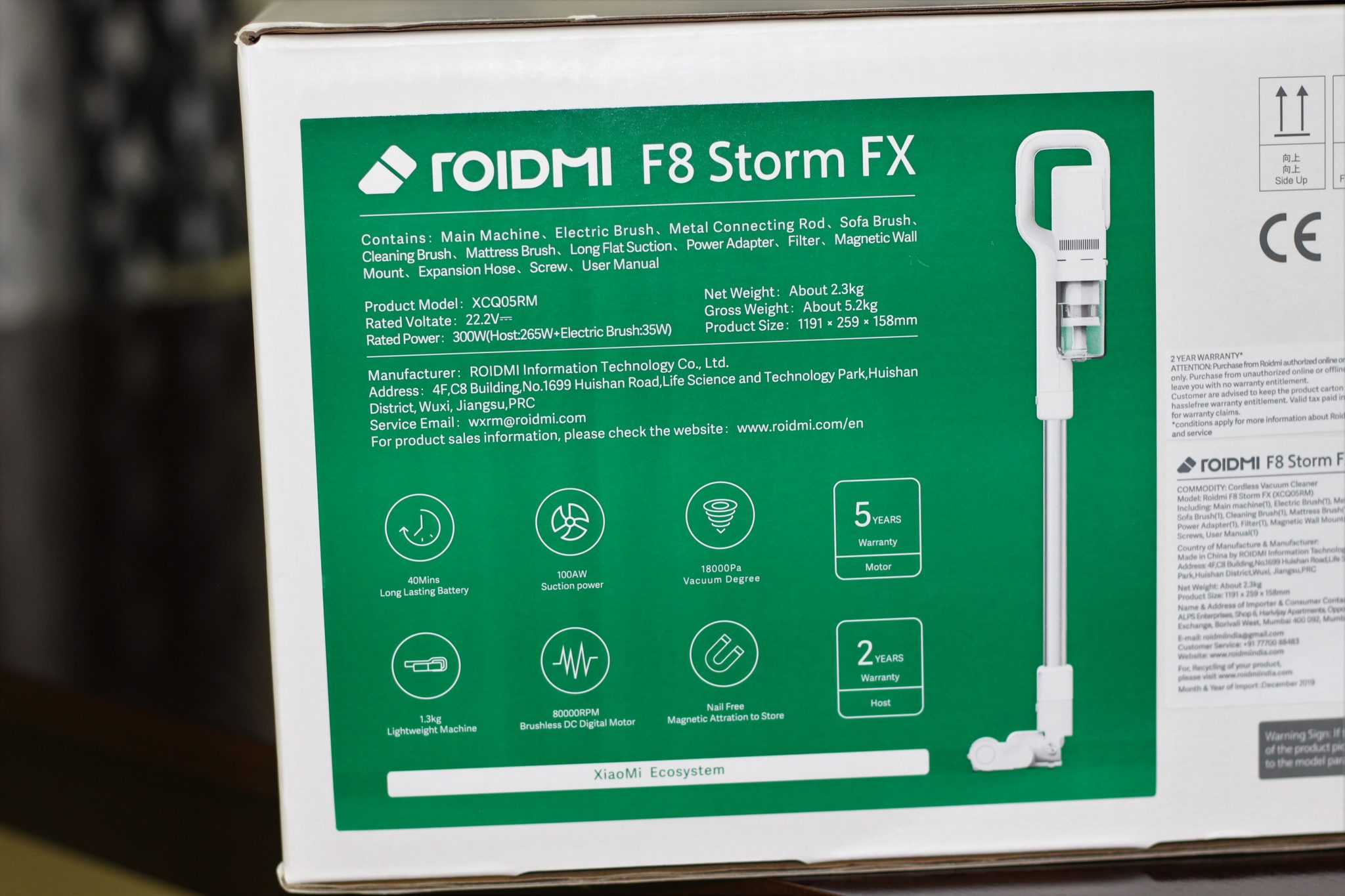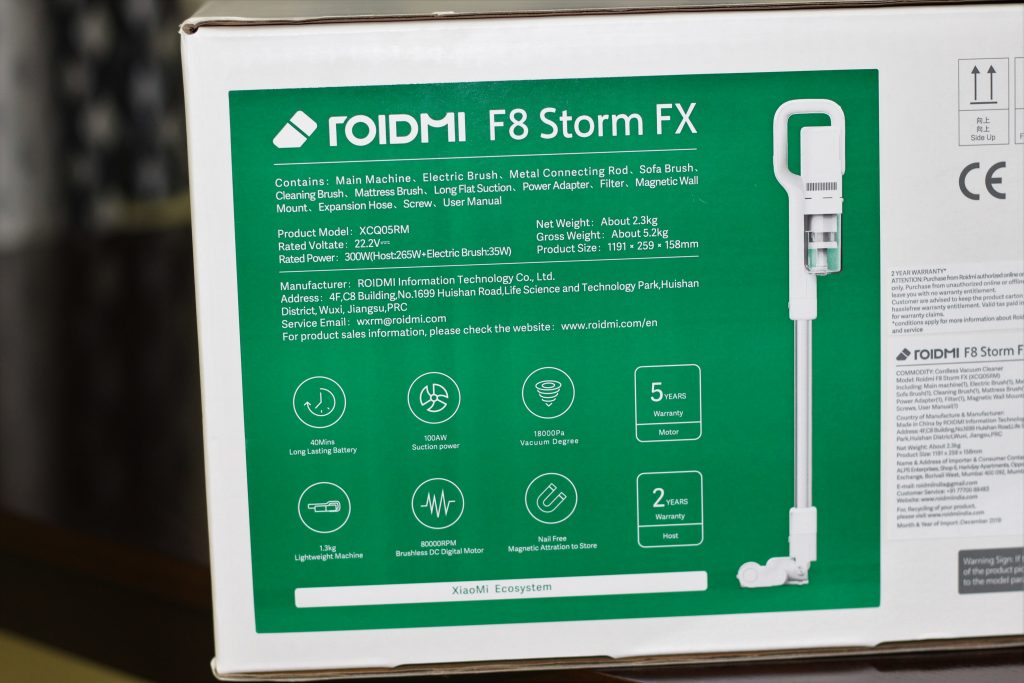 In addition to this, there is an extra filter, a 2-pin charging adapter, wall mounting assembly that lets you magnetically connect F8 Storm FX to the wall, and last one accessory that is a Sofa/Long-flat suction unit. Lets move on to in-depth review of Roidmi F8 Storm Fx.
Roidmi F8 Storm FX Review
Build Quality
Roidmi F8 Storm FX offered me the feeling when I first experienced the Apple iPhone for the first time: A rich-look, a premium experience and a well-designed portable device that will make my day-to-day life better.
As most of the parts are made with high-grade plastic, they offer a sturdy feeling when you hold or attach them. The dust cup is the only part that is transparent for obvious reasons, but it does not feel as sturdy as rest of the F8 Storm FX. Holding the main unit in one hand and removing feels tricky but is a very simple process.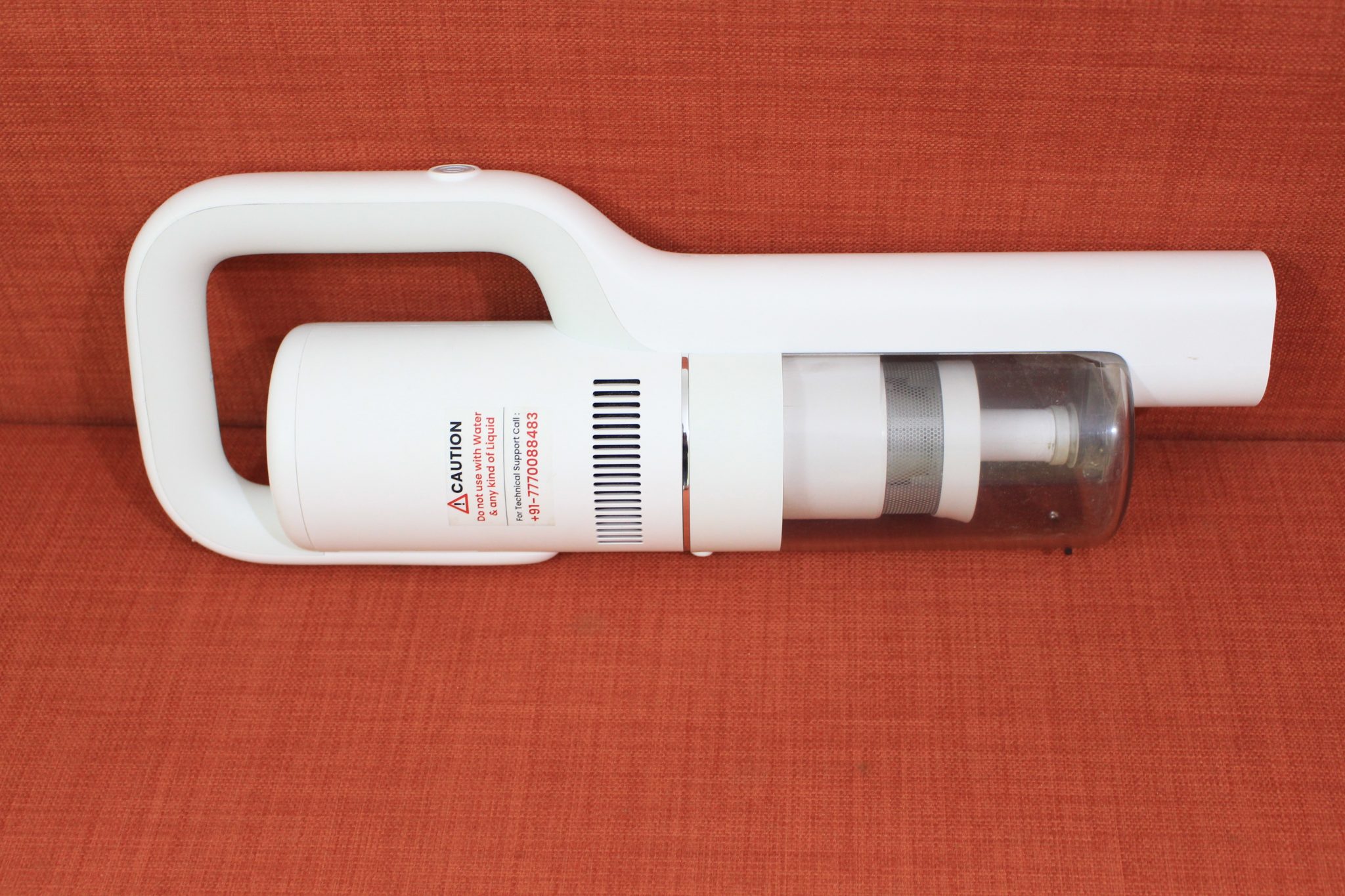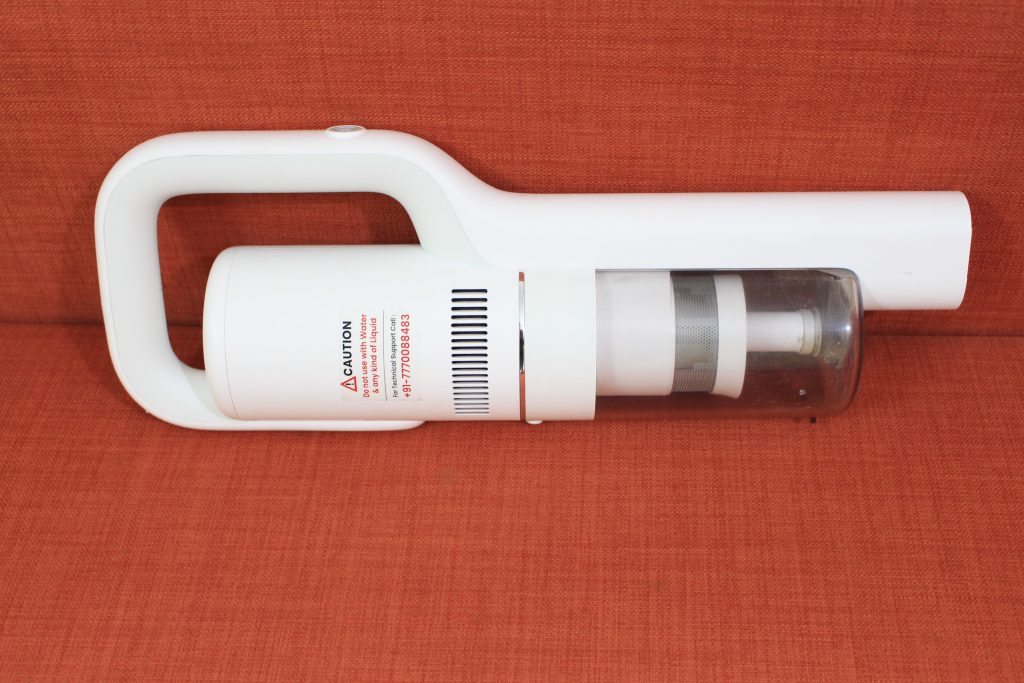 Just remove the heavy extensions for safety. Hold the main unit firmly, and simply press and gently pull out the dust cup to clean it. Be careful as you might spill some excess dust, if you have let it reach 100% capacity. After this you need to remove the filter, and then the assembly inside. Just follow the white arrow symbol to place it back smoothly.
The machine itself is barely 1.3KG in weight, and most accessories comes with total weight of less than 2.5KG, and heaviest being the floor brush one, which is still easy to handle on typical hard floors.
I am impressed with the build quality, as it ensures tight attachments and sturdy feel even when you operate this wireless Vacuum cleaner at high power.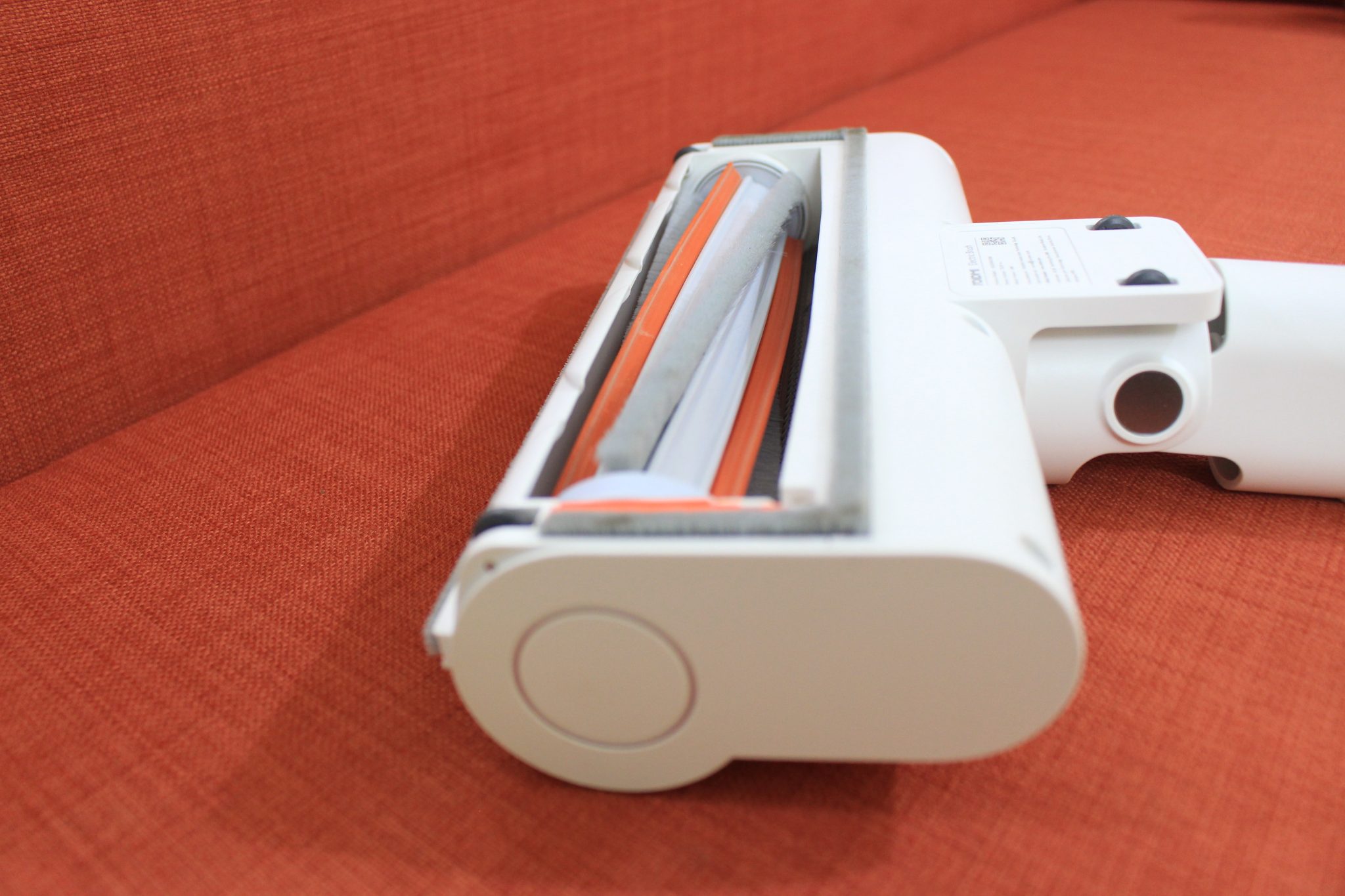 Power Modes
F8 Storm FX offers two power modes, Low Power and High Power. The low power is impressively quite to my experience with wired Vacuum cleaners, which are so noisy, you don't want to use them unless you badly need them.
The high power mode does get high on volume, but still impressively quite compared to standard Vacuum cleaners.
Performance
For this Roidmi F8 Storm FX review purpose,I started testing this cordless vaccum cleaner with my super-dusty RGB gaming keyboard, some solid and fine grained waste on the floor and cleaning my sofa that is a victim of my ground floor wind that flows-in lot of dust.
The gaming keyboard has heighten mechanical keys and they often collect too much dust every week. You will see lot of settled dust on the top and on the arrow keys. I tried using the smallest attachment, because it has nice brush that is not too harsh to work on stuff like keyboards. With 2-3 minutes of Vacuuming with F8 Storm FX, it was clear that it can go deep into the keys and grab the free dust smoothly. I was able to clean 80% of the keyboard on lower power within 3-5 minutes of dep brushing. 20% of it was not completely removed because of the settled dust that has become thick and sticky. But you can see the big difference by the short the Vacuuming itself. It can get much cleaner in short time on high power.
Second thing is my big sofa that has light orange colour, which gets covered by dust quickly if not cleaned every month. I used the mattress brush here, which lacks the flexibility, but sits nicely on the flat sofa surface and offers good suction. It doesn't try to suck the clothing on top and softly Vacuum s the sofa without any troubles. Same brush is perfectly suitable to suck dust form mattresses as well. The camera was not able to capture the cleaning of Sofa, so I am trying to show this cushion, that has two layers, one on the top is with the dust and other one is clean. After cleaning it for some time, now you can see the colour matches, as the dust is completely sucked by F8 and the cushion looks brand new. I also used the flat suction accessory to make the sofa dust-free in corners and between the tightly spaced joints.
Last thing I wanted to try is various sized grains and how the F8 Storm can handle it. So let's find out..
As you can see, the suction even on the low power mode is so strong that I don't even have to take it backwards to ensure cleaning. Even with one swipe the area is perfectly clean. The floor roller brush used here offers the flexibility to move in any direction and being portable device it doesn't restrict me from moving this device in any direction at all. Great performance overall.
Battery Performance
Roidmi F8 Storm FX takes about 2-2.5 hours to get fully charged and it lasted me over 30 minutes while two indicators are still on. We can safely assume it will run over 45-50 minutes on low power same as what the Roidmi has promised.
On high powers it performs much better, but offers around 9-10 minutes of battery life, which is fine considering the lower power mode convers most day to day cleaning for you, and you only need power Vacuuming for short runs.
Verdict
F8 Storm FX is customized for Indian market, as it doesn't offer wireless charging, has 100 WPA suction power, slightly less than the international sibling, offers some accessories like the flexible hoes as a separate add-on, and doesn't have the smart app. These changes helps Roidmi keep the pricing of the product pretty attractive while not compromising on the performance at all.
With F8 Storm FX Wireless Vacuum Cleaner Roidmi has made a solid entry into Indian market with Premium Design and Top-class performance, and competitive pricing. With the 5 years motor warranty, I will highly recommend this classy gadget as value for money buy for most Indian households.
Pricing, Offers and Availability
At the moment this F8 is available on Tata Croma, Seniority, Flipkart, Amazon and Reliance digital across the country.
Check the latest sale price – Roidmi F8 Storm FX on Amazon