Konica Minolta reports successful sales at Drupa 2016. About 260,000 visitors came to the world's largest and most important trade fair for print and cross media solutions. Even though this was fewer than at Drupa 2012, Konica Minolta saw an increase of about 25% more visitors at its stand. A prominent showpiece at Konica Minolta's 2,400 sq. m. booth was the AccurioJet KM-1, making its debut as a commercially available product. Throughout Drupa, AccurioJet KM-1 drew admiring crowds of visitors all keen to see how this breakthrough technology can help them diversify into new markets such as books and packaging, or serve their existing markets better.
The first two orders from a list of prospects for the AccurioJet KM-1 were confirmed during the show – from U.S. companies Postcard Mania and Cohber Press. These contracts, together with several orders for the bizhub C71CF label printer that were also placed at Drupa, represent Konica Minolta's first successes in the industrial printing segment.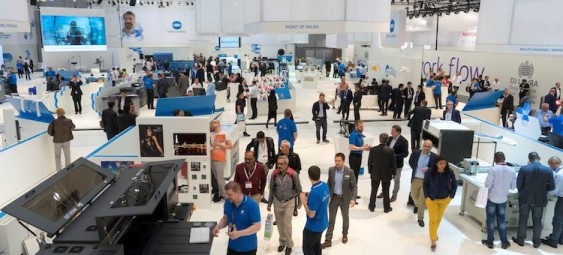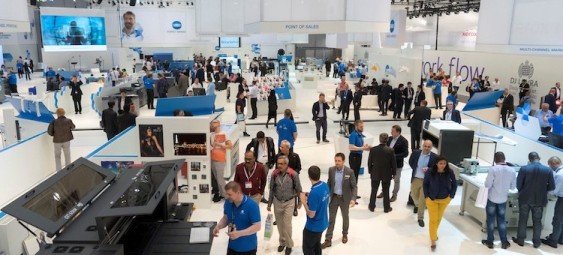 Furthermore, Konica Minolta's leading position in the mid-production color printing sector was strengthened as customers from across the world chose to invest in Konica Minolta printing systems and software. Besides the output devices and print embellishment technologies, KM also demonstrated host of solutions under Accurio Pro Portfolio of workflow software solutions for the customers to be more productive and profitable. A healthy pipeline of future orders was secured, underpinning the company's impression of an extremely positive overall mood and investment climate during the show. Konica Minolta India was pleasantly amazed to host and demonstrate its products and solutions during the exhibition.
Konica Minolta's partnership with MGI Digital Technology was another highlight of the stand at drupa, with the French company's JETvarnish technology being shown working in conjunction with several Konica Minolta systems like the AccurioJet KM-1 as well as the bizhub PRESS C71CF label printer.
Mr. Yuji Nakata, MD Konica Minolta Business Solutions India Pvt Ltd, comments, "The Drupa 2016 been a great platform for us to demonstrate that we deliver the right and have a very strong R&D to constantly innovate for our customers. The exhibition has pushed Konica Minolta from being a market leader- in commercial printing and in publishing to now being recognised as one of a few select companies operating right at the forefront in the exciting world of industrial printing and pushing on towards new horizons. We also achieved an extremely healthy pipeline of new orders."