The Eufy RoboVac G20 is a compact robot vacuum that is 2.86 inches/7.56 cm tall and has the same circular design as the rest of the company's products. This robot vacuum has little trouble cleaning underneath furniture with little clearance. The RoboVac G20, which costs $60 more than the 11S, has almost twice the suction power and, in tests, was shown to be quite effective at collecting small dust and debris from both carpets and hard surfaces. This vacuum also has advantages from Wi-Fi connectivity, which enables app control. The G20 provides three suction power settings. Select the BoostIQ feature, and the device will intelligently alternate across the Standard or Turbo power levels according to the type of floor it detects. The 20.2oz dust container in it is simple to clear.
A rechargeable battery that Eufy claims will power the RoboVac G20 for up to 100 minutes of cleaning is used. If the battery level falls below a particular level during cleaning, the device will immediately retreat to its charging station. Once the battery level reaches 80%, the robot will pick up where it left off cleaning. Due to its lower-than-usual battery life, Eufy's G20 is best suited for people with smaller homes or those searching for an effective robot vacuum for a bargain. If you want to purchase then buy it here.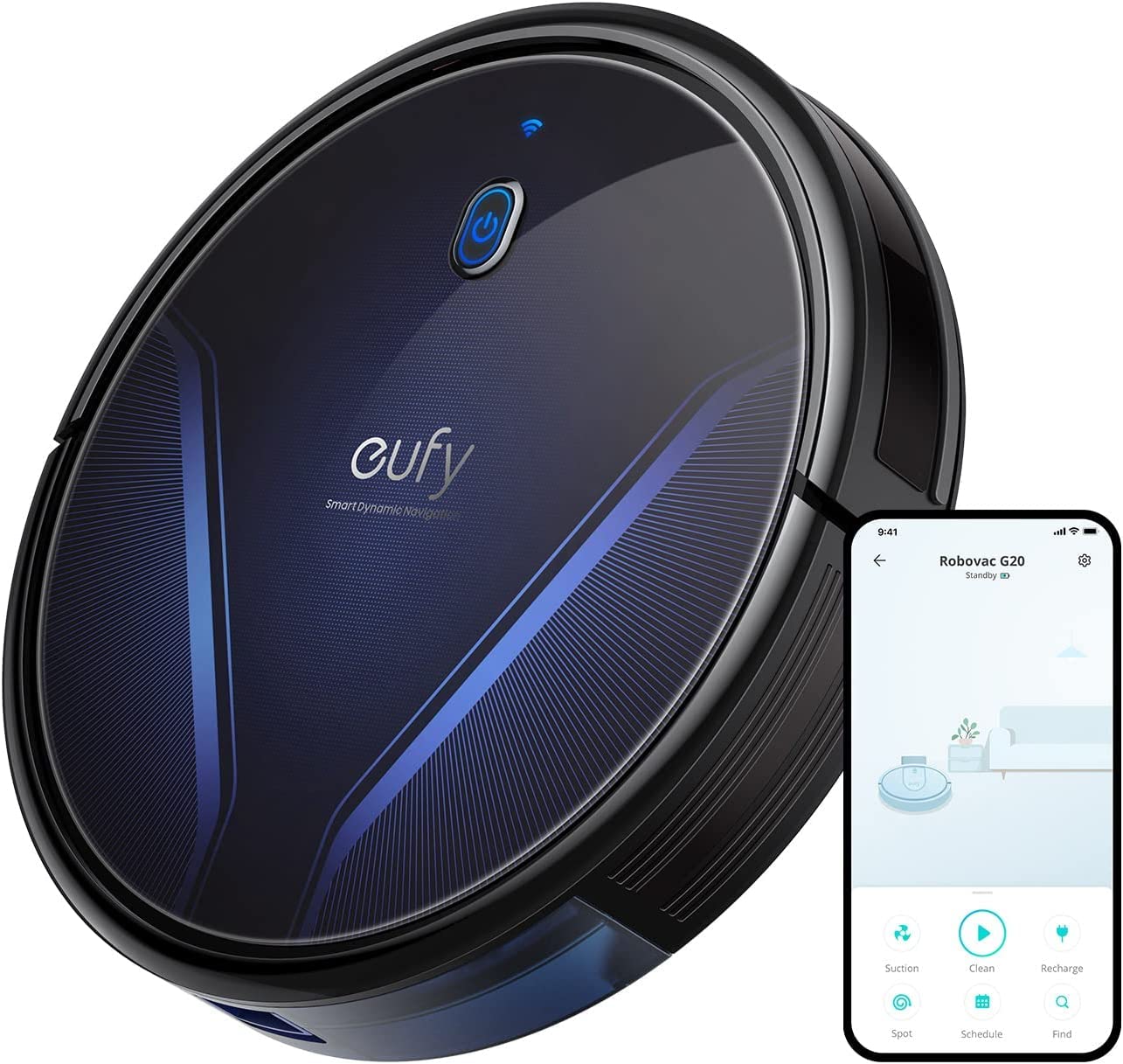 Design
Its scratch-resistant glossy black top surface has a blue accent and houses a power button that lights orange while the robot vacuum is being charged. A Wi-Fi icon that flashes blue when the vacuum is online and accessible via an app is located above this. Along with a power connector and a sweeping device for removing hair and other debris that may become hooked from around brush bar, the robot vacuum comes with a small charging base that is 6.53 x 6 x 3.14 inches (16.6 x 15.3 x 8 cm) in size. The 13 sensors on the RoboVac G20 include a gyroscope. This permits the cleaning unit to pursue a deliberate path rather than tumbling to the ground level. An user also pointed out in his amazon review:
"The mopping feature is so great, does a great job not missing any spots, and after it had mopped my kitchen. I used a swifter mop pad to see how well it mopped my floors, and it was almost pristine. "
Two wheels as well as a rotating wheel, along with a brush bar, are located on the underside of the G20 to assist the robot vacuum in moving around your home. Additionally, there is a place to attach the vacuum's optional side brush, which is provided for cleaning edges and any crevices in a room. There are four suction levels: Quiet, Standard, Turbo, and Max. A useful BoostIQ feature allows the robot vacuum to automatically convert between Standard and Turbo modes when it finds carpeting. While there are no boundary strips built into the dust box to designate no-go zones for the robot vacuum, these can be ordered directly from Eufy. The dust box has a volume of 20.2oz / 0.6 liters. Some amazon users did claim that the dust box is too small.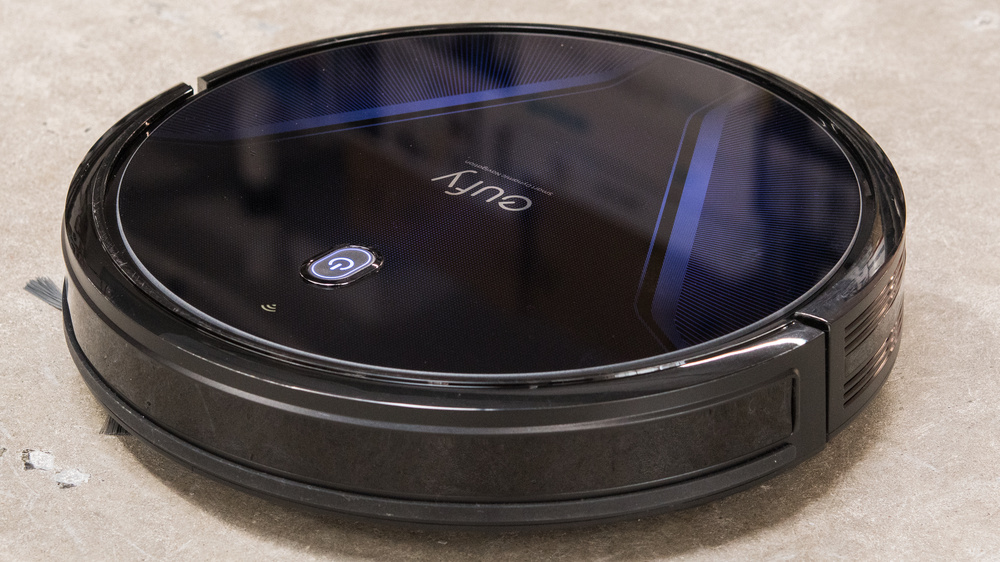 Battery Life
The G20's maximum runtime, according to Eufy, is 100 minutes, however this is at its lowest power level. Battery life is reduced to 45 minutes while using the Max power level. The G20 will resume cleaning when the battery is back at 80% and pick up just where it left off. However, it's disheartening to discover that the battery level isn't shown in the app as a percentage but rather as a difficult-to-read graphic. 
Performance
The Eufy RoboVac G20 impressed throughout testing with its ability to pick up debris from both carpets and hard floors. On the lowest power setting, it easily picked up tiny dust particles, food bits, and coarser particles, even grains. The side brush did, however, tend to distribute heavier particles more about the room when used on hard floors, which extended the vacuuming process a little bit more than you would anticipate. Another user claimed in their amazon review that:
"Powerful robot vacuum, the Eufy RoboVac G20, removes larger and finer dirt from carpets and solid floors. Its slim form ensures that it won't get stuck under steep objects while operating quietly. It is reasonably priced while still providing Wi-Fi access for app management and scheduling options. But since it doesn't have any sensors, it frequently drives into home furnishings. It also has a limited battery life in comparison to other versions on the market." 
When vacuuming, the G20 followed a more deliberate path around our house thanks to the gyroscope, as opposed to the 11S's haphazard path, for instance. Therefore, the G20 is undoubtedly one of the fastest cleaning Eufy's budget robovacs. However, with fewer sensors than, say, the Eufy RoboVac G30 Hybrid, we discovered that this robot vacuum frequently collided with furniture, even when placed at the margins of a room. Additionally, if you move between floors in your home, we suggest putting the charging station with the robot vacuum because, in our experience, the G20 found it difficult to go across a floor without it. 
Conclusion
Although the G20 is more expensive than the Eufy 11S, it has Wi-Fi connectivity, letting you to schedule cleans and start and stop the robovac using an app. It's actually one of the least expensive app-controlled robot vacuums we've evaluated. The G20 has four suction levels and operates in all of them quietly, with our decibel meter measuring no more than 65db, or the noise one might hear standing 100 feet from an air conditioner. It is therefore perfect for people who appreciate quiet appliances. 
If you like to clean each room individually, don't buy it. The G20 cannot be customized to clean particular rooms or zones since it cannot map your house while it is cleaning. Look elsewhere if this is a top priority. This entry-level robot vacuum frequently collided with furniture since it lacked sensors; in some instances, such as with side tables, the force caused the objects to move slightly. Avoid the G20 if you have a lot of furniture in your house and don't want it to get scratched up or dented. 
Priced at $279.99 / 259.99, the Eufy RoboVac G20 is $60 more pricey than the Eufy 11S. You may buy it directly from Eufy or on Amazon.  A version of this machine is also available that can vacuum and clean hard floors. The cost of the Eufy RoboVac G20 Hybrid is $319.99. While this robot vacuum picked up material well on both carpeting and concrete floors, hard floors tended to cause the side brush to spread larger particles farther across the room. This means that people whose homes are mostly carpeted would benefit more from the G20.