Discover the ever-growing collection of the "Best Kids Movies on Disney Plus," where animated and live-action gems await your family's enjoyment.
The number of Disney Plus films for kids available to view on the popular streaming service is growing daily, with new animated and live-action features being added regularly. Choosing which kids movies on disney plus to watch can be time-consuming due to this ever-expanding library.
But it doesn't have to be. Here are some of the best kids' films on Disney Plus that are enjoyable and family-friendly.
Jesse Eisenberg's character, Blu, and Anne Hathaway's character, Jewel, and their three offspring, embark on an adventurous journey in search of more blue macaws residing in the wild. Leaving behind the comforts and safety of the city, they venture into the uncharted territory of the Amazon rainforest.
However, their journey is not without its challenges, as they soon discover they are not alone in the vast rainforest. The dense foliage and diverse wildlife pose even greater obstacles than the bustling streets of Rio de Janeiro, making their expedition all the more daunting.
After defeating Emperor Palpatine in The Rise of Skywalker, Rey (Helen Sadler) and her allies look forward to a relaxing beach vacation. However, with the Dark Side always lurking, it's only a matter of time before she has to wield her lightsaber again. If you enjoyed the previous Lego Star Wars specials on Disney Plus, watch for Lego Star Wars Terrifying Tales and The Lego Star Wars Holiday Special, both coming later this year. Lego Star Wars Summer Vacation (2022) is one of the best kids movies on Disney Plus to enjoy with the kids as well as the family.
Frozen was a huge success for Disney because to its groundbreaking computer animation, chart-topping melodies, and powerful message. Adult audiences may find some story gaps and cheesy character situations amusing. On the other hand, the powerful message of sisterly love and the wintery graphics will keep everyone entertained.
Frozen 2 is also accessible on Disney Plus if you've already seen the first. The sequel skillfully adds depth to the original characters while accomplishing fantastic world-building. Its sequences that teach how to negotiate challenging, even horrific, situations even when all hope is lost set it apart from the original and other kid's films on Disney Plus. This film is a sequel that easily outperforms its predecessor in terms of maturity.
Have you ever experienced a night of revelry so intense that you couldn't recollect what happened the following day? If so, you may relate to the plot of "The Slumber Party". The movie portrays the story of two best friends, Megan (portrayed by Darby Camp) and Paige (portrayed by Emmy Liu-Wang), who undergo hypnosis to overcome their fears during a birthday sleepover.
The aftermath of this decision leads to unforeseen consequences for the duo. This film has been compared to a more family-friendly version of "The Hangover" and is likely to evoke nostalgia among adults who enjoyed the early 2000s Disney Channel.
Lightyear is a thrilling spin-off of the timeless classic Toy Story, which tells the tale of the real Buzz Lightyear, played by the talented Chris Evans. The movie explores the origins of the beloved action figure and takes us on an exhilarating adventure as Buzz sets out to save a stranded crew on a hostile planet ruled by robots. With his trusty companion Sox, played by the versatile Peter Sohn, Buzz must navigate through dangerous obstacles and fight against treacherous enemies to complete his mission.
Although the movie had a disappointing performance at the box office, it has garnered much acclaim from viewers, who have praised its engaging plot, captivating performances, and stunning visuals. Lightyear is currently available for streaming on Disney Plus, where you can relive the magic of the original Toy Story and experience this exciting new chapter in the beloved franchise.
Would you be open to having your cherished hand-drawn cartoons transform into computer-generated versions? While Chip may not have an issue with it, Dale is quite fond of the concept and would even go so far as to undergo "CGI surgery" himself.
In this updated rendition, the Rescue Rangers must collaborate to rescue an old friend despite their differences and disputes. Whether or not you are familiar with the characters, their amusing and entertaining antics are guaranteed to bring a smile to your face.
Jaeger Clade, portrayed by Dennis Quaid, hails from a long line of explorers who have traversed the world in search of adventure and discovery. However, when his son Searcher, played by Jake Gyllenhaal, expresses his desire to settle down and lead a more conventional life, Jaeger is disappointed.
Years later, the father and son unexpectedly cross paths. Jaeger's grandson Ethan, played by Jaboukie Young-White, becomes intrigued by his grandfather's adventurous spirit and decides to follow in his footsteps. It's worth noting that Strange World, a Disney animated film, is the first of its kind to feature a gay lead character. The movie sends a powerful message about embracing one's true self and the importance of family.
In the story of Trevor, a high school student named Trevor has a secret crush on one of his male classmates. Unfortunately, his feelings are revealed, and he becomes a target for bullying and ostracisation at school. Despite the difficult situation, Trevor remains fascinated with Diana Ross and finds solace in her music. It is then up to the adults in his life to step up and defend him from the bullies.
This powerful story has inspired the creation of the Trevor Project, a crisis hotline for LGBT+ teenagers that provides support and resources to those in need. Additionally, the story has been adapted into a touching and impactful musical that continues to spread awareness and promote acceptance for all.
In the film Muppets Most Wanted, Kermit the Frog finds himself in a difficult situation when falsely accused of stealing jewels. The Muppets, as always, come to the rescue and must work together to solve the case and clear Kermit's name. Along the way, they break out into a few musical numbers that will delight and entertain audiences of all ages.
If you are a fan of the Muppets and looking for a great film to watch, Muppets Most Wanted is a must-see. While many other Muppet theatrical films and specials are available on Disney Plus, this one stands out for its intricate plot, hilarious jokes, and memorable musical performances.
In the beloved Avengers franchise, Tony Stark, masterfully played by Robert Downey Jr., takes on Peter Parker as his apprentice superhero. The young and talented Parker, portrayed by Tom Holland, is eager to prove himself to Iron Man. However, when Stark decides that Parker is not yet up to his standards, Spider-Man sets out to prove him wrong. Though it is uncertain when the sequels will be available on Disney Plus, fans can still enjoy Holland's impressive performances in Captain America: Civil War and Avengers: Infinity War.
Disney has a knack for crafting captivating origin stories for its legendary villains, and Cruella de Vil appears to be no exception. The film follows Estella, played by Emma Stone, as she navigates life as a teenage fashion designer on the streets of London. When Estella is allowed to create a unique piece for a rockstar, she must also contend with the cunning Baroness portrayed by Emma Thompson. Given the success of Maleficent's backstory, which produced two popular films, it is likely that Cruella could be Disney's next big hit.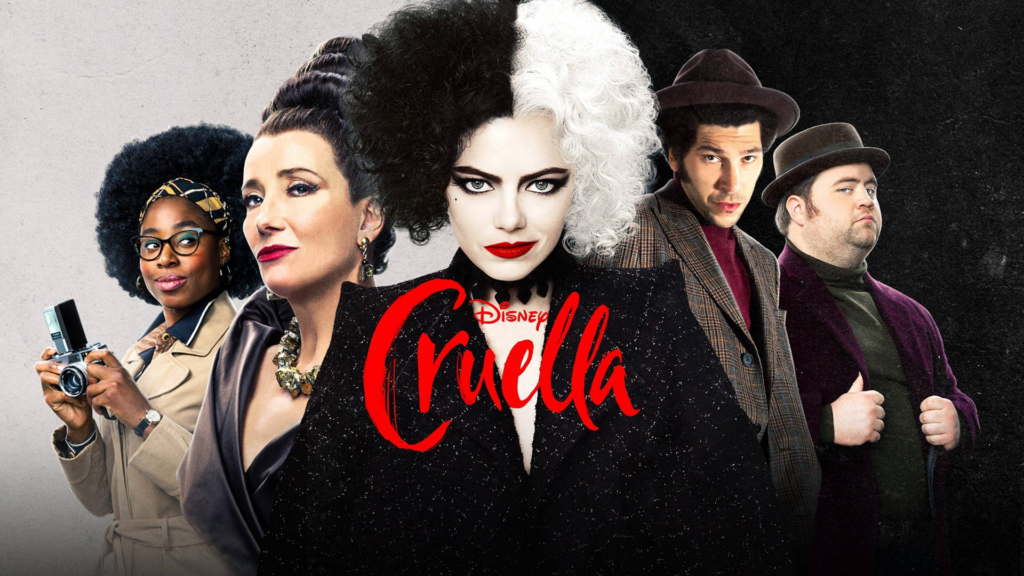 In the heartwarming story of Pinocchio, we follow the journey of a puppet named after the Italian word for "pine eye" due to his distinctive wooden nose. Created by a skilled puppeteer named Gepetto, Pinocchio yearns to be a real boy. His wish is granted when he magically comes to life, much to the delight of his fatherly creator.
However, becoming a real boy is not easy, and Pinocchio must heed the wise words of Jiminy Cricket, a knowledgeable insect if he wants to shed his puppet form and become a genuine child. This latest live-action Disney remake has captivated audiences with its stunning visuals and heartwarming message, proving to be a worthy addition to the beloved classic tale. Nevertheless, if you prefer the original animated version, it's always available on Disney Plus for viewing.
Wendy, a young girl portrayed by Ever Anderson, embarks on an adventurous journey through Neverland alongside the charismatic Peter Pan, played by Alexander Molony, and his faithful fairy companion Tinker Bell, portrayed by Yara Shahidi. In this wondrous land, children never age and live without worries, except for the notorious and menacing pirate Captain Hook, played by Jude Law.
Despite the numerous adaptations of the classic tale of Peter Pan throughout the years, it is always a delight to witness a new high-budget retelling of this timeless story. The original animated version of Peter Pan can also be enjoyed on Disney Plus.
The Pirates of the Caribbean theme park ride inspired a popular film franchise for Disney. Can the same be said for Jungle Cruise? Dwayne Johnson plays a boat skipper who offers to convey a researcher (Emily Blunt) down the Amazon River in pursuit of a fabled healing tree. It, like the Pirate's flicks, incorporates a supernatural element into the plot while also providing lots of big-budget action.
Luca is a humorous story about a pair of human-sized sea creatures on an adventure in the Italian Riviera. It's the second recent Pixar film to premiere on Disney+ rather than in theatres. The first was the Oscar-winning Soul, a lovely film about discovering your life's meaning that is well worth seeing.
We hope you enjoyed exploring the world of entertainment with our guide to the "Best Kids Movies on Disney Plus." Happy streaming!