Game-changing design and Top performance products across Consumer & ROG segments; the latest products will add versatility, creativity and esports-oriented capabilities
Event
Key Highlights
Date, Time & Link
The Pinnacle of Performance

(Consumer PC Event)

• Exciting features: 2022 Zenbook and Vivobook laptops with H-series 45-watt CPUs, OLED displays, dual-display capabilities, in thin and light designs
May 9, 2022 at 9:30 P.M. IST
For Those Who Dare: Boundless

(ROG Event)

• Unheard-of performance: The most powerful ROG gaming laptop ever released, supported with new CPU performance
• Immersive experience: A one-of-a-kind immersive event, with an extensive focus on the gaming experience
May 17, 2022 at 6.30 P.M. IST
ASUS today announced The Pinnacle of Performance and For Those Who Dare: Boundless virtual launch events that will unveil the next generation of high-performance products, further strengthening the ASUS' consumer and gaming line up. The event will introduce performance improvements across the entire ASUS laptop portfolio and will premiere multiple industry-first technological innovations targeted towards ultra-versatility and ultra-performance. The virtual launch events announcing the new Consumer and ROG line-up will take place on May 9, 2022, at 9:30 P.M. IST and May 17, 2022 at 6.30 P.M. IST respectively.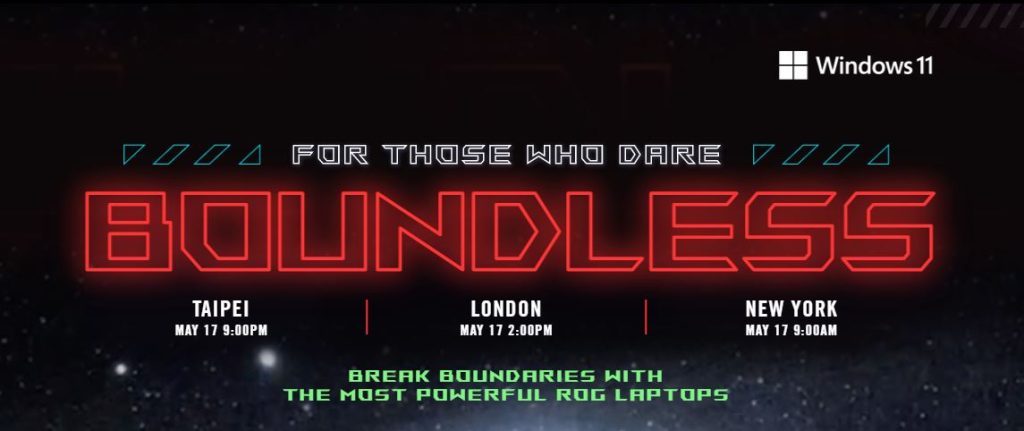 The Consumer launch event will unveil the advanced H-series 45-watt CPU performance capabilities in thin and light designs, alongside OLED display capabilities. On the other hand, ROG will announce its latest innovations with unique hidden features, unreleased glacial cooling capabilities, versatile gaming, and unparallel CPU performance.
Throughout both the virtual events, viewers will be able to participate in an immersive one-of-a-kind experience, unleashing powerful products and extensive content.