Though Karbonn is offering world's first Android 4.1 Jellybean Tab (other than Google's own flagship tablet Asus Nexus 7) at Jaw-dropping $125 (Rs.6999) price point, I am going to warn you why you should avoid buying Karbonn Smart Tab 1.
Just to let you know, the last version of Karbonn Smart Tab 1 was disaster, despite of the eye candy features & ICS, many consumers faced lot of issues regarding it, And I am pretty sure it s the same hardware with just Android 4.1 Jellybean upgrade to market the product.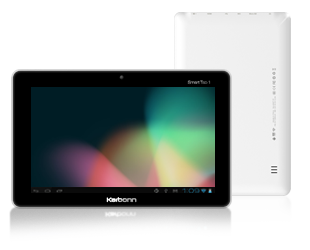 5 Reasons to Avoid New $125 Google Jelly Bean 7-inch Tablet
So here are those reasons why you should not go for Karbonn Smart Tab 1 with Jellybean.
1. Mediocre Touchscreen Experience
When you are buying a touch enabled device, first thing you wish is it should have high quality touchscreen that can perform well in multitouch features like pinch-to-zoom, kinetic scrolling, and gaming. Karbonn Smart Tab 1 as tested previously have very poor quality of capacitive touch display that totally ruins your tablet experience. Cheaper looks also confirms the build quality of whole screen is poor & users will suffer in long run.
2. Screen Resolution Issues For Reading & Movies
Despite of being marketed as the high pixel count, the last version of this tab came with 2-3 dead pixels that created black points on screen, that used to shake as you tap the display. You might end up in frustrating if you use such display resolution for reading for long time or watching movies. Talking about media experience, the volume buttons also not provided as hardware buttons (by default), you have to use on-screen touch buttons for that. And at the general location of volume button, they have placed Home/Menu Button, which will seriously confuse regular Android user.
3. Browsing & Gaming Will Suck Big Time..
Now, again why do you buy any tablet for – Browsing, Gaming & Media, right? Karbonn Smart Tab even fails at delivering you nice browsing experience in terms of loading, scrolling and zoom. Stock Android 4.1 Jellybean browser worked very poorly compared to other downloaded browsers from market and still it was not the best experience you get.
4. Cost Vs Worth
Many people will end up supporting this tablet at its price point, but let me warn you again – Do not fall for Android Jellybean Tagline, because performance of this new Android version depends a lot on your hardware & the buttery smooth effects you see on Google Nexus 7, you can never expect the same from the New Karbonn Smart Tab 1 with Jellybean update.
At the very budget price of Rs.6999 ($125), the tablet is almost useless to a techie people and might be little bit helpful for kids or very casual users.
So not worth having at all.
5. Alternate Options
As I am bitching a lot about this tablet, I would like you wait for official Google Nexus launch which might come up with price tag of Rs.11000 to 12000 with 5 times more performance compared to the ones like Karbonn Smart Tab. Also you can go for cheap sibling from Micromax called Funbook, which have god touchscreen, movies & gaming experience compared to Smart Tab 1.
I totally hate browsing on Micromax Funbook though, but still small tweaks might get your work done on this one as it have other features at decent levels.
There are many other issues with customer service (in general) from this company not being very quick to handle queries and almost useless for many. You can check out user reviews on leading online portals, that will clarify my claim about customer service. (Though I am talking from my own experience here.)
What I liked in Karbonn Smart Tab 1…
– Outer body except screen is robust and very usable for long-term. Back cover is built with solid material and buttons on the tablet are very responsive.
– Connectivity options are very good most importantly 32GB MicroSD Support, which is not provided in even Google Nexus.
And That's it!
I hope you find these points valuable if you are seriously looking forward to buy New Jellybean Tablet Karbonn Smart Tab 1 for reading, browsing, gaming or as a productivity device.