When aiming to speed up delivery and simplify the development process, choosing the appropriate kind of no-code app builder is crucial. This article is in-depth take on the Best No-code Apps in 2022, In which cases you should use them and their front-end and back-end capabilities.
Even very simple applications created using traditional methods of app development demand extensive technical skills and a team of many developers. A platform or tools called a No-code apps builders enables non-technical individuals to create web and mobile apps considerably more quickly than they could with conventional app development techniques.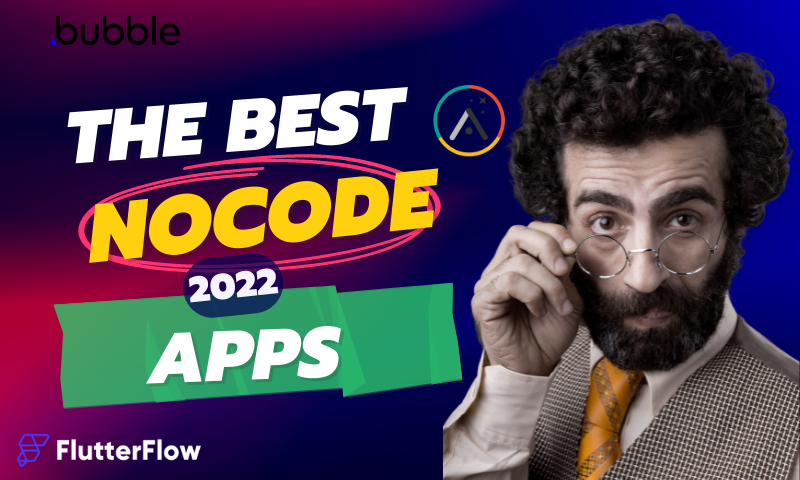 How Do No-Code App Builders Work?
Although no-code development platforms differ, most of them use the same procedures to build your workflows or applications:
To create a mobile or web-based app concept you first need to get your data in place.
It's beneficial to gather the data you want to organize before creating your app. In general, it will be simpler to develop an app if you know what information you're including in it, though some app builders may demand this.
Create your apps by selecting from a variety of pre-made templates or create a document from scratch using the text, graphics, and other components you desire. Include additional components, automations, and actions: How is your app used once the design layout is complete? What controls should they activate, and what steps should they take? And can they access the desired location using your app? You can test and deploy using a variety of views on many no-code development platforms or set up and check!
Before releasing your app to the general public, collect feedback on how it is being used and what changes need to be made.
The capabilities of these tools have greatly increased as low-code and no-code platforms have developed. Previously restricted to early-stage MVPs (minimum viable products), this field has expanded to include fully scalable mobile apps for startups to businesses and a vast array of business use cases.
The ultimate objective of no-code app creation platforms is to significantly speed up your app development process. You can create an app of equivalent quality to a coded app in a fraction of the time with no-code app builder software. And because time equals money in so many different ways, no-code app development is much less expensive than coding-based development.
Choosing The Best no-code App Builder for 2022?
Platforms called No-code application builders enable designers, artists, creative, SEOs, and anybody else to quickly create viable applications without writing any code. They were originally designed for team members without coding skills who were involved in product creation. They are mostly used in cases such as:
Building Business Processes and MVPs
Projects, building MVPs and business management are where some no-code platforms are most frequently employed.
Creating Functional Real-world Applications
Some are genuinely just tools to assist you create computer or mobile applications for your business.
The Best No-Code App Builders (2022)
We will begin with the platform we are most familiar with—our own. As a complete visual app development solution, Backendless gives you all the tools you need to create intricate and scalable frontends and backends. A large selection of components, themes, and an increasing number of page layouts are available in UI Builder.
Users of Backendless can create logic and APIs, without writing any code, by using Codeless blocks. For connecting with the backend database, file storage, messaging, user authentication, and other functions, the platform comes with a sizable number of pre-built APIs. Backendless provide stools like visual user management, push alerts for iOS and Android, email templates, and in-app messaging support are also available with Backendless.
With the Springboard Plan, Backendless can serve as a free, coding-free app developer, incurring no costs on your part to create your app.
Visual UI Builder, Codeless logic, customizable components, and themes are examples of frontend functionality.
Backend capabilities-Real-time database, user authentication, a visual schema modeler, server less hosting, personalized domains, a free SSL certificate, email templates, and a push notification console.
Starting cost: $25 per month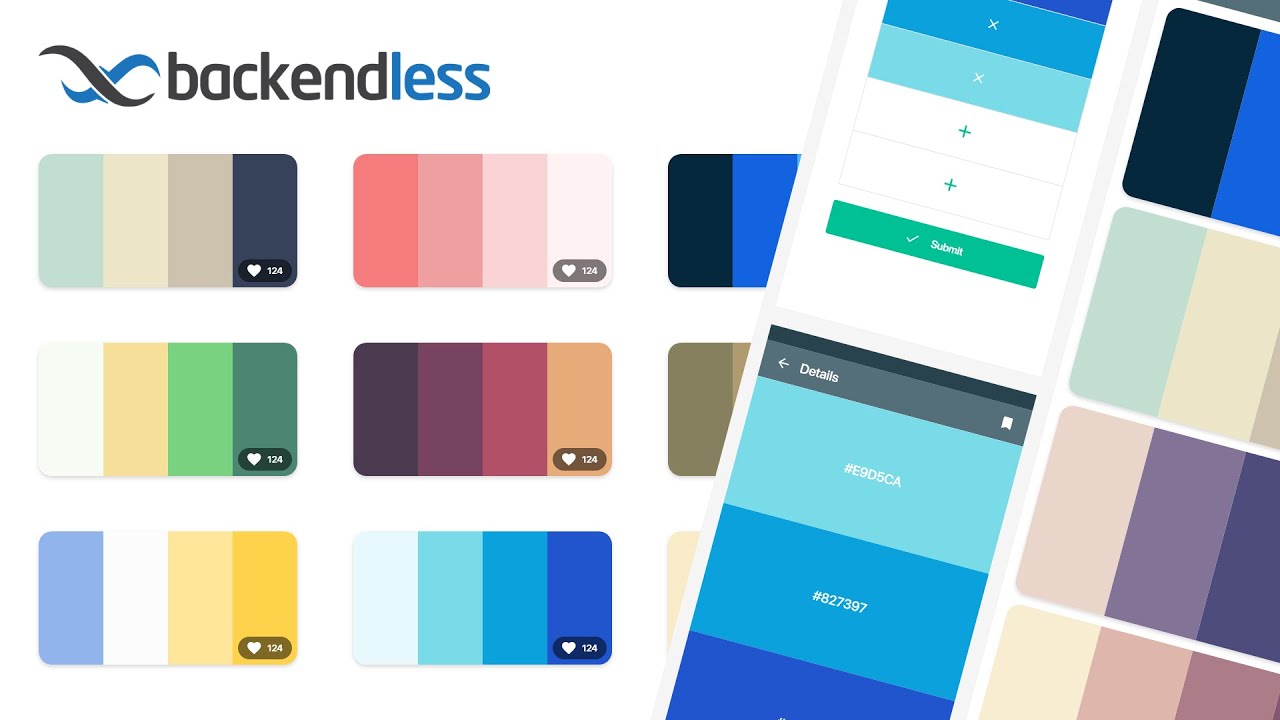 You can create frontend-focused no-code apps with Adalo that can be published everywhere, including the web, mobile devices, and app stores. Adalo provides drag-and-drop components that make it simple to build your concept UI. "Actions" are used by the platform to express on-page logic and can be used to start backend events. Adalo provides a database that is modelled after a spreadsheet for the storage, updating, and retrieval of data. Although Adalo itself does not support backend logic, it can be integrated with other tools (and APIs) that can. Drag-and-drop elements, actions for connecting sites, and actions for starting events like push notifications are all examples of frontend functionality.
Backend capabilities– include an API integration framework and a spreadsheet-style database.
Starting cost: $50 per month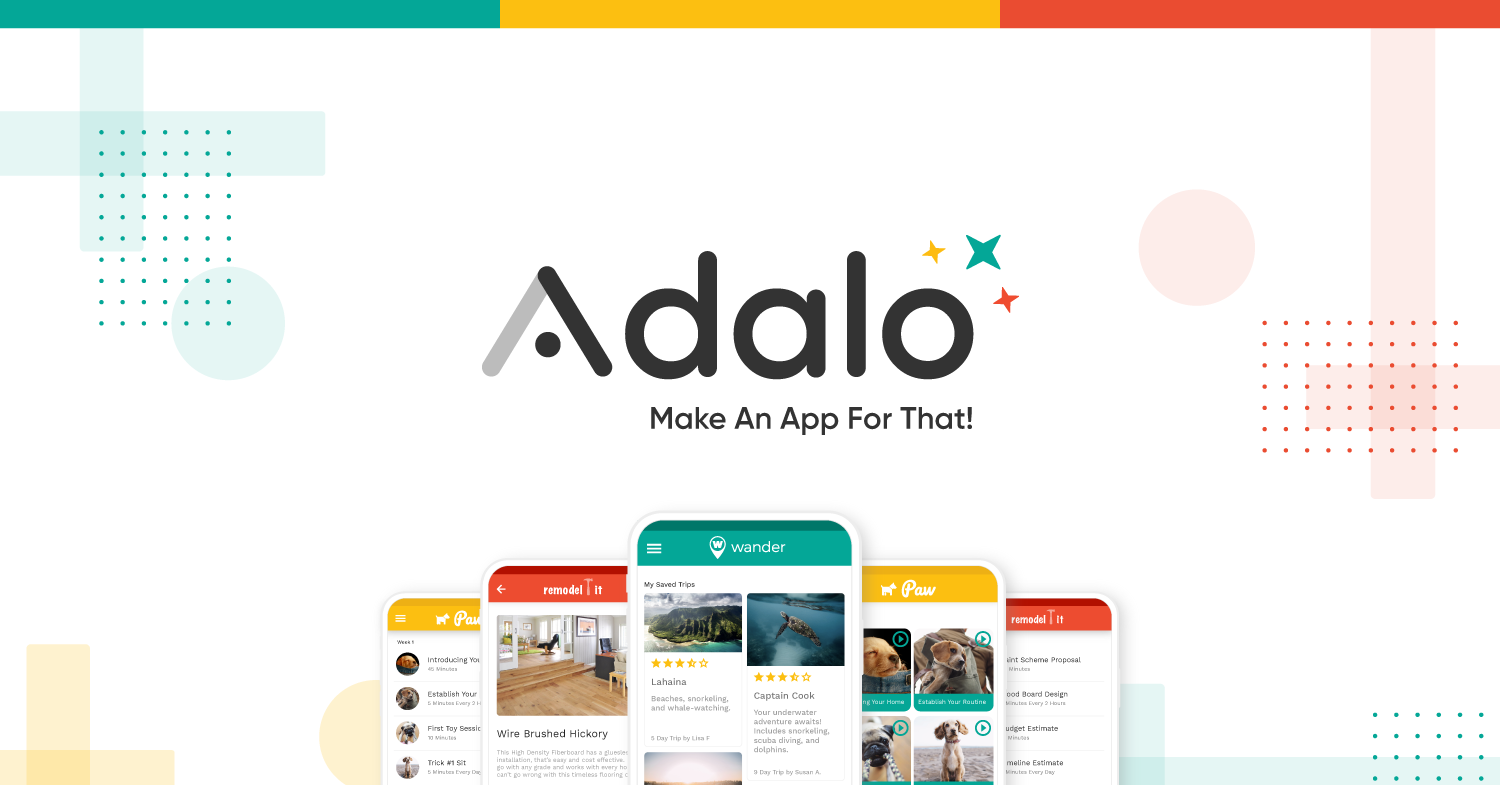 The ability to create applications for every form factor, including mobile, desktop, TV, and others, is a strength of AppGyver. AppGyver makes it possible for users to create a variety of user interfaces by combining containers and components. The platform also makes it possible for mobile apps to have native capabilities.
Additionally, AppGyver comes with a theme engine that enables users to apply universal themes to all 500+ components of the platform. You are able to create an infinite amount of logic within the UI or link via an API to backend functionality and third-party logic. Frontend functionality includes a theme engine, over 500 components, and limitless logic.
Backend capacity: Non-built in.
Starting Cost -With no cost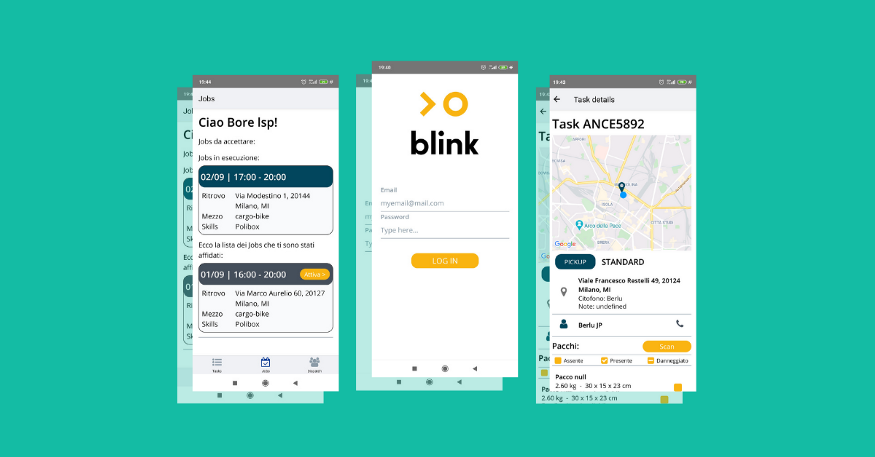 Bravo Studio takes pride in being a platform that prioritizes design over coding. Then, use a REST API to connect your app to a backend or database to create a functional app. Bravo Studio specializes in the creation of publishable apps that can be uploaded to the Google Play Store and Apple App Store. design-focused, build apps in Figma or Adobe XD then import them into Bravo Studio.
Backend capability– Through REST API.
Starting cost: 19 euros per month.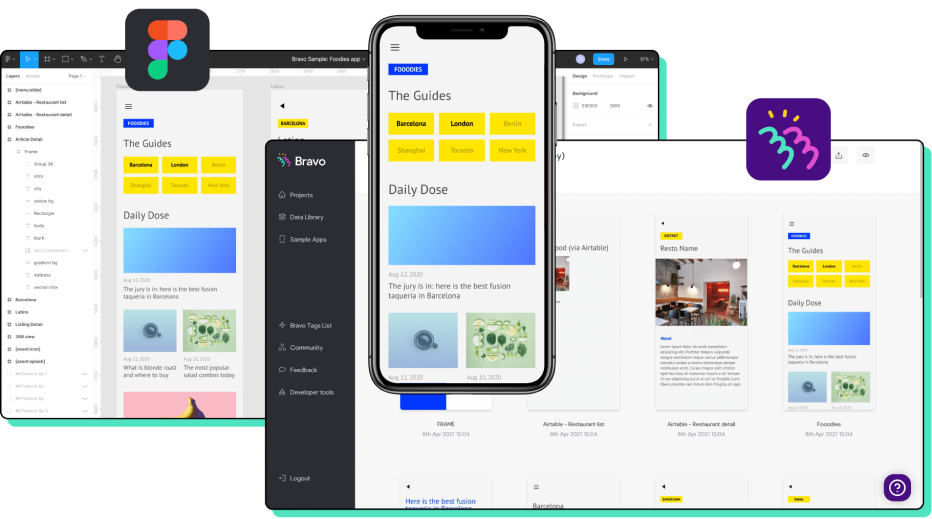 The strength of Bubble, the most popular no-code platform, is its sizable community. With Bubble, users can create responsive web applications that work on both mobile and the web. The bubble is largely a front-end-focused builder. You may use a wide range of user-generated templates and components in your project thanks to its sizable community.
Workflows are a concept that Bubble uses to design logic. In contrast to tools that are focused on developers, Bubble makes itself more understandable to novice non-technical app developers by using shortened vocabulary. Frontend functionality: a wide variety of templates, drag-and-drop design, customizable UX/UI, and integration capabilities.
Backend capacity– include server less hosting, automated SSL certificates, multi-factor authentication, version control, and backups.
Starting cost: $29 /month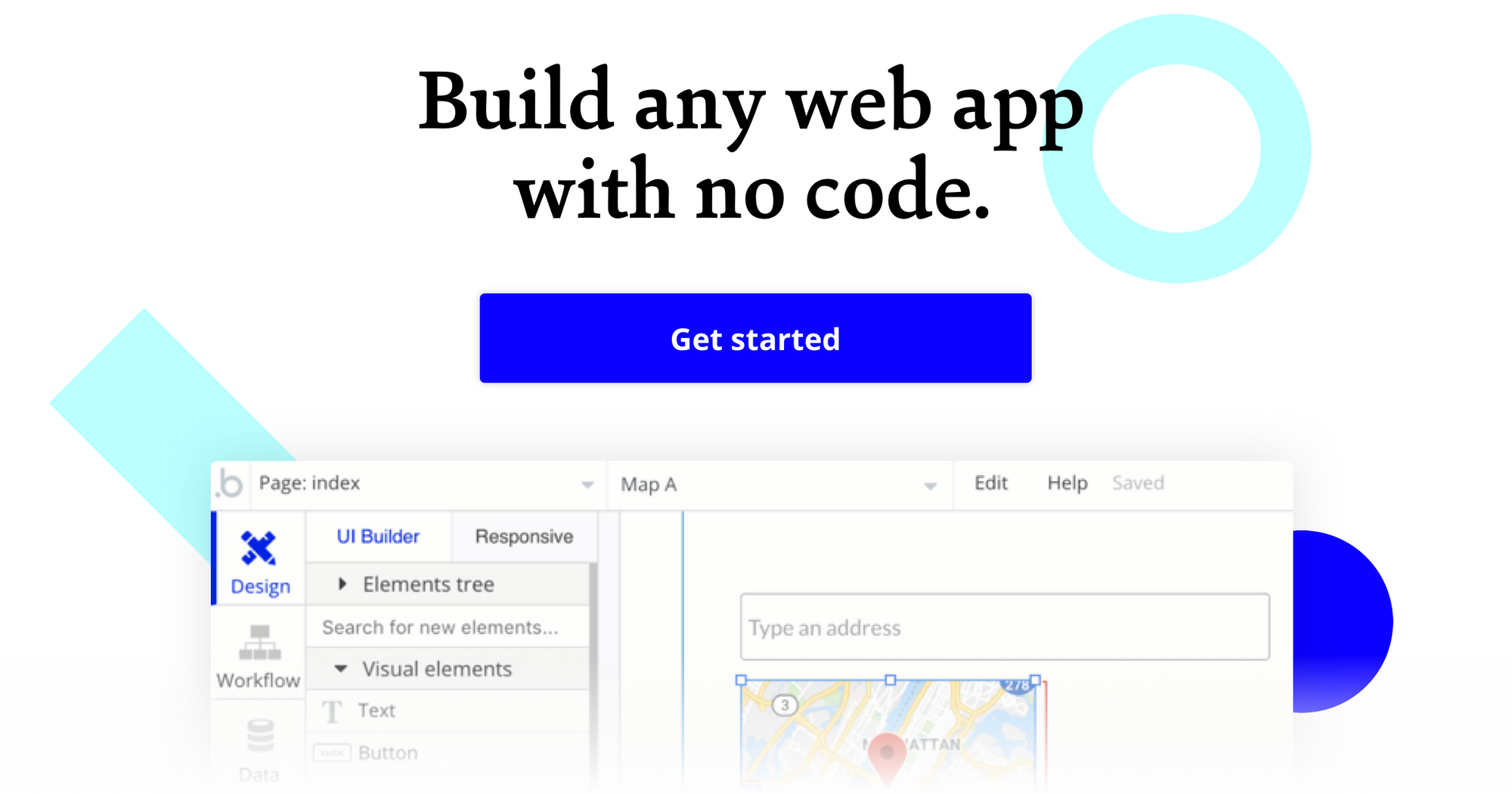 You may access the source code of the applications you create using Draftbit, a browser-based mobile app builder. Bits and blocks are two types of components used by Draftbit. This gives you the option to develop at a high level, quickly, or develop at a finer, more exact level. Draftbit is a platform that is only focused on mobile apps and is made for mobile app developers. To get a pixel-perfect rendering of your application, you can quickly preview your project on your mobile device. Frontend capability: Two tiers of components, only for mobile app development, with full source code available and an easy-to-preview interface.
Backend capacity: insufficient.
Starting cost: $19 per month
A no-code app creator oriented only for businesses and internal tool development is DronaHQ
. DronaHQ apps are responsive on mobile as a result, but, they
are created
for desktops.
The platform employs "Controls," which are akin to components, and offers a sizable library for app developers to select from
.
As a platform geared toward businesses, DronaHQ provides simple integration with almost any data source
.
You can add frontend logic to your applications using the platform's "Actionflows," a variation on workflows
.
Many enterprise-level capabilities, like SSO, SAML and oAuth capability, on-premises hosting, and flexible permissions, are available with DronaHQ
.
Controls (component) library, simple database integration, and Actionflows for frontend logic comprise the frontend capability
.
Backend capacity: insufficient.
Starting price: $100/month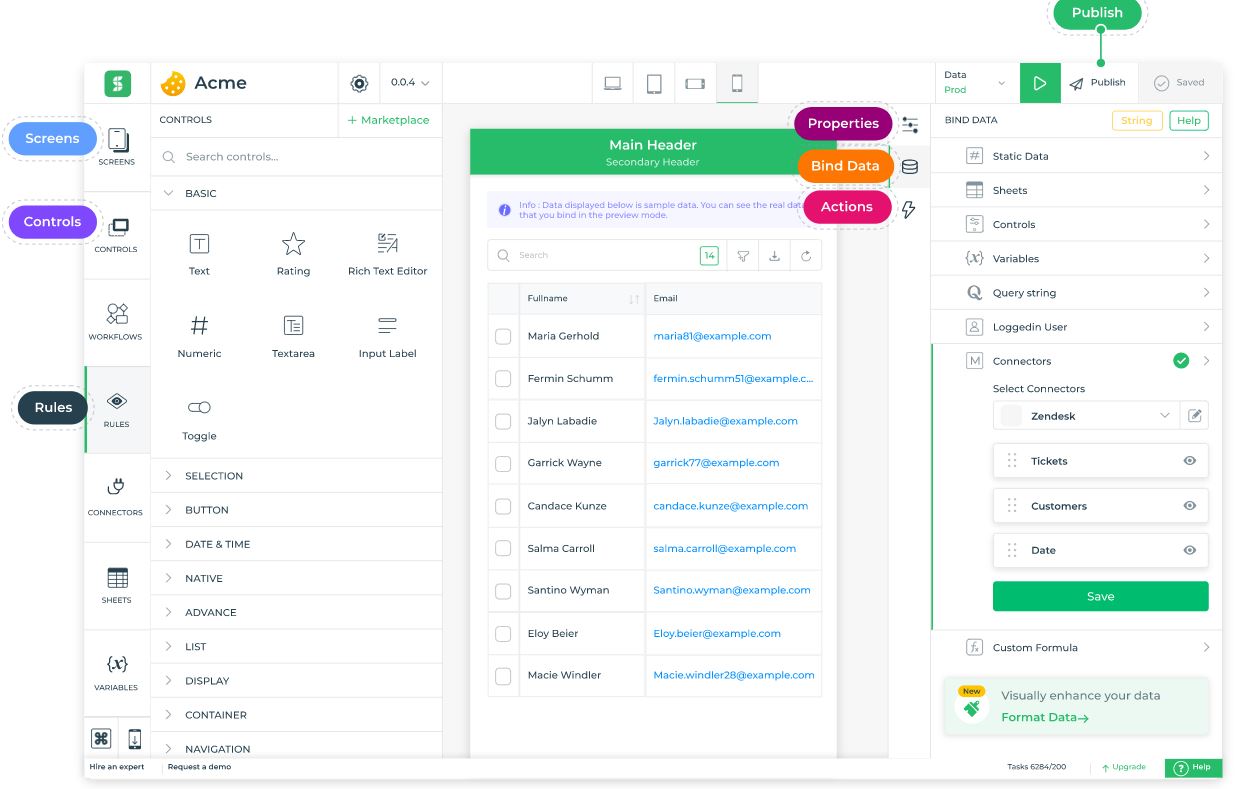 No-code app developers can create internal tools with Retool.
The building pieces offered by the platform are many and include tables, lists, charts, forms, wizards, and maps
.
These components can
be used
to create complicated programs by connecting them to outside data sources
.
Retool, in a way, is closer to low-code than no-code because users create their own manual API requests and queries
. A comprehensive manual for reading and writing data is available on the platform. In every section of the platform, developers can add their own JavaScript code.
Retool delivers enterprise-level features like granular access controls, audit logs, SAML SSO and 2FA, on-premise hosting, and these
.
Front-end capabilities include adding custom JavaScript code and writing queries to read and write data
.
Backend
capacity:
insufficient.
Initial
cost:
$10
per
month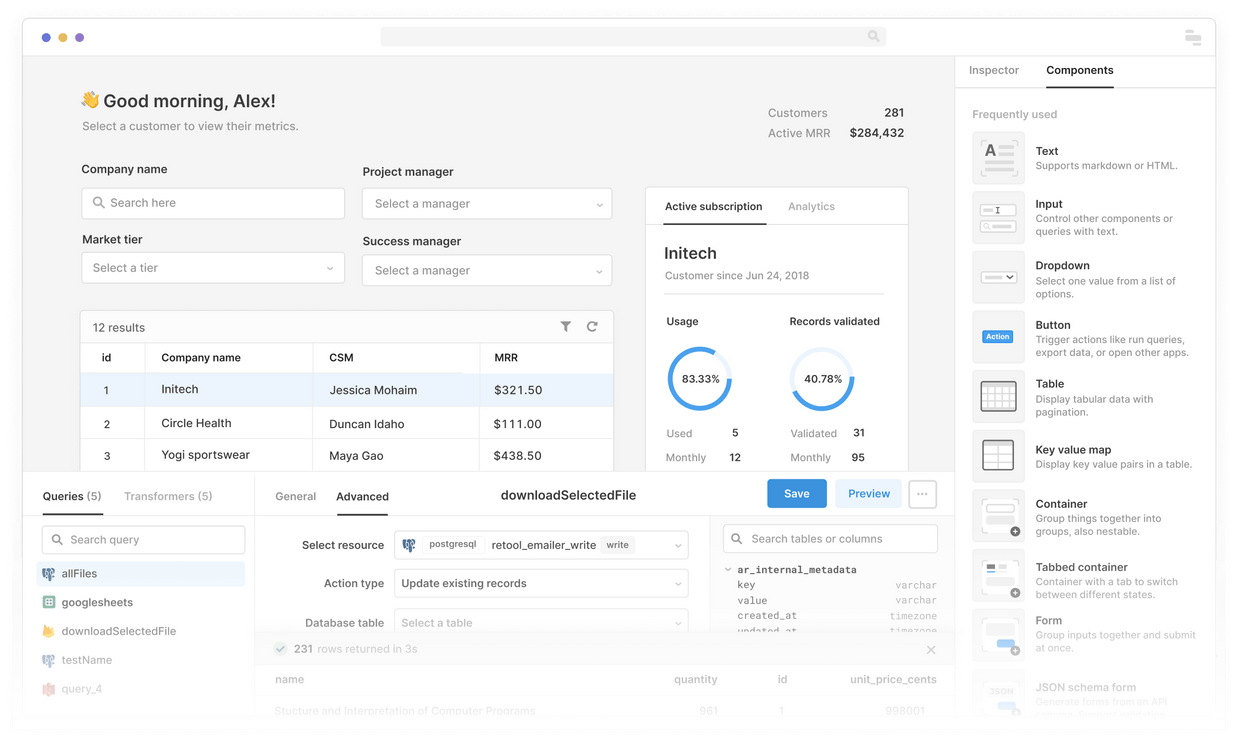 A no-code tool called Thunkable is made exclusively for creating native mobile apps. Drag-and-drop elements, sophisticated logic, native mobile app capabilities, and simple publication are among the features. The Apple App Store, Google Play Store, or the web can all receive
Thunkable apps that have been published from the platform. Thunkable also supports extendable integrations, making it simple for you to access databases and backend features from other companies. Logic blocks, design elements, animations, and open integrations are examples of front-end functionality.
Backend capacity: Insufficient.
Initial cost: $13 per month
Image Credit-TryEngineering
App developers may create internal no-code business solutions with UI Bakery.
You may integrate any REST or GraphQL API into UI Bakery, or you can add your database login information to query your data
.
The platform has over 25 different parts and over 10 different column and field kinds.
You can share your app with team members using the roles-based security framework that UI Bakery employs
.
The platform also includes low-code functionality, enabling you to develop custom components using React or straightforward
JavaScript. Your UI Bakery app may also
be hosted
on-premise.
Frontend functionality: Components, adding JavaScript code, integrating third-party databases.
Backend Capability: Use credentials to connect to a third-party database.
Initial cost: $10 per month
Benefits of No-Code Platforms
The biggest advantage of no-code app builders is obvious from their name: you may complete your task without having any coding experience! Without THIS, you can still create apps similar to Facebook or Airbnb. Enhanced workflows are possible with no-code app builders.
No-code App Platforms allows to:
Easier collaboration and faster time to market
Lower expenses
A simpler process to test, change, and update
Fewer roadblocks bringing concepts to reality
Improved co-operation between tech and design
A drawback to no-code app creators? There may be certain limitations to what the app builder can do without coding skills. Before choosing, make sure to look into the code modification features offered by several no-code platforms.
Conclusion
Custom mobile and web apps can be developed considerably more quickly than with conventional approaches thanks to no-code and low-code solutions. Now, anyone building software, improving a process, or making an app from scratch can design and build their software with no code! It's pretty incredible technology. Any of the no-code applications on this list can be a great fit depending on your business's needs, Therefore, before making the final purchase, benefit from any free trials . And if you do know how to code, check to see if they provide low-code solutions for the best app-building experience.
Frequently Asked Questions
What is development using no code?
No-code, or codeless, development is the creation of apps (and websites) without the developer having to manually write any code. You may graphically compose user interfaces, logic, and APIs with Codeless blocks. Even using no-code tools, code is still there in the finished product. It's abundant, in fact. However, the platform itself generates this code automatically rather than the developer.
What distinguishes a web app from a mobile app?
Most online applications may be viewed on a mobile device and still look fantastic and perform exceptionally well if they are designed to be responsive. However, they cannot be published to mobile app stores in their current form. Several of the no-code development environments we cover in this article let you create native mobile applications.