Since the launch of Windows 8, I was fascinated to own one of those convertible laptops, but either the best ones were too costly, and affordable ones had the low-performing hardware. I was looking for best of both worlds at a budget cost, as I was not ready to pay a premium for a touchscreen and a 360 degrees flipping laptop.
Recently I came across Asus Transformer Book Flip TP550LD – CJ005H, that comes with 4th generation Core i3 processor,4 GB DDR3 RAM, 1 TB Hard Drive & 2 GB Nvidia GT 820M graphics card. The specifications were kind of perfect for a business user and priced precisely in the mid-budget, I decided to give it a test drive. Following is my in-depth review of Asus Transformer Flip Notebook, after 2 weeks of usage.
Asus Transformer Book Flip TP550LD Review
Physical Appearance & Design
With the rich silver metallic finish on the inside, this laptop gives you a pleasure of owning a premium device. The black chiclet keyboard is well spaced, and it creates an appealing contrast with the metallic body.
The top and bottom side of the laptop is in the dark black color, where the top side is with a good-looking texture with stripes. The shiny Asus logo is in steel color, that enriches the look of the back panel.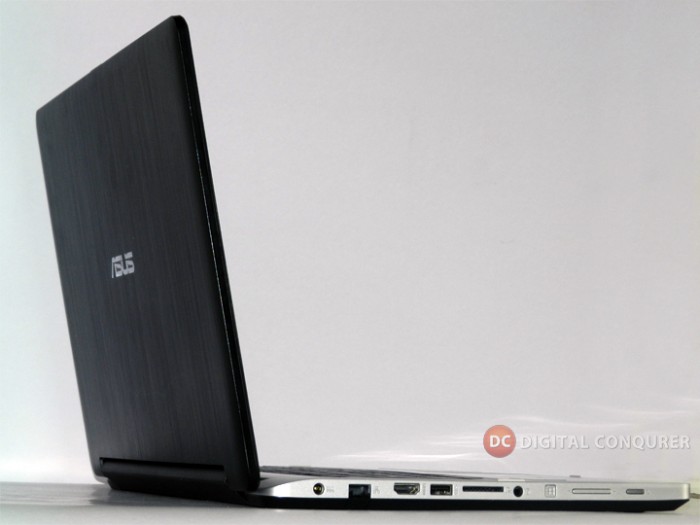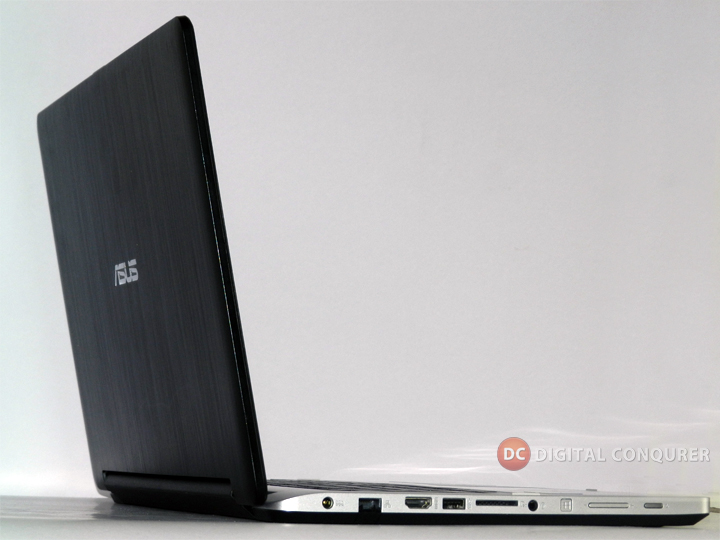 As the device is designed to be flipped completely, the bottom panel is beveled at the hinge level, Which offers great flexibility and looks uniquely cool.
The inner body is metallic, so when you flip the notebook and keep it at an angle, it remains sturdy and provides a stable base. Also, being a metallic design, you do not have to worry about the base getting worn out.
This transformer series TP550LD notebook is hinged at the central panel, which feels stable at the time of flipping, and should last very long, compared to divided hinge design.
The notebook is about 27.2 mm thick, which is considerably bulky when converted into a tablet mode. Also for 2.6KG of weight, you can not expect to hold T550LD in one hand for a long time. But yes, you would certainly make an impression during the presentation, by using this feature for a short time. From my experience of two weeks, I mostly used this laptop at an angle like in the following picture.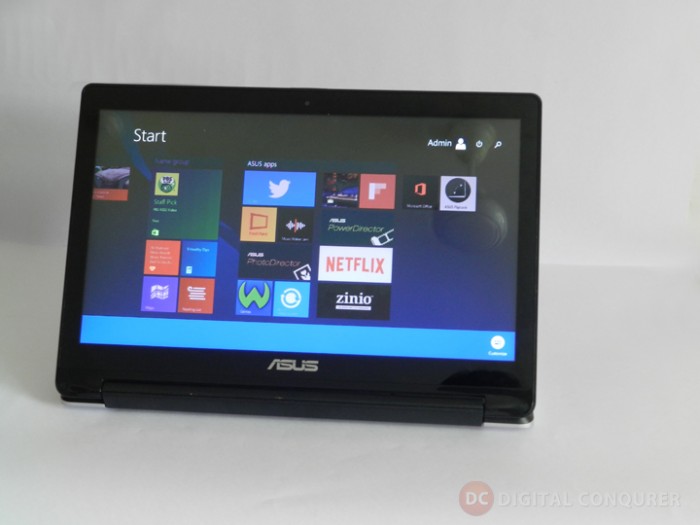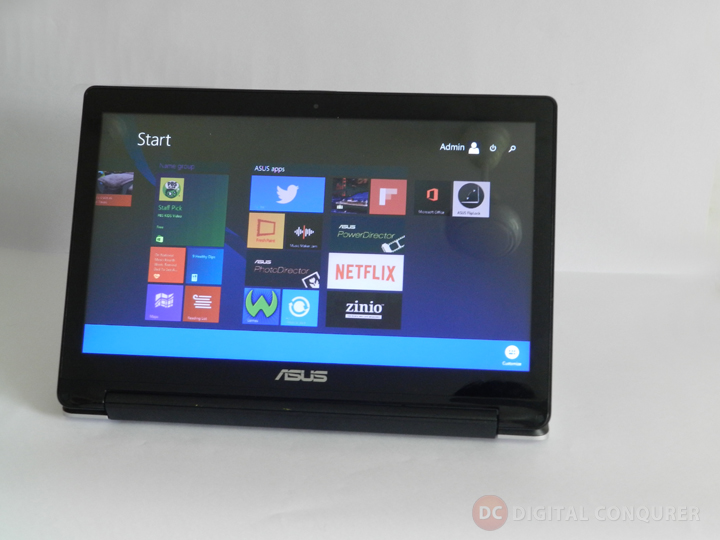 Inside of the bottom panel has rubberized supports on all four sides in the center, that will be used as a base when you flip the device at an angle. They are solid, and should keep your metallic body from any smudges or scratches. Just like these Asus has paid very high attention to design overall for this Transformer series notebook, which makes it a worth its price.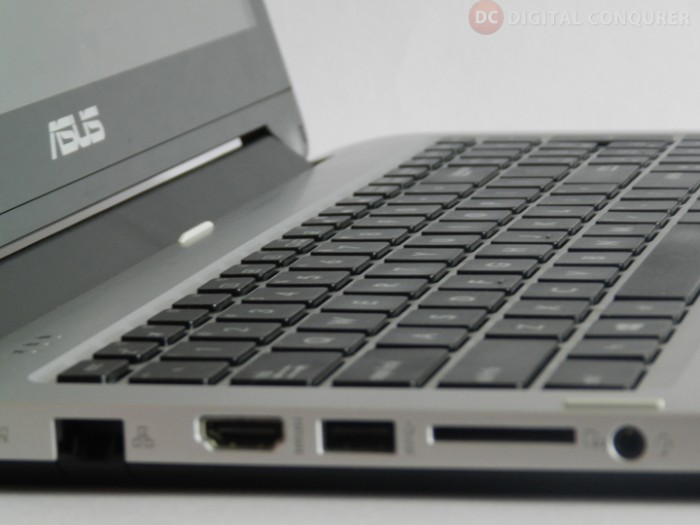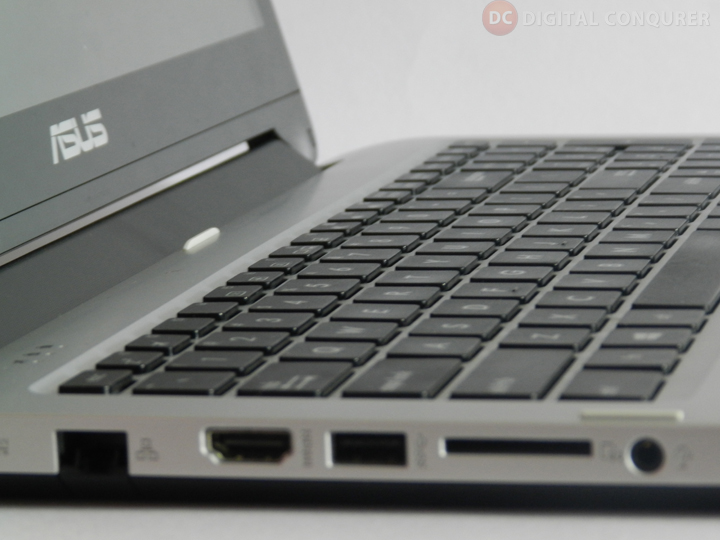 Overall, Asus TP550LD laptop offers a premium build that comes with an incredible design, and the solid hinging mechanism you can trust for frequently flipping the notebook into the complete tablet-like mode or even use it as a base for 90-120 degrees flip.
Keyboard & Touchpad
Being a 15.6-inch laptop, the keyboard of TP550LD is very well spaced and is a delight to use in for longer times. The keys provide decent feedback, and overall great quality. However being hosted on a metallic body, you will experience a bit of deviation at QW-AS corner keys, only if pressed hard. It should not cause any issues while typing as such, but something that you can not ignore.
The touchpad of this laptop is basically a click pad with the same premium metallic feel. It's located little bit towards the left side, which we have seen in many of the Asus Laptops, but it's perfectly centered to the main keyboard, which makes it very useful. There is good enough spacing both vertically and horizontally to rest your palms while typing. Touchpad offers a great quality feedback for touch as well as clicks.
[metaslider id=12386]
You also get an additional touch-gesture controller tool called Asus Smart Gestures pre-installed, wherein you can control and customize the features like edge scrolling, tap, multi-touch, pinch to zoom and much more.
Display
The 15.6-inch 1366×768 HD display is good enough for the day to day to use. However, you can always wish for higher resolution. The color reproduction on this display sharp and vivid, that looks great at the medium to high brightness settings.
The viewing angles of this notebook are just average, and you can only expect the best quality when you are right in-front of it. This is a big design flaw, if you are offering notebook that can transformed in any angle. Asus could've provided an IPS display for better visibility for multiple angles.
Keeping that aside, you would enjoy watching movies in flipped mode while you are laying down on bed, or reading through numerous webpages on the go.
In short, a decent display for day to day usage like work, movies or playing games.
Ports & Connectivity
The left side of the TP550LD is full ports and looks denser than normal notebooks. The reason being, the hybrid functionality of the laptop as the tablet.
When flipped completely, you won't have access to the home button, so the exclusive Windows home button is provided at a handy location. Just beside that are the volume rockers for the notebook, which might feel odd if you are using the hybrid laptop for the first time, but its the most useful shortcut. The power button follows the volume rockers, and all these buttons are merged into the silver metallic finish of the laptop, which looks great.
[metaslider id=12385]
The top corner of the left side has the power adapter port, followed by the ethernet/LAN portThen there is full-size HDMI port, you can use to connect with the monitor or LED TV. A USB 2.0 port, Full-size SD card slot and 3.5mm jack is also located on the left side, which are convenient in both laptop and tablet mode.
The right side is comparatively clean where you get DVD player/writer, Kensington security lock and two USB 2.0 Ports.
Just above the keyboard on the top-left corner, you will find indicators for Airplane Mode, Capslock, and Numlock.The speakers are located at the front side below the metallic housing, which produces loud and clearer sounds thanks to Asus Sonic Master Technology.
Performance
Being a 4th generation Core i3 processor, you get the latest and best from the Intel platform that offers improved battery life and 15% extra performance compared to its 3rd Generation counterpart. Following are the benchmark values of the Core i3 4010U Processor powered by cpuboss.com.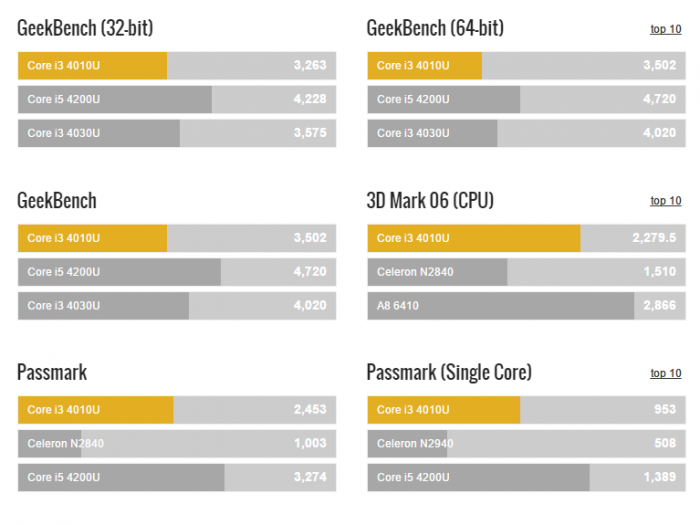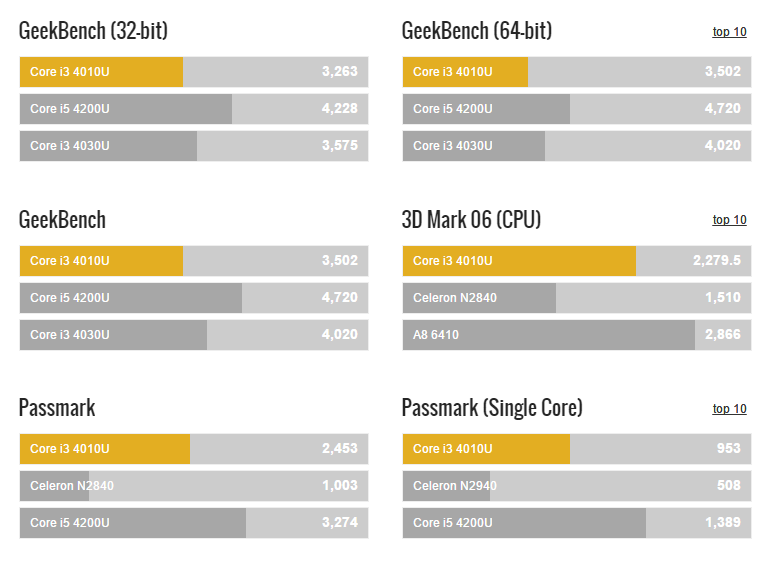 The comparison clearly shows that it's just 10% slower than the base Core i5 version, so in case if you were to go for Core i5 just for the numbers, T550LD is a great value laptop.
The real world performance of the laptop is quite impressive for even intense multi-tasking. We tried some game development tools like Unity and 3D tools like Autodesk Maya for development, rendering and exporting a final output, where T550LD notebook performed smoothly without any glitches. This is not just due to the fact that it has a Intel HD 4400 graphics on board, but the additional 2GB dedicated graphics card 'Nvidia GeForce 820M' boosted its performance
Asus T550LD is not really a gaming laptop but you can enjoy some casual gaming as well. I played games like Airmech Arena & Loadout in full 1080P Resolution, and AAA titles like Battlefield 3 & Far Cry 3 in medium setting. the graphics are also good enough to run any movie at Full HD 1080P resolution. You can expect a nominal heating of the laptop if any graphics intensive tasks are in progress for prolonged duration.
The 1TB hard drive is 5400RPM that gives decent performance, but I wish it was 7200RPM HDD for even improved performance. Following are the CrystalDisk Benchmark results that shows 60MB/s reading speed and 48.70 MB/s writing speed with more detailed test results for 4K and sequential data read-write speeds.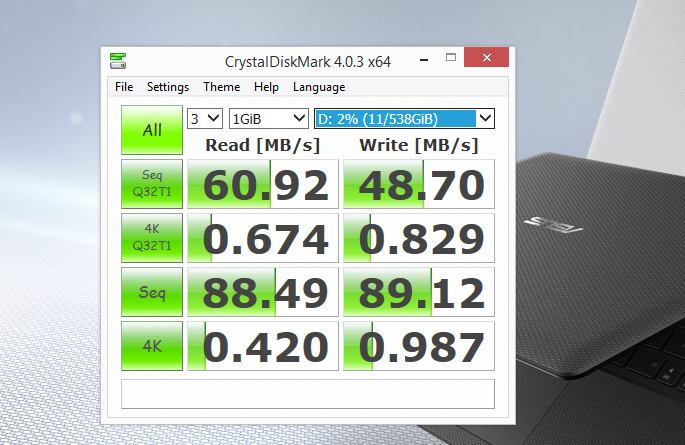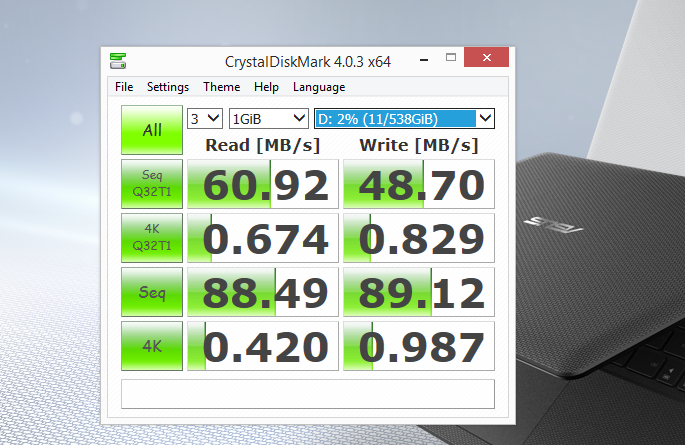 Pre-installed Windows 8.1 is a great operating system that has been designed to take the advantage of hybrid devices like Asus TP550LD. Now that the OS is getting free Windows 10 update very soon, you can expect even more improved performance.
I will recommend this notebook perfectly suitable for tasks like heavy browsing, Programming, Movies, AutoCAD like tools & for office use.
Flipped Photo Gallery
[metaslider id=12387]
Battery Life
The Asus TP550LD comes with the standard 2-Cell Li-Po battery that delivers upto 4.5 hours of performance on a single charge. The packaged battery charger has a non-traditional design and lighter than general notebook chargers that take upto 2 hours for full charging.
Watching constant movies or playing games on Asus TP550LD will drop your battery life by 45 minutes, which is same as any other notebook.
Pricing & Availability
Priced at just Rs.44,500, Asus Transformer Book Flip TP550LD-CJ005H is available online with major retailers as well as the local stores across India.
Verdict
The similar configuration of 4th gen Core i3 Processor, 4Gb RAM, 1TB HDD & 2GB Graphics would cost you about Rs.39,000 – 40,000 in a normal laptop or notebook. But for just additional Rs.5000 you get an Asus Transformer Series Notebook that can flip full 360 degrees, has a touch-screen and can be used as a 15.6-inch size tablet.
Also, the well thought out premium design by Asus makes Transformer Book Flip TP550LD-CJ005H, a well worth owning at the price tag of under Rs.45,000.
Like I've mentioned already, I will highly recommend this tablet for the Computer Programmers, Graphic intensive task like AutoCad, 3D based software ( Maya, Blender) , casual gamers and business users.
Find my review helpful? Please share this article with your friends & Connect with us on Facebook for more in-depth reviews of laptops, smartphones, accessories and other gadgets. You can also follow me on twitter @amolwagh or ask any questions you have in the following comments section.