You might have used lot of text editing apps or image editing apps before, but creating a document with 'Rich Text' with proper customization features was hard to achieve on your iPhone or iPad. Today I am going review a great app that not only makes rich text editing possible on iOS devices but have additional features like file manager & image converter. The app is called – Rich Text & File Editor!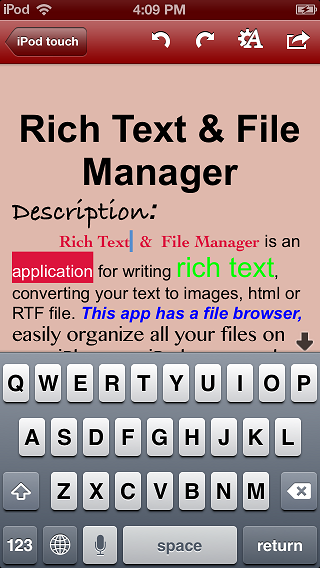 Rich Text & File Editor iOS App Review
Rich text editors have been around for PCs and Macs for a long time, as they let you create beautiful looking documents even things like birthday cards or invitation cards right from your devices. With this app, you can enjoy the same editor & create anything you want using your iPhone or iPad.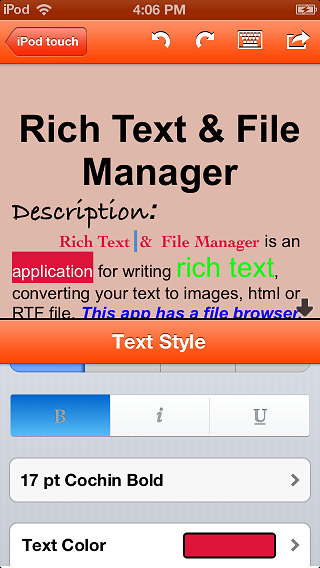 The app itself creates the document in OKRTF format, which is similar to the well-known RTF format we have seen in desktop environment. OKRTF allows you to use dedicated rich text features of this app more powerfully, but the editable document is only possible to open in your devices. But, you can convert the rich document you have created to image format, and use it later on. Additionally this app also support popular text formats like TXT and RTF, and you can start editing them right away.
Changing background of the document, font sizes, colors, alignments are some of the most used features of the Text editor.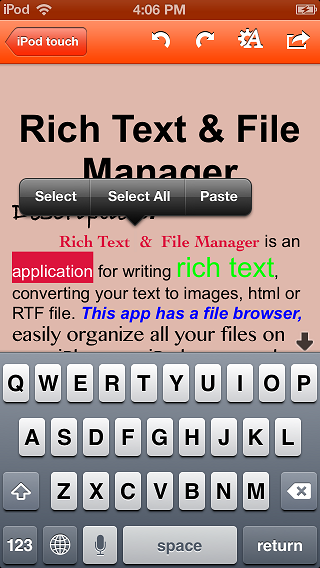 A dedicated file manager is also available inside this app, which you can use to navigate through your documents and other files faster. You can ZIP/UNZIP files, sort them, copy, rename, move or delete them, so you do not have to rely on another app to do so.
Most important, Dropbox synchronization feature is also in-built for this app, which help you save your files to the cloud and you can access them anywhere you want.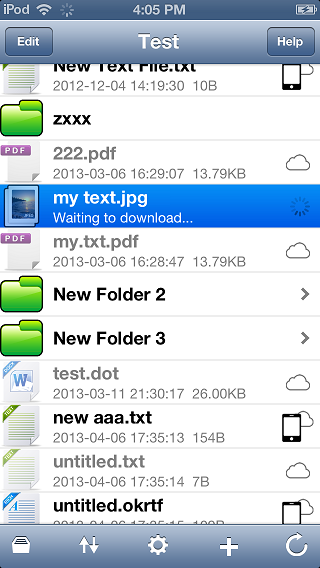 Conversion feature let you convert files in Images (JPEG/PNG) and HTML format, which can be published to web or can be sent via email. You can share all formats created using this app on social sites.
Overall, its a great app for those who enjoy creating great looking documents & use creativity to make things better. I will highly recommend this app to all iPhone & iPad users, as this app is currently available as a FREE for limited time!
Cost: Free (For a limited time)
Rating: 5/5