You must have heared a very less about the themes for the Mac Machines.
Theming on a Mac Desktop is really a very much fun.
Some details about the Black and Blue Mac Desktop are as follows :
GeekTool (Data) – Used custom CURL scripts to pull the twitter feed, date and time, and weather.
Bowtie (iTunes Controls) – The Zukunft Condesed White theme is used.
iStatMenus
Minium2 (Dock Theme)
Gill Sans Text Icons (Dock Icons)
Geosans Light (Font used throughout)
Wallpaper, Folders, and Drive Icons – Custom (contact @richrines)
The above are the good points or say the good features of the Black and Blue Mac Desktop Theme.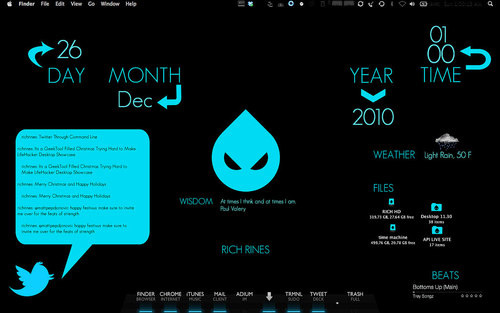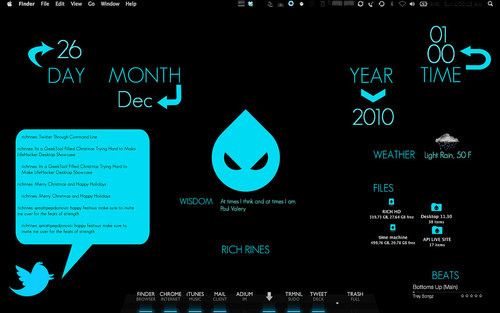 Rich Rines is the owner of this theme and have designed it using the scriots in CURL.
The best part of the theme is that it have many useful and small handy apps in the dock, also it have fetched the twitter widget, along with other apps for date, time and weather. These are a very much day to day life app and they are made available to you at the ease of a button.
Post Via Lifehacker