Windows 8 has been a most discussed topic recently around the web & so many rumors, leaked specs as a regular launch hype. But right now what we are discussing here are confirmed Top 8 Features of Windows 8 that are never seen before on any desktop OS.
1. Innovative Windows 8 Start Up Screen -Live Tiles
Resembling to its smartphone OS Windows phone 7 – This great new operating system for desktop PC comes with a very impressive tile based start up screen. As Microsoft stated "Tiles give more freedom than traditional Icons & shows up more details on it." This is of course true as you can see weather right up on your start up screen rather than opening the icon. Tile based gives Windows 8 ability a refreshing new look that can be personalized as per your needs.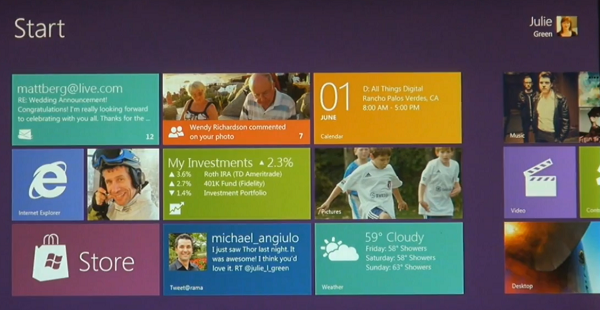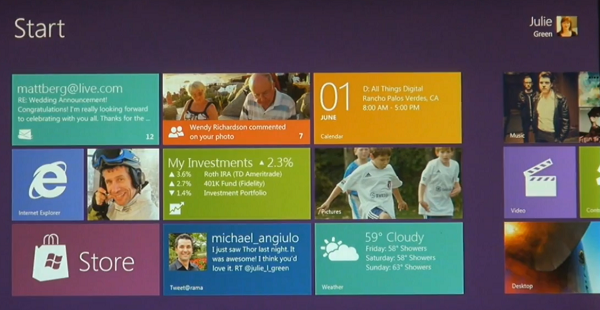 2. Optimized For Use With Touch, Mouse & Keyboard
No doubt this version of Microsoft Windows has ability to accessed by touch at its fullest But it is still can be operated fully by using arrow keys of keyboard & using mouse as well. Thanks to this they have taken care of the millions of PC's that are already own by many which do not have touchscreen yet.
3. Can Be Shifted to Normal Windows Interface
In case you do not wish to use the Live Tile for daily work or something – You can still have access to its other features Just by clicking the desktop icon on Start up. So folks that are not adaptive or do not like can shift in one click. New Windows 8 features the Windows explorer kind of similar to Windows 7 but for sure there might be some enhancements in its graphics.
4. Apps For Windows PC Based On HTML5 & Javascript
Like I discussed earlier Tile based UI can be used to load some apps like weather right on your Start up. So we can now have PC that support small apps & can get its own app store similar to Mac App store for giving extra functions.There are some interesting apps are already loaded in Windows 8 and most of the software like media player are also treated as apps in its tile based new user interface.
5. Internet Explorer Is Now Hardware Powered
Internet browsing is a major part on any OS you wish – So Microsoft has managed to made internet Explorer hardware powered for faster browsing & rich internet applications support. As we know IE has struggled in its past to become the most powerful web explorer & I guess this time with its hardware powered features it will be great experience.
6. Windows 8 Snap -Customized Multitasking
Windows 8 Snap is a feature that allows you to true multi task & customized it. You can drag and pause to run app side by side with another app on windows PC. Not just that you can customize its size and shape too for making it more accessible. Like you can see RSS feeds or tweets on side while you are editing Microsoft office document.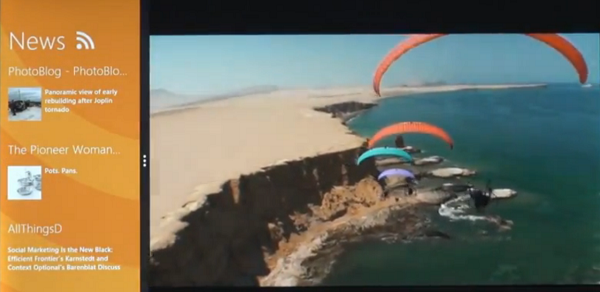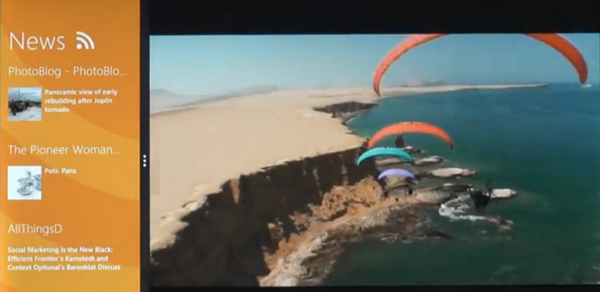 7. Fluid, Faster UI & Thumb Based Keyboard
As we know from the experience of Windows phone 7 – Tile based UI is the most faster & fluid way to access directly the app And Microsoft has definitely mastered it for Windows 8 for faster switching between Apps with eye catching graphics embedded. Another great innovation Microsoft has tried is rather than taking your fingers long from your tablet sides they have introduced a broken keyboard in two sides which you can use closer to the tablet size.
8. Windows 8 – One for all OS
Now this one is truly the top of the all features of Windows 8 – That you get same Desktop operating system on your Tablets, Desktops, Laptops & Netbooks. This makes it complete one for all OS for all your gadgets – So you don't have any compatibility issues using your documents & programs for work and entertainment.
I hope you have likes these top 8 features of Windows 8 Desktop Operating system that you have never experienced before on Windows machine & as they said its just the beginning of the Windows demo of its new OS – there is lot more to come in coming video series from Microsoft.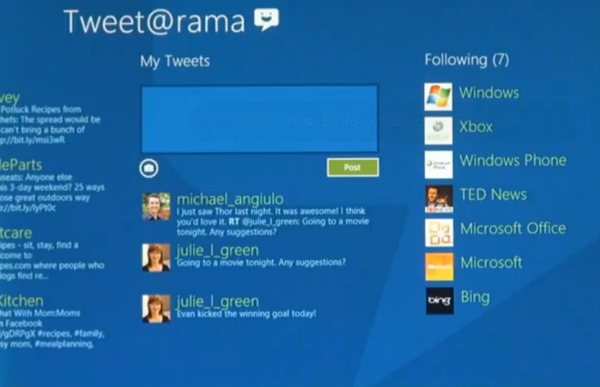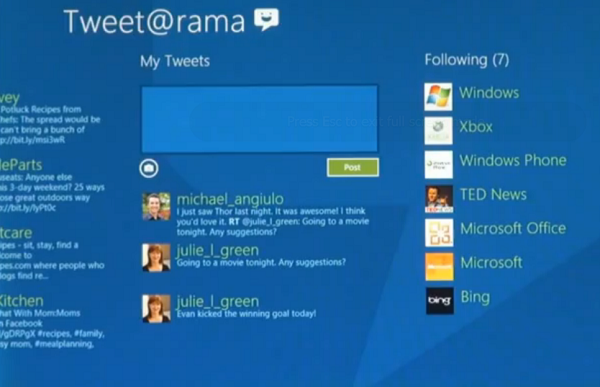 Check out the Windows 8 OS In Action From Official Microsoft Windows Youtube Channel
Click Here To Know more about Windows 8 OS Preview