iPhone Charisma has forced the OS giant Microsoft to rethink about the designs of WP7. The Microsoft design team for the Windows phone has admitted that the iPhone designs has forced them to redesign the WP7 operating system.
Joe Belfiore stated in the New York Times that "Apple has brought a dramatic change in the industry standards and they have brought the kind of uniqueness which is highly appealing to users". He added "If we have to respond to the high competition and uniqueness, we also have to come up with something extra ordinary"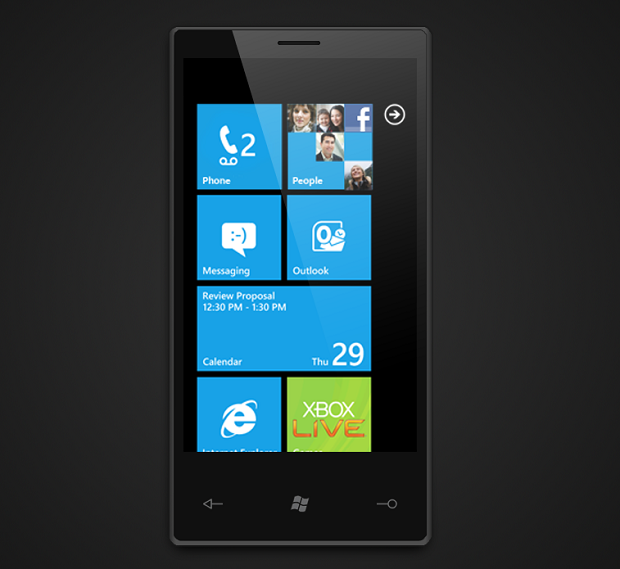 Windows Phone being an early player in the smart phone mania, Microsoft failed to repeat the success which they have achieved in the desktop era. They tried to borrowed the designs used in the desktop versions but the easiness of the desktop failed to create the magic in the small screen. If we believe the insiders, then Microsoft very well knew the fact that, they will not be able to compete with the designs of Apple, once it will come with iPhone.
Almost after the 7 Hrs. of discuss with the executives, the Mobile engineering chief Terry Myerson and their management team make to the conclusion that there wasn't much in the Windows mobile which can impress users and can save the value of WP.
He added that, "We had now hit the bottom and this is the time when the company has to come up with the innovative and unique style of mobile interaction and have to look for new paths and approach to regain the crown"
The team concluded that it is now necessary to start from the stretch, however this will definitely cost a lot to Microsoft and this will also allow the competitors like Google to capture huge market. If we look at the figures in the 3rd quarter of 2010, then WP7 was holding 9 percent of the market capture and was behind BlackBerry (33.5 percent) with Android on the second place with 26 percent share and iphone with 25 percent. But this year there was a dramatic change in the figures and WP7 turndown to 5.2 percent while Android touches the 46.9 percent and leaving all other OS behind in the race.
Microsoft supremo believes that, WP will surely be able to recapture the lost luster and will come back with better user experience and UI in the Windows phones. Microsoft has huge expectation from Nokia Lumia 900 and the two companies are planning to invest over USD 200 millions on the marketing to promote their venture. Hope the Lumia will save the empire of WP7.