TATA DOCMO's Buddynet Services Offering The Lowest Calling Rates
Buddynet is a great new service offered by Tata DOCOMO for its Prepay cutomers who can call their buddies at lowest rates of 1paisa/6seconds.
Well it is similar to Airtel Friends & all other operators but the best part is you can join as many friends you can, there is no limit over how many buddies are getting connected.
There is a charge of Rs.7/week , which each participating buddy have to pay separately. It means a 28 Rs/moth for this service which is not at all bad compared to other operators, after all it all depends upon how many friends you connect with & your usage.
Once you have joined DOCOMO buddynet you have to ask your friends to join the same, for which you;ll get 50 free SMS as a gift from tata DOCOMO.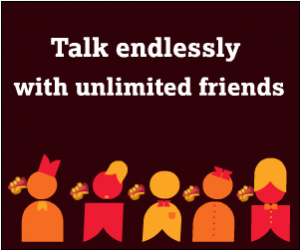 They are also throwing some promotional offers which are as follows:
1. If you are an existing Tata DOCOMO Customer, as an introductory offer, you can enjoy the privileges of BuddyNet for Free for the First Month. Click here to join BuddyNet right away.
2. If you are not an existing Tata DOCOMO Customer, then become one NOW and you will be able to enjoy the privileges of BuddyNet for free for the First two months. Click here to apply now.
Following are the calling rates of TATA DOCOMO Buddynet plan:
Local calls : 1p/6sec (for all your buddies)
STD calls : qp/2sec (for all your buddies)
So, these are lowest call rates in today's date offered in our country. Rest charges will remain same as your normal DOCOMO plans.
As we all know DOCOMO is offering all its services also online which are clearly mentioned on their official websites, so if you have kind of doubt about their plans or rates you can always surf for Tata Docomo official Website anytime.
Here are some Quick links for you to join Buddynet :
To know more about BuddyNet visit: http://www.tatadocomo.com/what-buddy-net.aspx
To join BuddyNet visit: http://www.tatadocomo.com/buddy-net.aspx
To invite your buddies onto BuddyNet visit : http://www.tatadocomo.com/buddy-invite.aspx