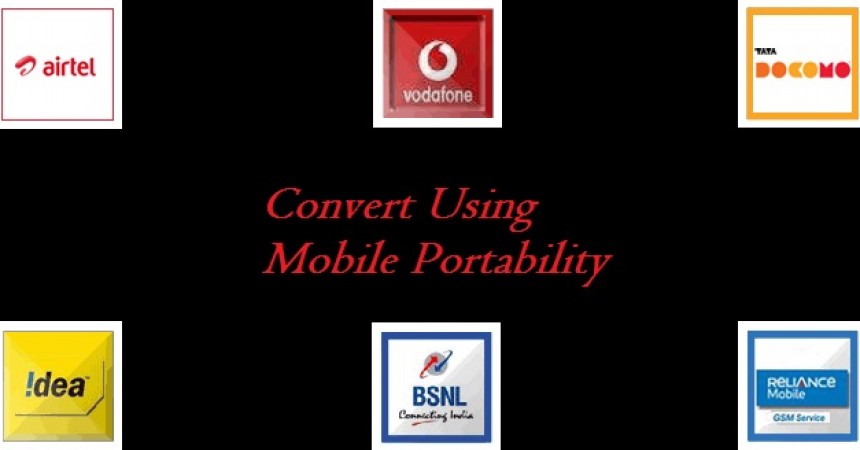 How to use or do Mobile Number Portability
If you have a cell phone number which you don't want to stop using and you are also interested in using the different tariff plans of other network providers around you, then today Mobile Number Portability Service is Launched in India and here is the method of how to use it.
You can convert your Airtel Phone to Docomo Phone without the need of changing your Sim Card and you number and then distributing all round the globe, that's a very tiring job to do, so now i'll explain you how to do Mobile Number Portability to switch between various networks you want to.
Here, I'll explain you how to Convert you Airtel to Tata Docomo Step by Step :
1 – Send an SMS in the following format from you Airtel number or say whatever service you choose to convert to other service to '1900' This message will be charged as per your plan and Service Provider currently.
PORT (YOUR AIRTEL NUMBER)
2 – You will get a quick reply with the 8 Digit Port ID. Save this msg as you gonna need this ID to for conversion.
3 – Now you need to goto Tata Docomo Office with you valid documents like Driving License, PAN Card, Telephone Bill, Voters ID Card, etc. required to buy a new Sim Card, along with the PORT ID you received via msg and your passport size photograph.
4 – In the Docomo Office you need to fill out the forms they will give you for portability and submit it along with the documents, photograph and port ID. Also, you need to pay Rs 19 at that time as portability charges.
5 – Now all your job is done for the conversion of the network and you need to sit and relax for a week, as they will require a 7 days time to process your request.
After 7 days when you are switched to other network you will get there default lifetime plan, further you can change the plan as per your need and also you can enjoy all the various tariff's provided by them.
Above, I explained how to do Mobile Number Portability to switch Airtel Network to Tata Docomo Network, and the process is same for all the other Service Providers.
This is how to use Mobile Number Portability or say how to do Mobile Number Portability on your Prepaid Sim Card, we will be soon posting about how to do Mobile Number Portability on Postpaid Sim Cards.
Note :
1 – Your Sim Card must be more than 90 days old to use Mobile Number Portability.
2 – Once, you change your network you have to be in your new network for at least 90 days.
3 – All your documents and photograph must be clear and they will be verified.
For any doubts you can contact your Customer Care Helpline Number or Drop out your Comments below.