Google Chrome & Intel To Get New App Stores
Since Apple has launched their App stores, all the biggies are trying to bring their own application store for their users. Its like trend nowadays not just for a software & wesiants like Google, but also for a hardware companies like Intel.
This fall, we may see these two comapnies launching their own app store to attract more use.
Intel, in this case have laready launched their AppUP Beta Store back in January 2010, But this time they are launching without this beta tag, that means fully powered & complete app store. The AppUP Store of Intel is intended for the use of netbook & Slate users, which runs on their Intel ATOM processors. Recently they have developed the famly of Pinetrail processors, which utilizes less power & let your experience the computing for more than 8-10 hours or even more.
This App store will be featured with such apps, which are specially designed for the Intel Atom processor'sarchitecture, which will consume less power & gives you variety of options to use.
This service is started for many of countries excluding India and some countries , I don't know why ? (Because here are many consumers for Intel Atom processors !!) They uses this AppUP client for let users browse through apps & get some freee or paid apps for their use.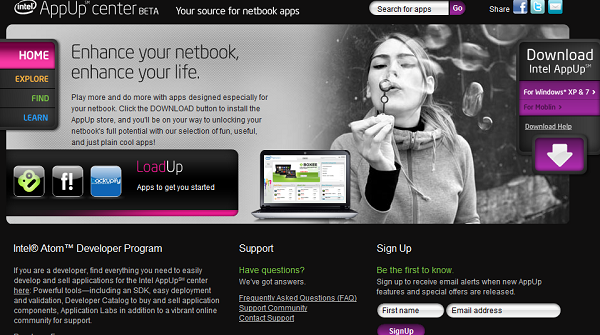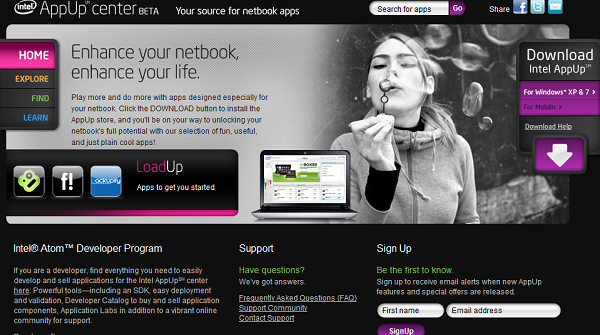 Google, on the other hand is a web monopoly in search & advertising opening up their app store for its baby browser OS Google Chrome. As many of the netbooks are coming preloaded with Windows and Linux, rumors are out, that they are coming with preloaded ChromeOS & android in coming days. So that's why tha lauch of Chrome OS will be more interesting for both end users & the company itself.
Google developers exposed that Chrome will be more emphasized on browser based games, It would be exciting to see the competition within these all app stores. Most shocking but good news is, Google is only taking processing fee of 5% from developers compared to other app stores, So they are attracting loads of developers to them. This will share most of the revenue to the developers, which is true step towards the application developers to push their limits.
Whatever the app store thing will do for developer or their owners does't matter most compared to the end users. As end users fo these netbooks with Atom processors will get more and more to utilize there tiny computing machines !!!