UAE Exchange Nizamabad Steps Ahead for Rally for Rivers
In the present century, world is moving towards higher phases of innovation with little relevance to nature and its well-being. Almost 30% of Indian Rivers are turning into desert, which stands as a major crisis for the nation. Nation's lifeblood, our rivers are gradually waning away or being polluted to the extent of non-usage.
As a support for the great cause to save our country's lifelines, UAE Exchange India join hands with Isha foundation 'Rally for River' at Nizamabad. Almost 20 staffs voluntarily participated in the program conducted on September 14, 2017, covering areas of Railway Station Circle, Collectorate Office Circle, Pulong Circle, RR Chourastha and Gandhi Chouk in the morning hours.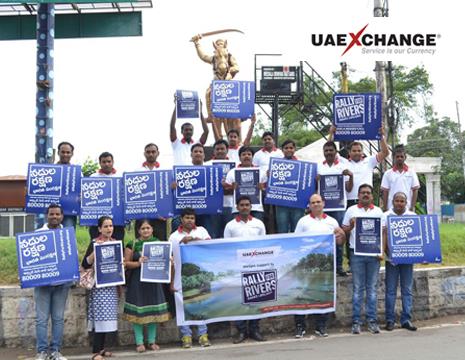 UAE Exchange staffs at the Rally
Mr. Gopi Zonal Head Nizamabad inaugurated the event and shared that, "1.2 billion of us takes a pledge to support such causes, no worries for future. So live righteously today to carve a brighter future for next generation."
About UAE Exchange
UAE Exchange India is one of the pioneers of financial services renowned for its penchant quality and optimized service trends, creating a niche for itself in the industry. Connecting people and creating progress with the finest of quality is the vision of the company that has an extensive reach of 370 plus branches serving a population of 1.25 million people under the proficient support of 3375 employees. The company has been instrumental in providing cost-effective service in Foreign Exchange, Money Transfer, Air Ticketing & Tours, Loans, XPay Cash Wallet, Insurance and Share Trading.
Website: www.uaeexchangeindia.com