TP-Link Awarded As Most Innovative Mobile Accessories Of The Year.
Delhi, India, April 2017 – TP-Link®, a leading global provider of consumer and business networking products was crowned with a prominent award as 'Most Innovative Mobile Accessories of the Year' for HA100 by Mobility India. This commendation was for TP-Link's Innovative Bluetooth Music Receiver which is a portable and nifty product.
HA100 is a Bluetooth Music Receiver which moreover comes with NFC Functionality and Aux output to turn your Music system into a wireless receiver. The Bluetooth Music Receiver provides your stereo with Bluetooth connectivity, enabling you to stream music wirelessly from your smartphone or tablet. No need to get up! Relax in your favorite chair and command your music with a reliable connection of up to 20 meters (66 feet) away from your speakers. HA100 is an accompaniment to traditional home stereo systems. This handy mold will not look out of place, even stationed it next to or on top of the most modern stereos or speakers.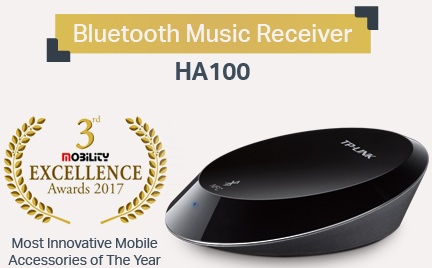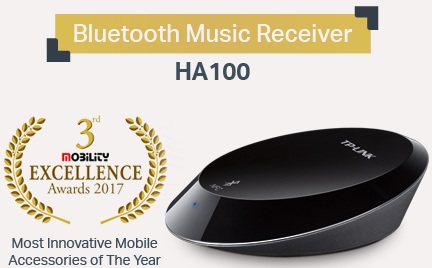 TP-Link's Sales Director Mr. Lynn Wang Said "We are delighted and fortunate to receive this prestigious award. TP-Link has always been a committed company, and our aim is to provide our customers with Best Products at the Reasonable rate. HA100 is an example, how we look forward to simplifying our customers' life and a step towards wireless connectivity from TP-Link."
The awards ceremony was held in Delhi on 17th March 2017 and was attended by delegates from different industry and representatives from industry. The award function had various category acknowledging best of the products.