Top Students Head to Dubai for International Final
The KPMG International Case Competition (KICC) final takes place this week in Dubai, United Arab Emirates, and a team of four top students from Indian School of Business, the winners of the KPMG India competition, will be heading to Dubai to take on teams from 27 other countries in the global final.
KICC is an annual competition run by one of the world's leading professional services firms, KPMG. This year, the event is in association with Emirates, headquartered in Dubai and one of the most dynamic and innovative airlines in the world. The final day of the competition will be taking place at the Emirates Aviation College in Dubai.
The KICC competition challenges students to review and develop solutions for a number of business case studies. Run over the course of four days, teams will be judged by a panel of senior KPMG Partners progressing through various rounds before the winners are announced on Thursday, 16 April 2015.
Team from ISB were the winning team of the India National Finals and they will be flying to Dubai later this week for the experience of a lifetime and the opportunity to bring home the coveted trophy.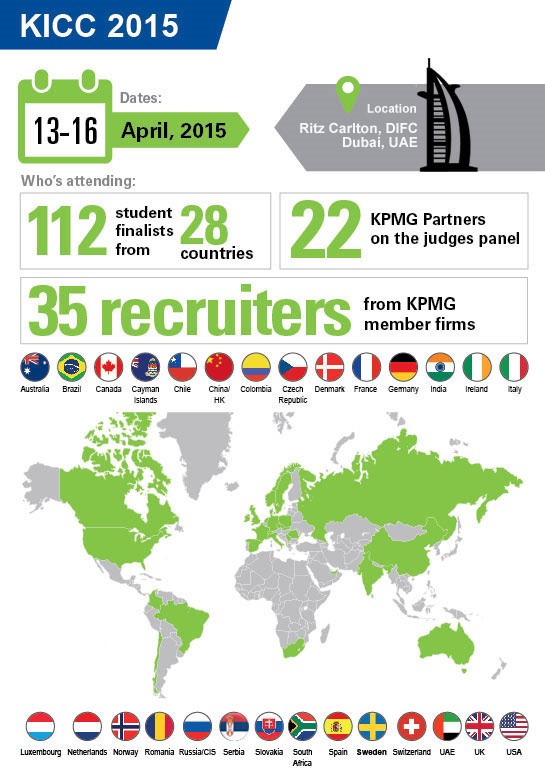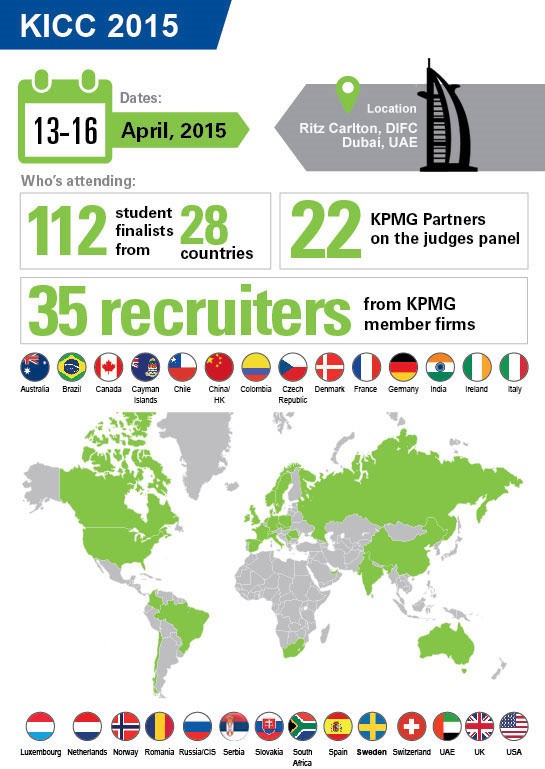 Shalini Pillay (Head of People, Performance & Culture) said, "The KPMG International Case Competition is an amazing opportunity for students to gain experience of addressing real life business challenges. To see talented students grow in confidence as they progress through each round of the competition and learn from the judges' feedback brings to life how talented students are today. Not only is it a great challenge, it is also a great learning experience for all involved. This program provides the opportunity for us to give students an experience of what working at KPMG would be like and the sort of challenges we address for clients around the world everyday".
Abhishek Das, a member of the winning team who will be going to Dubai to compete in the finals said, "we are delighted to have reached this far in the competition. The opportunity to go Dubai is really exciting, I hope we can win the trophy!"
Every team entering the competition has produced a short video about themselves and the culture of their country. The winning team's video will be announced at this year's opening ceremony. To meet the team from India and to vote for their video, visit the video competition app on the global KPMG Facebook Page