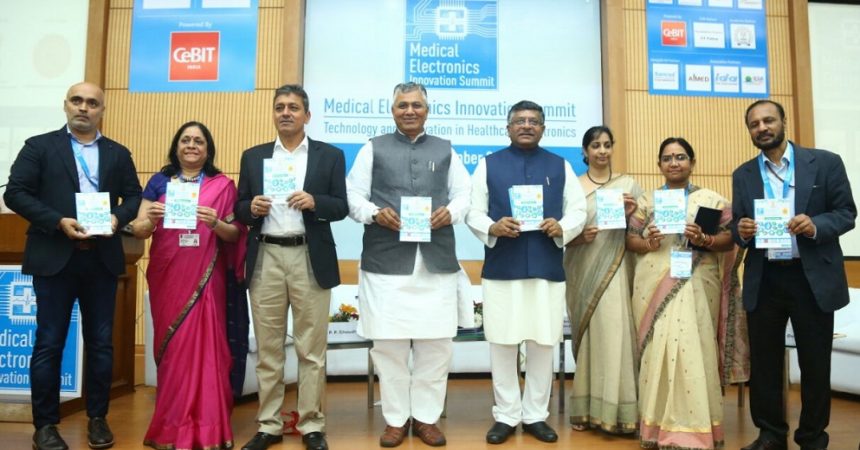 Technology Meets Healthcare At The Medical Electronics Innovation Summit 2016
Minister of Electronics and Information Technology Minister Shri Ravi Shankar Prasad inaugurated the 1st edition of Medical Electronics Innovation Summit
The Ministry of Electronics and Information Technology (MeitY) launched the first edition of the Medical Electronics Innovation Summit 2016 at IIT Powai in Mumbai on the 22nd September 2016. The Summit was inaugurated by Hon. Shri Ravi Shankar Prasad, Minister of Electronics and Information Technology, Government of India , Shri P. P. Chaudhary, Hon. Minister of State, Ministry of Electronics and Information Technology along with Sri Kamineni Srinivas, Hon. Minister for Health, Government of Andhra Pradesh. Also, present at the inauguration were dignitaries such as Smt. Aruna Sundararajan, Secretary, Ministry of Electronics and Information Technology, Dr. Omkar Rai, Director-General, Software Technology Parks of India (STPI), Mr. Sivan Menon, Chief Technology Officer, GE Digital , Dr. Rajendra Patankar, M. D., Chief Operating Officer, Nanavati Hospital, Ms. Sulabha Ranade Director, SAMEER, etc and many more. The Summit was attended by medical directors, key decision makers, medical information officers, technology specialists, researchers etc from the healthcare sector.
A key highlight of the Summit was signing of an MOU Signing between SAMEER (Society for Applied, Electronics Engineering & Research) and the Government of Andhra Pradesh, on conducting joint and comprehensive assessment of health technologies as identified starting with Dual Energy Linear Accelerator for cancer care development. SAMEER is a research and development laboratory of the Ministry of Electronics and Information Technology, Government of India, mandated to contribute towards the growth of science and Technology of RF/Microwave electronics, Electromagnetic Interference/Compatibility (EMI/EMC) and allied areas through intensive research, design, development and industrial applications.
With India's medical electronics market growing to $11.7 billion by 2017, the Summit witnessed a panel discussion on the scope of Foreign Direct Investment (FDI) in the healthcare sector, especially with opening up of 100% FDI for manufacturing of Medical devices in India last year. Highlight of the day was a very interesting panel discussion on creating integrated healthcare model, wherein the key speakers spoke about integrating the entire eco-system of healthcare models in such a way so as to benefit the patients to get easier access to healthcare services, diagnosis, insurance claims etc. The integrated
healthcare model is an initiative by the Government of India to bring together all the aspects of the healthcare sector to improve the methodology of the system. Top professors, researchers and experts from various key institute and colleagues spoke about the process innovation in healthcare services – developing a sustainable model for accessible and affordable service through innovation. The day ended with power topic on Capacity Building and Infrastructure Management for technology-driven medical electronics in India.
The Conference also presented 5 start-up companies from the healthcare sector pitching in their idea for it's Start Up Pitch Deck to a 3-member jury panel which comprising of Mr. Aditya Nataraja, Manager, IIT Patna Incubation Center, Prof. Milind Atre, SINE, IIT Bombay and Mr. Neel Bhatia, Director – Innovation and IP Ecosystem Development, Intel Technology India. The results for the presentations would be out on the second day of the Summit i.e., 23rd September 2016.
The Medical Electronics Innovation Summit 2016 is an excellent platform to showcase and discuss various ideas to improve the healthcare system and increase accessibility to medical devices in the country. With the increased awareness for healthcare system among the masses, the Government of India is taking appropriate steps for the improvement the sector.