Tap Your Feet To The Powerful Sound Of iBall 'MusiTap' All-In-One Headphone
Soft Bass and superior sound | Soft leather feel cushions on ear cups | Built-in FM Radio, Bluetooth, Micro SD playback, Aux Cable support
iBall, known for its innovative and latest technology products, announces the launch of its latest 'MusiTap'all-in-one Bluetooth-enabled Headset, the ideal blend of Sound and Style that ensures an unparalleled powerful audio experience. Designed with High-Grade speaker drivers that deliver high bass and superior sound effects, the iBall MusiTap ensures that everything you hear is in its richest tone and characteristics.
It's time to put the world on Mute with powerful sound. Quality, Performance, Compact and style best designates iBall MusiTap, tapping the way to the top of your audio list.
Speaking on the launch of the iBall MusiTap Headphones, Mr. Sandeep Parasrampuria (Director and CEO, iBall) says, "With defector smartphone in hand, users want to consume music, sound and talk in easy and comfortable way. Musi Tap from iBall is an all-in-one headset giving all interfaces a user would like to have with very good quality of sound. Looks good and sounds even better!"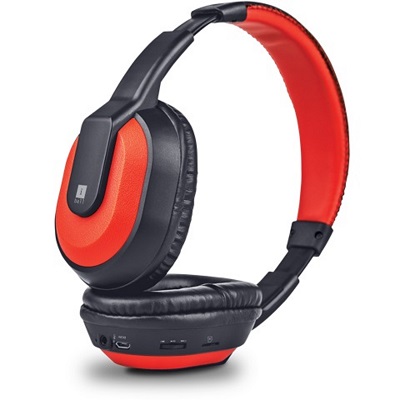 Crafted for Comfort: Listen to your favorite music for hours or watch movies back to back paired with the MusiTap headphone that is bound to enhance your audio experience.Light and comfortable on your ears, the headset features large, spacious leather ear cups that gives you extra room for a higher level of listening comfort. The adjustable band gives it a good grip which makes it a desirable travelling companion.
Wireless Freedom: The Next Generation of Headphones, the MusiTap ensures that nothing gets in the way of the music you love. Enjoy high quality stereo music from any Bluetooth enabled devices via seamless Bluetooth connectivity.The Headset is also integrated with a Microphone that supports Hands-free calling in Bluetooth mode giving you maximum convenience.
Put the world on mute: Stocked with an enduring battery, the headset gives you a continuous music playback of 5 hours and a stand-by time of 48 hours, letting you relish your favorite music non-stop on-the-go, wirelessly. The built-in rechargeable battery can also be charged quickly using the included Micro USB Cable.
Compact and Versatile: MusiTap lets you groove to the tunes in multiple ways. Simply plug in the included Aux cable to a 3.5mm audio jack and carry on. Furthermore, it can also be used as a portable music player by using the in-built MicroSD Support.
Additionally, iBall MusiTap comes in with built-in FM radio that allows you to enjoy music and radio shows wirelessly. This makes it easy and fun while working, jogging or working out.
Experience Pure Sound, Pure Happiness withiBall MusiTap which are available in 2 vibrant shades of red and black. The product is already available with leading retail stores across India at the MRP of Rs. 1,325/-