Sony Launches Highest Capacity Class 10 High Speed Sd Card For 4K Video
Reads up to 94 MB/s speed & writes up to 70 MB/S
21st September 2016: Sony India today expanded its range of memory cards with the launch of its new High-Speed UX series. The new SD card is the "Highest Capacity Card" launched by the Company and comes with fast data transfer speed and 4K compatibility for cameras.
The new card is ideal for professional or semi-professional photographers and videographers as it is equipped with enhanced speed and transfer time to enable minimized workflow speed with improved efficiency.Available in storage capacity of 256GB, the new memory card comes with data transfer speeds of 94MB per second (read) and 70MB per second (write).
It also features an Ultra- High Speed (UHS Speed Class 3) rating which amplifies speed and quality of the images captured. The memory card also supports the 4K technology resulting in smooth recordings as well as minimal buffering when capturing still images in burst, multi-frame or panoramic modes.
Parallel to the existing versions, the new memory card continues to feature the Sony File Rescue software, the first in the world to support 3D movies and photos. This software allows users to recover accidentally deleted precious photos, movies and also compatible with XAVC S codec mode recording
Further, the SD card equipped with high reliability is protected with molded resin, making the memory card remarkably durable, shockproof and resilient to extreme temperatures.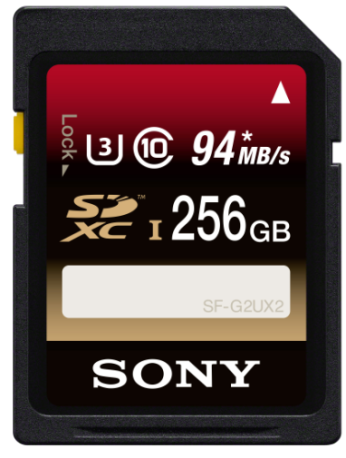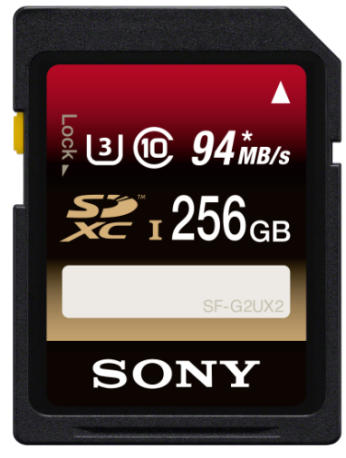 The SD Card UXseries is available across all Sony Center and major electronic stores across India.
| | | |
| --- | --- | --- |
| Model | MRP | Availability |
| SF-G2UX2/T2 IN | Rs. 11,500 | Available |
Specification sheet
General
Card Model Code
SF-G2UX2
Memory Spec
Memory Size
256GB
Usable Capacity (Approx.)
230.4 [GB] (247,390,116,096Byte)
Interface
SD Interface
UHS-I (SDR104)
SD Format
SDXC
Operating Conditions
Operating Current (Max)
400mA (Max)
Operating Temperature Requirements (Serial/ 4-bit parallel transfer)
-25-+85°C (Non-condensing)
Speed
Bus Interface
UHS-I
Speed Class
Class 10 (SD Speed Class)
Class 3 (UHS Speed Class)
Actual Speed
Transfer Speed (Read): Up to 94MB/s
Write Speed: Up tp 70MB/s
Media/ Card
Dimension (Approx. W x L x T)
24 x 32 x 2.1 mm
Weights (Approx.)
2 g
Individual Package
Package Languages (Option)
ENGLISH
TRADITIONAL CHINESE
Sub-Carton
Individual Package Number
5
Dimensions (Approx. W x H x D)
143x96x35
Weights (Approx.)
0.091kg