Sony Introduces Ultra-fast, Rugged Portable HDD RAID Drives
Both PSZ-RA4T & PSZ-RA6T are designed for professional 4K recording and high-speed data transfer on location
August 09, 2016-Focusing towards the growing data storage demand by professionals, Sony India has come up with two distinctive, rugged and portable RAIDs- PSZ-RA4T (4TB) and PSZ-RA6T(6TB).Each new model has the transfer speeds and high performance needed for 4K production and deliver effective high-capacity content workflow options from the field to the studio. The new models offer rapid transfer speeds of up to 440MB/s (read/write), reducing the transfer time for all files.
As 4K content rapidly becomes a standard in the industry, the demand for larger capacity, mobile storage option has grown. Therefore, Sony's RAIDs and higher capacity memory card enables to meet the needs of today's content creators, who require a fast, efficient, portable and dependable workflow.
Expedient connectivity supporting both USB 3.0 and Thunderbolt 2
Both the systems include USB 3.0 and dual Thunderbolt2 ports that are 25 times faster than FireWire 800. In addition, dual Thunderbolt ports support daisy-chain up to 6 units compatible with Windows and Mac PC. Flexibility is further enhanced with a choice of Hardware RAID 0, RAID 1 or JBOD modes.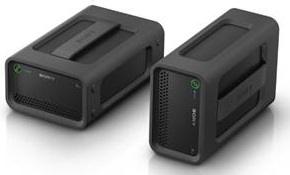 FREE Software for media management
Sony's Pro RAID HDD is fully compatible with the "Memory Media Utility" application which offers various management functions such as library function, indications of lifetime, as well as formatting function. Using Sony's Memory Media Utility software, the RAIDs display device information like capacity and mode, available free space and disk status check to determine optimum replacement time, as well as media formatting.
Memory Media Utility shows information about the portable storage devices such as:
– Device type and model name
– Available free space
– Result of the device status check
– File system and recording mode
– Available recordable time
The result of the device status check can alert users, in 3 phases, about when to replace an SxS memory card or portable storage device, using Sony's criteria. Users can then back up stored data and replace the device before a problem occurs on it.
Shock-resistance and ergonomicallydesignedfor safe and easy portability
Ideal for reliable outdoor use, the portable and rugged RAID drives are highly durable due to its unique construction. Both the hard drives are convenient solutions which feature a handle on top for easy carrying and are designed to support increasing file sizes in a resilient and reliable housing.
Internal and external dampers protect the bare drive against vibrations and shocks as high as MIL50G/11ms. The drives are also delivered with a built-in carrying handle and the tough, easy-to-carry carton box protects the product against damage during transportation.
Works with SxS PRO+ D Series memory cards
The new higher capacity PSZ-RA4T & PSZ-RA6T are ideal for efficiently capturing ultra high definition 4K in the field. It can read data at up to 3.5Gbps (440MB/s) and record up to 480 minutes of MPEG 422 30p (50Mbps) footage. High transfer speed optimizes workflow efficiency, allowing filmmakers to quickly share large, data-intensive 4K video files. SxS PRO+ D Series offers 3 capacities: 64GB, 128GB and 256GB and the cards are exFAT pre-formatted for a quick start-up with PMW-F55 or F5.
The new PSZ-RA4T and PSZ-RA6T drives offer a three-year warranty which enables the professionals to relax and enjoy market-leading service and technical support.
| | | |
| --- | --- | --- |
| Product | Availability | MRP |
| PSZ-RA4T | Already available | Rs. 38,900 |
| PSZ-RA6T | Already available | Rs. 46,500 |
These newly launched products are available in all Sony Center and major electronic stores across India.
Key specifications
BASIC SPECIFICATION
PSZ-RA4T
PSZ-RA6T
Capacity
4TB*1
6TB*1
HDD size / Rotational speed
2 x 3.5 inch / 7,200 rpm
I/F
1 x USB3.0, 2 x Thunderbolt 2
RAID
RAID 0 / 1 / JBOD
Transfer speed
Read / Write: Up to 440MB/s*2 in RAID 0
Shock resistance*3
MIL 20G/11 ms (in operating mode), 50G/11 ms (in non-operating mode)*4
Operating condition
5°C ~ 40°C / 8%~ 90% (No condensation)
Storage condition
-20°C ~ 60°C / 8%~ 90% (No condensation)
Warranty
3 years
Size (W x H x L) / Weight
Approx. 156 x 100 x 241 mm / 2.9 kg
OS
Use with both Mac & Windows*5
Supplied application
Memory Media Utility