SAP's Social Sabbatical Program Fosters Entrepreneurship In India
12 SAP employees from across the globe spend one-month with four social enterprises in Ahmedabad to upskill and up-scale the organizations and its people
New Delhi — March 7, 2017— SAP SE, recently engaged and collaborated with four social enterprises in Ahmedabad as a part its global initiative, 'Social Sabbatical program'. A group of 12 SAP employees from different parts of the world like- Ireland, Canada, France, Germany, US, Brazil, Columbia and Oslo, worked for a one month onsite with – Aashray Incubator, NEEV, CIIE and SEWA Manager, in Ahmedabad to help set these organizations for sustainable growth.
The Social Sabbatical is one of the most cutting-edge initiatives for social engagement and leadership development for SAP employees. The program aligns with the company's CSR strategy that centers on leveraging its core assets to help the world run better and improve people's lives, with a focus on equipping the world's youth with skills to tackle society's problems and thrive in the digital economy.
Having started this program with 30 participants in three countries (Brazil, India, South Africa) in 2012, the program is set-up to scale rapidly. In the current cycle, 120 participants will be serving 40 different organizations in 10 countries – Panama, Greece, Brazil, India, Peru, South Africa, Sri Lanka, Tanzania, Vietnam and Ghana. Through this campaign, SAP encourages employee engagement to support education and social entrepreneurship to successfully drive sustainable economic growth, innovation and job creation across the globe.
"India is increasingly adopting a socially inclusive culture," said, Vlasta Dusil, Vice President, Human Resources, SAP India. "It has become integral for organizations to make a positive social impact on communities we work with and providing a platform for the employees to get a higher purpose. Programs such as our 'Social Sabbatical' help enable social enterprises make an impact that better people's lives."
Here is a gist of the work done by the SAP Social Sabbatical team in Ahmedabad;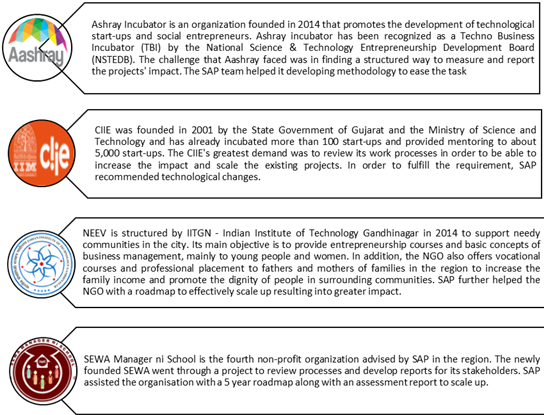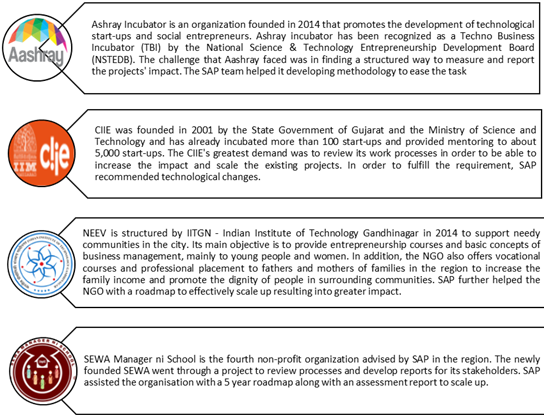 "We initiated the Social Sabbatical program with a vision to solve the business challenges for the education and entrepreneurial sectors in emerging markets like India. Via, the Social Sabbatical program, our out-and-out focus is to help organizations and budding entrepreneurs unlock their potential and create social impact, and emerge as the nation's growth engines," said Alexandra van der Ploeg, Global CSR Program Director – Social Sabbatical, SAP.