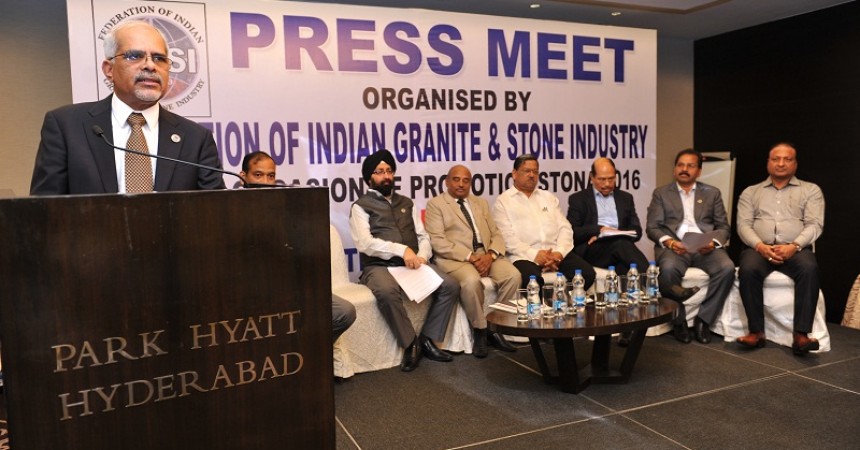 Federation of Indian Granite and Stone Industry to organizes "STONA 2016 Fair" in Hyderabad.
F
ederation of Indian Granite and Stone Industry (FIGSI) organized the road show for the promotion of
"STONA 2016"
in Hyderabad.
STONA 2016 Fair is the 12
th
International Granites and Stone Fair – an exhibition showcasing the unique range of country's colorful, eye-catching natural stones and a platform that helps in demonstrating the capabilities, capacity and the most modern and latest techniques in the craft of stone working.
The inaugural function was held at Park Hyatt in presence of the Members from Federation of Indian Granite and Stone Industry like Sri R. Sekar- President, Sri J.B. Surana Imm- Past President, Sri S. Hanumantha Rao- Vice President, Sri G. Krishna Rao- Chairman- Telangana Chapter, Kishana Agarwal- Join Secretary, Sri. R. Veeramani- Founder Member and Sri Ishwinder Singh, Chairman- STONA 2016 along with other dignitaries attended the function.
The aim of STONA 2016 Fair is to give the natural stone industry in India a significant growth opportunity with higher visibility, a professional oriented visitor profile and extremely efficient business development modules. The main objective of the Association is to promote stones of India across the globe and also to resolve many domestic problems faced by the mining industry.
Speaking on the occasion Sri R. Sekar, President -Federation of Indian Granite and Stone Industry (FIGSI) said, "The policies followed by Both AP and Telangana are very encouraging to the Granite Industry and in view of the support and encouragement of the Government, United A.P stands in number one position in Granite production and exports. FIGSI is here to invite the stone Industry from Telangana & Andhra Pradesh to participate in STONA 2016 to make it a grand success. We are happy to mention that many of the artisans who got exposure in STONA fairs have got national recognition and also have become exporters themselves. "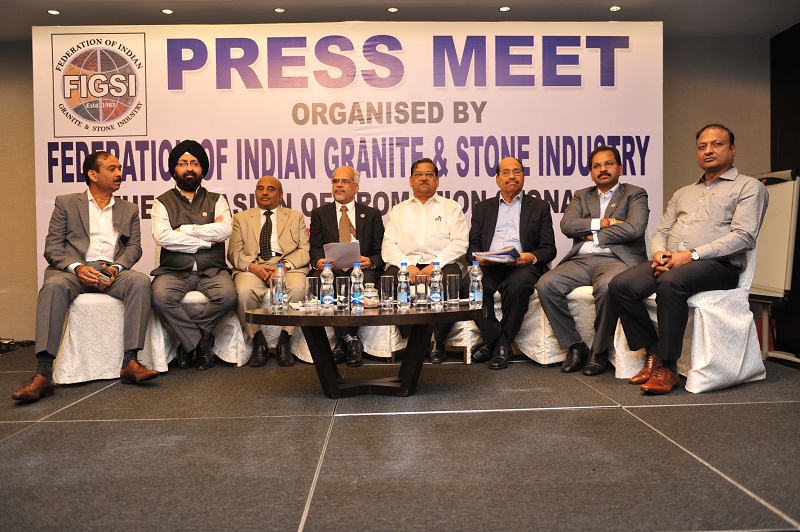 According to Sri Ishwinder Singh, Chairman- STONA 2016, "Platforms such as the STONA 2016 FAIR act as booster shots for the Granite and Stone Industry. STONA Fair serves as a great single window that projects India's natural stones, products & the creative ability to make and supply anything to everything. This fair will be applauded by the visitors and the exhibitors and will be seen as a big reason for the growth of Indian stone and granite industry."
The International Granites & Stone Fair – STONA found its existence in the year 1987 and since then it is one of the most preferred platforms in the stone and granite related industry. Being the first of its kind exhibition in Asia, STONA is the pioneer in this field and is a perfect podium that showcases the best in the industry and connects directly with the natural stone trade and industry. The Stona Fair will be showcasing the latest technology along with Slab, Tiles, Artifacts, Landscaping, Paving, Dimensional Blocks, Cylindrical Pillars, Machinery, Equipments and Vases.