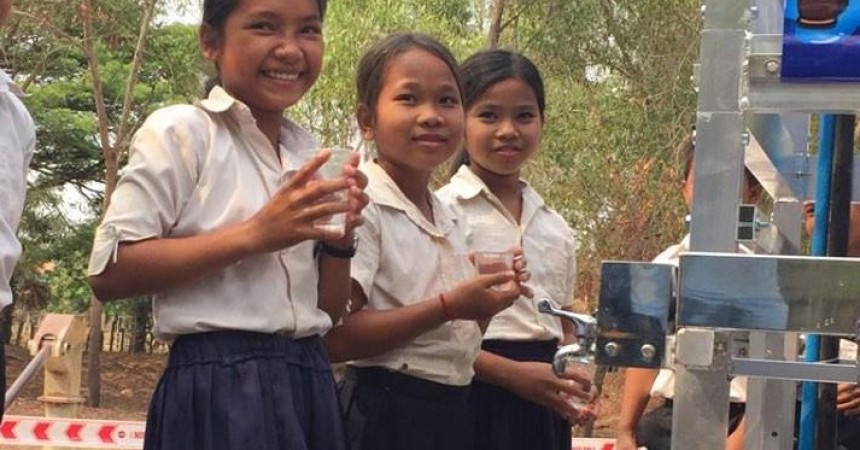 Indian IT Company, Raybiztech, Teamed up With Planet Water Foundation to Provide Clean Water to School Children
Ray Business Technologies Private Limited, a leading Indian IT firm, today announced that it joined forces with Planet Water Foundation on World Water Day to provide clean water to 24 rural communities in Siem Reap, Cambodia. Raybiztech is the only Indian IT company to sponsor Planet Water's Project 24, a bold initiative to provide 24 rural communities in Siem Reap, Cambodia with clean, safe water, which spanned a 24-hour period from March 21-22, 2015. Planet Water Foundation is a US-based non-profit organization, focused on helping solve the global water poverty crisis.
It is encouraging to see Indian companies taking up social cause on a world stage with leading companies from other parts of the world. Project 24 also incorporated a fundraising campaign and live webcast event, intended to bring greater awareness of the global water crisis that affects nearly one billion people worldwide. During the 24-hour event, Planet Water Foundation installed and commissioned 24 clean water filtration systems, one every hour, on the hour, for 24 hours.
A project of this scope and scale is unprecedented in Cambodia and Planet Water Foundation's global and in-country teams had been preparing for nearly six months to accomplish their goals of delivering healthy, safe water to a region where residents suffer from waterborne illnesses caused by water impurity and a lack of understanding of modern hygiene behaviour.
As the technology partner, Raybiztech provided Open Source Technology with responsive framework, which makes sites user friendly on all handheld devices for Project 24.
This slideshow requires JavaScript.
Commenting on their partnership, Raybiztech's Managing Director, Ajay Ray, said, "Raybiztech is committed towards sustainability and taking up social causes around the globe. Project 24 addresses the critical issue of the lack of clean, safe water, which causes needless deaths of nearly 4,000 children every day worldwide and severely restricts the productivity and prosperity of villages where water is sourced from contaminated rivers, streams, ponds, and wells. Women and girls often bear the responsibility for gathering water for family use, rather than attending school. We are proud to be a part of this noble initiative."
In a little more than five years, Planet Water Foundation has provided nearly one-and-a-half million people with clean, safe water in 12 countries on two continents. The organization's AquaTower technology provides a sustainable, reliable, and highly effective solution to supplying small rural communities with clean water that changes the lives of village residents.
"Our AquaTowers are capable of providing enough clean, healthy water for approximately 1,000 people per day, which is about the size of most rural communities in Cambodia," explains Planet Water Foundation's CEO and Founder Mark Steele.
His Excellency, Secretary of State, Try Meng from the Royal Cambodia attended the Project 24 closing ceremonies, in addition to other dignitaries. Project 24 concluded with a blessing of the water by local Buddhist monks.
About Raybiztech
Ray Business Technologies Private Limited is one of the leading Global Information Technology (IT) Services and Solutions Company. They provide cutting-edge IT solutions to leading enterprises worldwide. Their excellent team of technology professionals work with enterprise clients in North America, Latin America, Australia, Europe, Middle East and Asia.
Started in 2009, Raybiztech has grown significantly and currently operates from global offices in India, USA, Australia and UK with over 220 resources. Raybiztech provides IT Solutions in Enterprise Resource Planning (ERP), Enterprise Portals and Content Management (EPCM), Customer Relationship Management (CRM), and Enterprise Mobility including product development and life-cycle support.
Raybiztech is the receiver of the special Jury Award at HYSEA Annual CSR Award 2015, which was recently held in Hyderabad.
To know more, please visit raybiztech over here.