Opera Mini 5.1 Beta Released for Symbian Edition Phones
The all new Opera Mini 5.1 Beta is now available on your Symbian Phone. Opera has announced a beta version of its new version of Opera Mini 5.1 especially for Symbian smartphones. Opera Mini 5.1 version will support Series 60 v2.0 handsets and above with improved performance.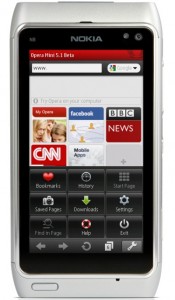 The java based Opera Mini is not properly working on high-end Symbian phones (like the recently launched Nokia N8). Opera Mobile is available for Symbain smartphones till now but users can find the most used mobile browser Opera Mini faster than it & now Opera Mini 5.1 Beta is available.
"It is Opera's objective to provide its users with the best possible web-surfing experience on any device," said Christen Krogh, Chief Development Officer, Opera Software. "Porting Opera Mini to the Symbian programming language provides the largest user base in the smartphone world with the best mobile browsing experience."
Opera Mini 5.1 beta for Symbian Features:-
Support for more devices than ever
Significantly faster start-up time
Improved page-load and scrolling performance, especially on older devices
Full support for device text input methods
Improved fonts
Device integration for copy & paste, email client and more
Option to choose default access point — no more annoying dialogs
You can download Opera Mini 5.1 Beta software for free at m.opera.com